The 2014 Philadelphia Flower Show
The world's largest indoor flower show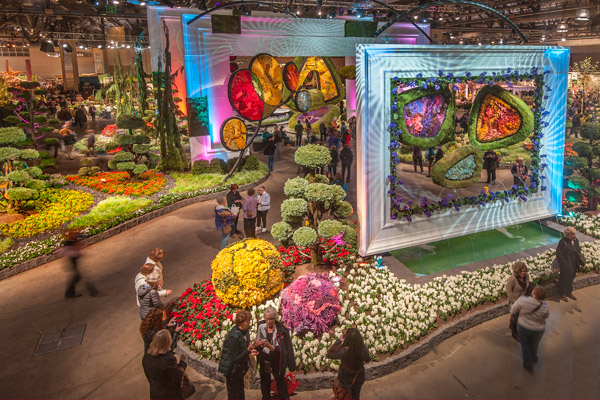 Description
Dates:
March 1-9, 2014
ARTiculture
Experience the combination of art and horticulture as the 185th PHS Philadelphia Flower Show celebrates everyone from Michelangelo to Monet, Picasso to Pollock, and da Vinci to Dali.
An unprecedented collaboration of Flower Show designers and the nation's great art museums will turn the exhibition space of the Pennsylvania Convention Center into a 10-acre living canvas of exquisite landscapes, gardens and floral arrangements.
The entrance exhibit is inspired by the works of Alexander Calder, a member of Philadelphia's historic family of artists, and will feature a performance from remarkable aerial dance troupe BANDALOOP above, on and within the multi-dimensional display.
Participating Museums
For the 2014 Flower Show, PHS is partnering with more than a dozen of the world's greatest museums including the Getty, the Guggenheim, the Smithsonian, PMA, PAFA and the Barnes Foundation, for an incredible experience at the Convention Center.
To learn more about participating partners and to take advantage of special offers, click the button below.
View all participating museums
Insider Tip
Beat the crowd with early morning VIP access to the PHS Philadelphia Flower Show starting at 8 a.m. from March 3-7. For details, click the button below.
Flower Show Highlights
The Butterfly Experience
Nature's beauty takes flight at the 2014 PHS Philadelphia Flower Show. You'll find yourself surrounded by more than 1,000 butterflies, including 20 different species, during The Butterfly Experience. Admission to The Butterfly Experience costs $3 per person.
Make & Take Room
Expanded for 2014, the Make & Take Room allows visitors to design, assemble and take home their own Flower Show project. Choose from two different DIY projects: a wearable craft project for $10 or materials to create your own terrarium for $25.
LGBT Party
Sunday, March 2
Celebrate with an evening of cocktails and live entertainment during the fourth annual LGBT Party presented by G Philly. Tickets cost $50 per person and include admission to the Flower Show.
Wedding Wednesday
Brides-to-be can get wedding advice from local experts and sample champagne during Wedding Wednesday at the Flower Show. New this year, experience an actual wedding on the show floor during the finale of Philadelphia Wedding's Greatest Groom Contest. Tickets cost $50 per person and include admission to the Flower Show.
Girls Night Out
Philadelphia Style presents the ultimate ladies' night with a VIP party featuring exclusive shopping, food, wine and special demonstrations. Tickets cost $50 per person and include admission to the Flower Show, a premium gift and a complimentary cocktail.
Hours and Tickets
The PHS Philadelphia Flower Show will be open:
Saturday, March 1: 11 a.m.-9 p.m.
Sunday, March 2: 8 a.m.-9 p.m.
March 3-7: 10 a.m.-9 p.m.
Saturday, March 8: 8 a.m.-9 p.m.
Sunday, March 9: 8 a.m.-6 p.m.
Tickets are available online in advance for $27 ($32 at the door) for adults, $20 ($22 at the door) for students with valid ID and $15 ($17 at the door) for children ages 2-16. A service fee of $1 per ticket is applied at checkout.
Purchase tickets online and view special offers using the button below.
buy tickets online and save $5
Visit Philly Overnight Hotel Package
Extend your Flower Show experience with a stay at one of Philadelphia's fantastic hotels. The Visit Philly Overnight Hotel Package™ includes two nights accommodations AND free hotel parking, perfect for a quick getaway. Click the button below to browse rates and availability.
Additional Hotel Packages
The PHS Flower Show has partnered with several Philadelphia hotels to offer a special overnight hotel package to visitors. Book your stay and get overnight accommodations and tickets to the Philadelphia Flower Show. Additional amenities may vary. Browse participating hotels and book your stay using the button below.
Getting Here
Take Amtrak to the PHS Philadelphia Flower Show and you can save 30% on a companion fare. Click here for details.
Staying in the city? Get a free ride to the Flower Show with Uber. New users a complimentary ride up to $20 using the promo code PHSFLOWER. Click the button below for more information.
Parking Discount Offer
The PHS Philadelphia Flower Show is offering discounted parking to visitors at the Convention Center at 1324 Arch Street. Click the button below to print out your Flower Show parking coupon.
History
For 185 years, the PHS Philadelphia Flower Show has enthralled visitors from around the globe with stunning displays celebrating the beauty of plants and the art of gardening.
The Philadelphia Flower Show is deeply rooted in the history of the Pennsylvania Horticultural Society (PHS), which was founded in 1827. Charter members brought interesting plants to display at meetings and, eventually, to share with the public. In the 1960s, PHS took over management of the Philadelphia Flower Show, also encouraging participation by amateurs — individuals and garden clubs.
With the help of hundreds of volunteers the show raises significant funds to support PHS's community greening programs and other civic initiatives in Philadelphia.
PATH: http://www.uwishunu.com/tag/philadelphia-flower-show/feed/image/
March 7, 2014Reminder: The Philadelphia Flower Show Kicks Off Its Final Days With A Live Q&A From Food Network Star Rachael Ray, Today At 1:30 P.M.

March 6, 2014Tonight Picks: PAFA After Dark: Block Party, Special Happy Hours At Nomad Roman Pizza, The Trestle Inn And Howl At The Moon, Girls Night Out At The Flower Show And More

March 6, 2014Reminder: Girls Night Out Hits The Flower Show With On-Site Spa Services, Shopping, Cocktails And More, Tonight, Thursday, March 6

March 5, 2014Tonight Picks: The Philadelphia Flower Show Continues With Wedding Wednesday, Chestnut Hill Restaurant Month, Pay-What-You-Wish Wednesday At The Art Museum And More

March 5, 2014Reminder: Wedding Wednesday Arrives At The Flower Show With More Than 50 Vendors And A Live Wedding Ceremony, Tonight, March 5

Uwishunu covers everything fun and exciting happening in Philadelphia — read it daily for the latest on restaurants, bars, events, festivals, arts, music, hotels and more.
Details
Get Directions
12th and Arch Streets
The Pennsylvania Convention Center
Philadelphia, PA 19107
(215) 988-8800
Website
Neighborhood:
Visit Official Website
In the neighborhood
Accommodations

Museums & Attractions

151 North Independence Mall East Philadelphia, PA 19106
(215) 408-0114
Website

View more attractions

Restaurants & Dining
Find us on Facebook