PHS Philadelphia Flower Show
The world's largest indoor flower show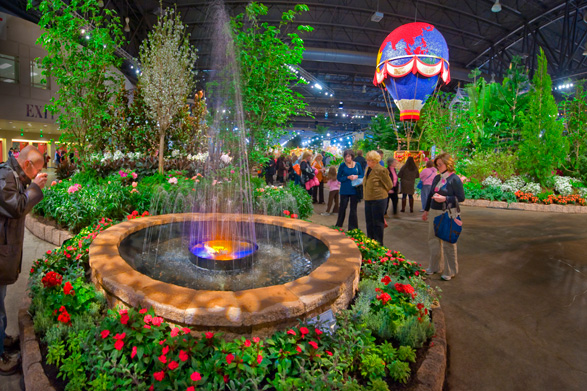 Description
Dates:
March 2-10, 2013
Brilliant!
The largest indoor flower show in the nation, the PHS Philadelphia Flower Show is going to be "Brilliant!" in its 184th year.
Capturing the majestic beauty and creative inspiration of Great Britain, displays at this year's Flower Show will pay tribute to centuries of inspiring, influential design sense of London.
Visitors will be greeted by the scent of thousands of English roses at the Royal palace gates, which open to the show's grand centerpiece: a sculptural, digitally enhanced rendition of Big Ben, complete with an hourly light and sound show.
The main exhibits will focus on Britain's heritage and culture including Royal events, the Mad Hatter's Tea Party, foggy London streetscapes and a floral presentation of the Crown Jewels.
Be treated like royalty when you book your stay in advance with the Philadelphia Flower Show Hotel Package including overnight accommodations, two tickets to the Flower Show and various special offers. Click the button below to browse available offers and book you stay.
Hours and Tickets
For the first time ever, the PHS Philadelphia Flower Show will be extended an extra day to give visitors two full weekends to explore the "Brilliant!" floral displays.
Opening hours are as follows:
Saturday, March 2: 11am – 9:30pm
Sunday, March 3: 8am – 9:30pm
Mon, March 4 – Fri, March 8: 10am – 9:30pm
Saturday, March 9: 8am – 9:30pm
Sunday, March 10: 8am – 6pm
To purchase tickets in advance, click below.

Special Events and Activities
Garden Teas: Have a "cuppa" in the garden with a British-inspired break during the Flower Show. Reserve your spot in advance for a refreshing break in an elegant space.
Garden to Table Kitchen: Sponsored by Organic Gardening magazine, the Garden to Table Kitchen offers foodies a chance to see culinary demonstrations and discovered fresh ingredients from the garden.
Theme Nights: The popular "LGBT Party" will be held on Sunday, March 3 at 4 p.m. Brides-to-be can enjoy "Wedding Wednesday" on March 6 with "Girls' Night Out" scheduled for Thursday, March 7. Be sure to bring the kids for "Family Day" on March 10.
PHS Kids' Zone: Children can take a break from the show and unwind in a special area sponsored by Einstein Healthcare Network.
Designer's Studio: Returning in 2013, the Designer's Studio features daily competitions by professional and amateur flower arrangers will be critiqued on the spot by judges and audience members alike.
Insider Tip
Download the mobile Flower Show app to your smartphone or tablet for information on exhibitors, maps, schedules, special offers and parking advice.
History
For 182 years, the PHS Philadelphia Flower Show has enthralled visitors from around the globe with stunning displays celebrating the beauty of plants and the art of gardening.
The Philadelphia Flower Show is deeply rooted in the history of the Pennsylvania Horticultural Society (PHS), which was founded in 1827. Charter members brought interesting plants to display at meetings and, eventually, to share with the public. In the 1960s, PHS took over management of the Philadelphia Flower Show, also encouraging participation by amateurs — individuals and garden clubs.
With the help of hundreds of volunteers the show raises significant funds to support PHS's community greening programs and other civic initiatives in Philadelphia.

PATH: http://www.uwishunu.com/tag/philadelphia-flower-show/feed/image/
November 6, 2013The Pennsylvania Horticultural Society Pops Up With Its Annual Holiday Shop In Chestnut Hill, Opening Friday, November 8

August 27, 2013Check Out Miss Richfield 1981′s Selfie Tour Of The Town On Visit Philly And Enter To Win A Fabulous Weekend Stay In Philadelphia

March 1, 2013The Barnes Foundation To Hold Extended Evening Hours To Coincide With The 2013 Flower Show

February 28, 2013Our Definitive Guide To The 184th Philadelphia Flower Show, Featuring Deals And Events You Don't Want To Miss

February 27, 2013Roundup: Our Picks For The Best Of British Philadelphia, Including The Britain-Inspired 2013 Philadelphia Flower Show

Uwishunu covers everything fun and exciting happening in Philadelphia — read it daily for the latest on restaurants, bars, events, festivals, arts, music, hotels and more.
Details
Get Directions
12th and Arch Streets
The Pennsylvania Convention Center
Philadelphia, PA 19107
(215) 988-8899
Website
Neighborhood:
Related Tags
In the neighborhood
Accommodations

Museums & Attractions

219 S. Sixth Street Philadelphia, PA 19106
(215) 925-2688
Website

View more attractions

Restaurants & Dining
Find us on Facebook