Philadelphia Outfest
Philadelphia's "Coming Out" block party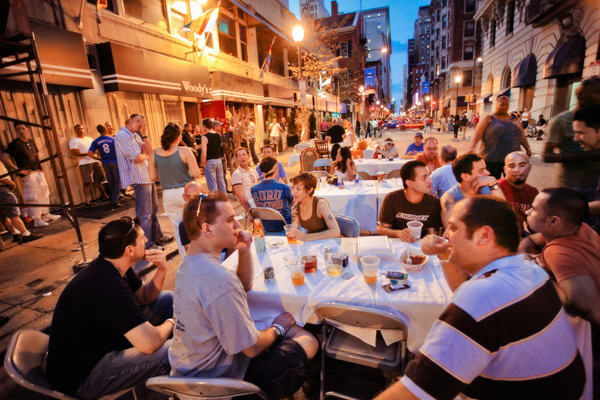 Description
Date
October 12, 2014
Overview
Don't miss Philadelphia's Outfest, a National Coming Out Day (NCOD) Festival that attracts over 30,000 people to the region. The annual block party embraces the GLBT lifestyle and freedom.
Philadelphia was one of the first cities to organize around NCOD on a large scale by creating a block party to showcase the many facets of the community. The event quickly grew into what the greater Philadelphia region uniquely celebrates as OutFest.
This years festival includes over 100 organizations, community groups, and vendors along with live music, dancing, food, shopping, mini-golf and much more!
For a complete list of events and more information, click the button below.
PATH: http://www.uwishunu.com/tag/outfest/feed/image/
October 9, 2013OutFest Returns To The Gayborhood With Tons Of Live Entertainment, Shopping, A Dance Party And More, This Sunday, October 13

October 2, 2013The City Of Philadelphia Kicks Off LGBT History Month With A Rainbow Flag Raising Ceremony At City Hall, Thursday, October 3

September 5, 2013Roundup: A Guide To The More Than 50 Late-Summer And Early-Fall Festivals Coming Your Way In Philadelphia

October 4, 2012OutFest 2012 Lands In The Gayborhood This Sunday, October 7: Bar Crawl, Live Music, Flea Market, Dance Party, Sports Zone, Games And Much More

September 12, 2012Roundup: Our Guide To The Dozens Of Late Summer And Early Fall Festivals Hitting Philadelphia In The Coming Weeks

Uwishunu covers everything fun and exciting happening in Philadelphia — read it daily for the latest on restaurants, bars, events, festivals, arts, music, hotels and more.
Details
Get Directions
13th and Locust
Main Stage
Philadelphia, PA 19107
(215) 875-9288
Website
Neighborhood:
Visit Official Website
In the neighborhood
Accommodations

225 S. 8th Street Philadelphia, PA 19106
(215) 922-2446
Website

View more hotels

Museums & Attractions

8th and Locust Streets Philadelphia, PA 19107

View more attractions

Restaurants & Dining
Find us on Facebook