9th Street Italian Market Festival
Enjoy a weekend of authentic Italian American culture in South Philadelphia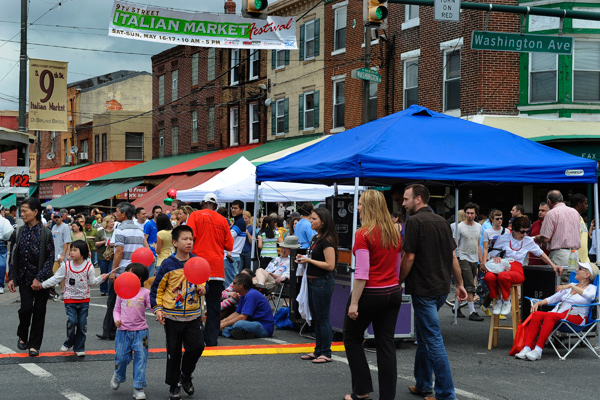 Description
Dates:
May 17-18, 2014
The Experience
For one weekend each May, 9th Street — in the heart of South Philadelphia — closes down traffic and a huge, multi-block festival takes over the neighborhood.
It all starts with the great sights, sounds and aromas of America's oldest continuously operating open-air market: South Philadelphia's famous Italian Market. And the most important thing for you to bring with you is your appetite.
In addition to the blocks of curb vendors and specialty butcher, cheese, gift and cookware shops that line the market, there will also be street-side merchants selling specially prepared foods just for the Festival.
Expect to see stands offering a display of fresh sausage and peppers, antipasto salads, roast pork sandwiches, cheeses, cured meats, an infinite array of pastries, famous mango roses and so much more.
Many nearby restaurants will extend their table service to the sidewalk so you can dine alfresco and enjoy the festival atmosphere.
A stunning smorgasbord of flavors will be on full display during the Festival, as vendors line the street, musicians roam the crowds and top chefs show off some of their best techniques at live cooking demonstrations.
For a full schedule and lineup of musicians, performances and demonstrations, be sure to visit the Festival's official website by clicking the button below.
Insider Tip
Belying its name, the Italian Market is not just Italian anymore. In fact, it's a veritable melting pot of international cultures and cuisines.
You can choose from several excellent Asian restaurants serving delicious Vietnamese banh mi sandwiches and piping hot bowls of pho. Or savor amazingly flavorful tacos, spicy tamales and several other authentic Mexican favorites from La Lupe and Taqueria La Veracruzanas. And that's just the beginning.
There is so much great eating in and around the Italian Market that you'll want to return again and again.
PATH: http://www.uwishunu.com/tag/italian-market-festival/feed/image/
May 17, 2013Our Guide To The Food, Drinks, Music, Family-Friendly Fun And More Food Of The 9th Street Italian Market Festival, This Saturday And Sunday, May 18-19

May 7, 2013Save The Date: The 9th Street Italian Market Festival Brings The Flavors And Sights Of Italy To The Streets Of Bella Vista, May 18-19

May 2, 2013Roundup: Our Updated Guide To The Dozens Of Spring And Early Summer Festivals Hitting Philadelphia In The Coming Weeks

May 15, 2012Our Guide To The Two-Day 9th Street Italian Market Festival, Set For This Saturday And Sunday May 19-20 With Music, Games And More Food Than You Can Imagine

Uwishunu covers everything fun and exciting happening in Philadelphia — read it daily for the latest on restaurants, bars, events, festivals, arts, music, hotels and more.
Details
Get Directions
9th Street and Washington Avenue
(Along S. 9th Street between Fitzwater and Federal Streets)
Philadelphia, PA 19147
Website
In the neighborhood
Museums & Attractions

719 Catharine St.
Philadelphia, PA 19147
(215) 922-3456
Website

View more attractions

Restaurants & Dining

611 S. 7th Street
Philadelphia, PA 19147
(215) 238-0900
Website

View more Restuarants & Dining
Find us on Facebook