South Street Spring Festival
Massive outdoor street party to celebrate the season
Description
Date:
Spring 2016
Note: The information below is from 2015. Stay tuned for more information about this year's event as it becomes available.
Overview
Get outside and celebrated the season during the third annual South Street Spring Festival.
Held on the first weekend in May, the FREE outdoor festival brings tens of thousands to South Street from 8th to Front Streets for a day of food, music and family-friendly fun.
Dozens of vendors join the businesses and restaurants of South Street offering delicious food, creative gifts and refreshing beverages. Live music on three stages spread across the festival will provide the soundtrack for the fun-filled spring event.
Photo Tour: Top Reasons to Check Out the 3rd Annual South Street Spring Festival
Click the button below for a preview of what to expect this year from the eight full blocks of festival goings-on at the South Street Spring Fest, including great food, live music, local beer, Maifest and more.
top reasons to check out the south street spring festival
Food and Drink
More than 30 restaurants and bars will be serving al fresco eats and drinks, giving festival goers a taste of the neighborhood. Enjoy local favorites like Pizzeria Stella, Iskabibbles, Copabanana, Rita's Water Ice and Jim's Steaks or try bites from festival newcomers like Tuk Tuk Real, Circles, Lil Pop Shop, Mom-Mom's Polish Food Cart.
Popular city food trucks will also be at spring fest, bringing a wide variety of cuisines and flavors to the seasonal celebration.
Entertainment
The South Street Spring Festival features three stages for live music throughout the day. Be sure to visit 2nd Street Plaza, which will be transformed into a giant lawn concert complete with 1,500 feet of grass, live music, games, chairs and more.
As you wander through the festival, entertainers will delight crowds from eight locations along the popular South Street corridor.
KidZone
Families can head to the KidZone for all-ages fun. Enjoy face-painting, family-friendly games and more.
Maifest Street Festival
Coinciding with the South Street Spring Festival, the Maifest Street Festival at Brauhaus Schmitz brings a taste of Germany to Philadelphia.
Held outside the popular German eatery on the 700 block of South Street, Maifest features a bevy of German beers, traditional music and authentic dancers gathering around the city's largest Maypole.
View Full Map
Click the image below to view the full South Street Spring Festival map.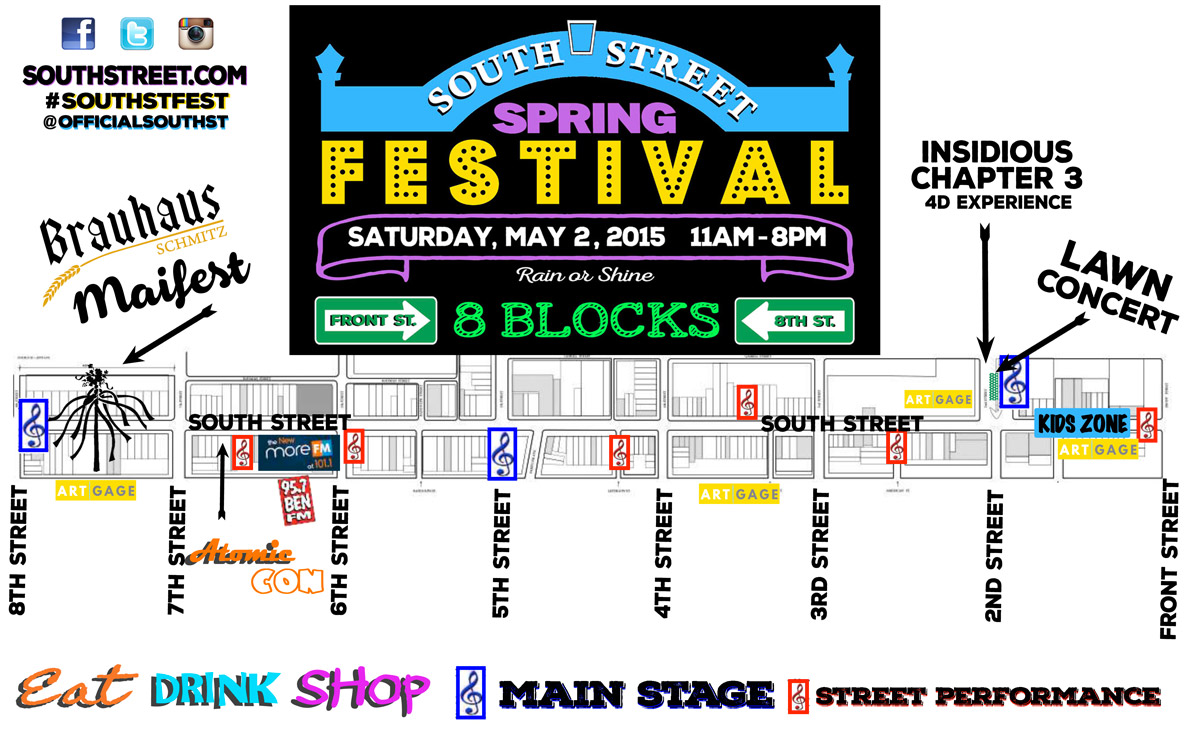 ART/GAGE
Philadelphia's Magic Gardens hosts a day of hands-on art activities during the South Street Spring Festival. Create a flower crown at Brauhaus Schmitz, make a bandana for your pet or learn how to decorate tiles like famed artist Isaiah Zagar.
Look for ART/GAGE activities throughout the festival and be sure to explore Philadelphia's Magic Gardens, which will be open to the public throughout the day.
Atomic Con
Hosted by Atomic City Comics on the 600 block of South Street, the 1st annual Atomic Con joins the festival celebration. Grab a free comic for Free Comic Book Day and take part in costume contents, artists appearances, workshops and more.
For more information on the South Street Spring Festival, click the button below.
Details
Get Directions
South Street (between Front and 8th) Philadelphia, PA 19147
Website
Visit Official Website
In the neighborhood
Museums & Attractions

718 South Street
Philadelphia, PA 19147
(267) 909-8814
Website

View more attractions

Restaurants & Dining

236 South St.
Philadelphia, PA 19147
(215) 925-3881
Website

View more Restuarants & Dining
Find us on Facebook