Wawa Welcome America! Fireworks
Celebrate Independence Day with several exciting fireworks displays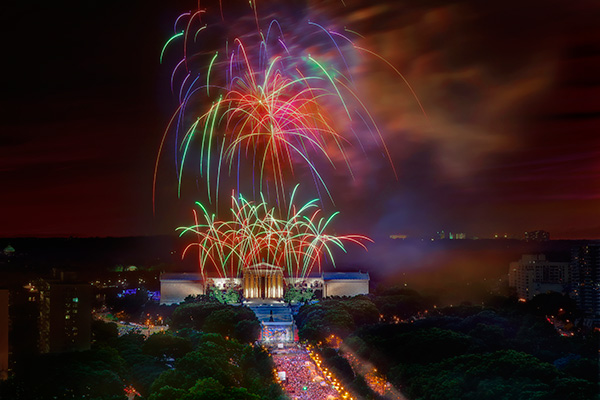 Description
When it comes to celebrating America's birthday, nobody rocks it like Philadelphia, America's birthplace, and 2013—the country's 237th birthday—will be no exception thanks to festive happenings before, during and after the Fourth of July. From July 1-7, Wawa Welcome America! hosts a week-long celebration filled with festive events, including the largest free concert in America starring Philly hometown heroes and Late Night with Jimmy Fallon house band The Roots.
It wouldn't be Independence Day without fireworks and this year there are four explosive shows happening in Philadelphia during the week of July 4th. Get the best view with our guides to watching the fireworks displays at the Philadelphia Museum of Art and the Delaware River, below.
PLEASE NOTE: All fireworks shows and events are scheduled rain or shine. In case of inclement weather, follow @July4thPhilly on Twitter and Wawa Welcome America on Facebook for up-to-the-minute information.
Upcoming Fireworks Shows
Philadelphia Orchestra FREE Neighborhood Concert
Date: Tuesday, July 2
Location: Great Plaza at Penn's Landing | Where to Watch Map – Penn's Landing
Fireworks: Concert begins at 8 p.m. followed by fireworks display.
Concert: The world-renowned Philadelphia Orchestra presents a FREE Neighborhood Concert on the RiverStage at the Great Plaza, followed by a landside fireworks salute.
Philly 4th of July Jam & Grand Finale Fireworks
Date: Thursday, July 4 | Where to Watch Map – Parkway
Fireworks: Estimated to begin around 10:30 p.m.*
Location: Benjamin Franklin Parkway between 20th Street and Eakins Oval
Concert: Hosted by comedian Kevin Hart, the FREE Philly 4th of July Jam features blockbuster performances from The Roots, John Mayer, Jill Scott, , Ne-Yo, Grace Potter, J. Cole and others on Eakins Oval in front of the Philadelphia Museum of Art. Note: Demi Lovato will no longer be performing due to illness. Country music star Hunter Hayes has been added to the lineup.
SugarHouse Casino Fireworks Show
Date: Friday, July 5
Location: SugarHouse Casino | Where to Watch Map – Delaware River Waterfront
Fireworks: Show begins at approximately 9 p.m.
Details: Friday evening just got a little brighter thanks to SugarHouse Casino and its celebratory fireworks show and concert on July 5. The fireworks begin at 9 p.m. and the casino's extensive walkway is the perfect spot to catch the action, the fireworks are also viewable from Fishtown's Penn Treaty Park.
Taste of Philadelphia Concert and Adventure Aquarium Waterfront Fireworks Spectacular
Date: Saturday, July 6
Location: Great Plaza at Penn's Landing | Where to Watch Map – Penn's Landing
Fireworks: Immediately following final performance, between 9:30-10 p.m.*
Concert: The second day of the three-day Taste of Philadelphia celebration features an evening of live music, including a special performance from Marsha Ambrosius, followed by the Adventure Aquarium Waterfront Fireworks Spectacular.
Note: Estimated times provided by Wawa Welcome America! Performances could happen before or after the listed times.
Getting Around
Expect large crowds and closed streets throughout the city for the Fourth of July. Your best bet is to take public transportation including SEPTA and the Phlash Trolley.
For those coming in from the Philadelphia suburbs, SEPTA Regional Rail will be operating on an extended schedule to get travelers home after the fireworks. Buses will be operating on a Sunday schedule and detours are expected. Click here for more details.
Due to the Independence Day Parade on July 4th, limited service will be available on the Philly Phlash trolley with pickups/drop offs ending at Stop 3 and 7 at 11th and 12th Streets until 12:30 p.m.
Additional route detours are expected throughout the day. Click here for details. Regular scheduled service and stops will resume on Friday, July 5.
Questions
For up to the minute updates or July 4th questions, follow @July4thPhilly on Twitter and Wawa Welcome America on Facebook. For the latest street closures, follow the city's official Twitter accounts: @philly311 and @PhiladelphiaGov.
Viewing Tips
Arrive early. Bring lawn chairs, a blanket and a picnic. If you get there early, you'll be able to grab a great location for the concert and the fireworks. Check out a few of our top places to watch the fireworks, below.
Places to Watch
Best places to watch the giant Fireworks display above the Philadelphia Museum of Art on July 4
• Benjamin Franklin Parkway: You can stake out a spot anywhere along the Benjamin Franklin Parkway from Logan Circle to Eakin's Oval. The entire street is shut down in honor of the celebration. Tip: try to grab a spot at the baseball fields at 22nd and the Parkway.
• Paine's Park: A gorgeous new skatepark and recreation space off the Benjamin Franklin Parkway, Paine's Park is directly in the shadow of the Philadelphia Museum of Art, offering spectacular views of the July 4th Grand Finale.
• Martin Luther King Drive: This is another great place, right across the the Schuylkill River from gorgeously lit Boathouse Row. Anyone driving in from the suburbs will find it convenient to settle in along here for the evening.
• Schuylkill River Park: There's lots of grass along the banks for comfortable viewing, with a beautiful view of the Art Museum. It's a super convenient spot for Center City residents, since it's accessible via the Walnut Street Bridge, Race Street crossing and other connectors.
• Lemon Hill in Fairmount Park: There's a a gorgeous mansion, and lots of space to set up your lawnchairs. One advantage of this site is the elevation. Bring a BBQ!
• Kelly Drive: There are many places along the river with great views of the display, including Boathouse Row and the open field at the intersection of Kelly Drive and Sedgley Drive.
• Belmont Plateau: Part of Fairmount Park in West Philadelphia, the elevated fields at Belmont Plateau should have plenty of space to spread out and enjoy the fireworks from a distance.
• Best Western Center City: Conveniently located right on the parkway, this hotel is the closest hotel to the Philadelphia Museum of Art and affords prime views of the events if you know anyone staying there and can watch from inside (or outdoor pooldeck, anyone?) or just want to situate yourself close to the action.
• Bistro St. Tropez: Beat the heat, the rain and the crowds at Bistro St. Tropez. Thanks to the resturant's huge picture window overlooking the Art Museum, you'll have an unblocked view of the fireworks. Enjoy dinner, an appetizer or just a cocktail at the bar. Chef Rames' a la carte menu will be offered beginning at 5:30 p.m. Tip: call (215) 569-9269 now to receive the best seating.
• Embassy Suites Philadelphia: Located seven blocks from the Philadelphia Museum of Art straight down the Parkway, the Embassy Suites hotel offers a fantastic view of the fireworks. Staycation perhaps?
• Loews Philadelphia Hotel: Guests staying at the Loews Philadelphia or diners celebrating Independence Day at Solefood restaurant can head to the 33rd floor for a bird's-eye view of the fireworks at the Philadelphia Museum of Art.
Delaware River Waterfront Fireworks Watching Spots
From Philadelphia
• Penn's Landing: The Great Plaza (closest intersection is Columbus Boulevard and Chestnut Streets), where the main stage is, is of course a solid option. Other good spots at Penn's Landing are anywhere along its southern stretch, from Dock Street to South Street.
• Independence Seaport Museum: Get a perfect view of the fireworks over the Delaware River and visit the museum's new exhibition Tides of Freedom:African Presence on the Delaware River.
• Morgan's Pier: Morgan's Pier, a waterfront beer garden just to the north of the Ben Franklin Bridge. Get there early to stake out one of the picnic tables on the deck to enjoy the new menu from Chef George Sabatino and sample their awesome selection of local craft beer.
• Penn Treaty Park: Penn Treaty Park's seven acres of open green space and clean picnic areas provide a great vantage point from which to watch the fireworks.
• Race Street Pier: This lush park is an amazing spot to watch, complete with bleacher seating, but we recommend you get there early as it's going to fill up fast. Also keep in mind that alcohol, BBQ and glass containers are not permitted at the Pier.
• Washington Avenue Green: This is another park on the Delaware River Waterfront, at 1301 S. Columbus Blvd, formerly Pier 53.
• Hyatt Regency Philadelphia: The terrace at Keatings River Grill, which just reopened for the season, is a prime location for the fireworks show. A new summer menu this year fuses local fare with a modern edge and tapas-style dishes.
• Holiday Inn Express Penn's Landing: Recently renovated and reopened, the Holiday Inn Express® Penn's Landing offers spectacular views of the Delaware River Waterfront from select rooms.
• Moshulu: Get a front row seat for the fireworks aboard the Moshulu. Dine on selections from the Moshulu's regular menu, or just watch from the ship's deck (with $10 cover).
• Ristorante La Veranda: This historic Northern Italian restaurant located on Pier 3 Penn's Landing offers prime fireworks viewing on two levels.
• Village Belle: A Northern Mediterranean-inspired restaurant and bar in Queen Village, Village Belle offers delicious dishes to go with fantastic views of the Delaware River Waterfront fireworks.
From Camden Waterfront (New Jersey Side)
• Adventure Aquarium: Get an unforgettable view of the fireworks as they cascade over the Philadelphia skyline from outside Adventure Aquarium.
• Battleship New Jersey: Enjoy live entertainment and a great view of the fireworks over the Delaware River from the deck of the Battleship New Jersey.
• Wiggin's Park: Across the river in Camden, you can get an equally spectacular view of the fireworks from Wiggin's Park, located near Adventure Aquarium and the Battleship New Jersey. It's free and open to the public.
PATH: http://www.uwishunu.com/tag/july-4th/feed/image/
July 5, 2013Reminder: Taste Of Philadelphia Continues The Celebration Of America's Birthday With A Food Fest And Fireworks Over The Delaware, July 5-7

July 3, 2013Weekend Picks, July 4th Edition: Epic Fireworks On July 4 And 6, The Free Fourth Of July Jam Concert On The Benjamin Franklin Parkway, Taste Of Philadelphia And Much, Much More

July 3, 2013The 4th Of July In Philadelphia: Our Hour-By-Hour Guide To Independence Day Celebrations In The City Of Brotherly Love

July 3, 2013Roundup: Our Top Picks For Philadelphia Countryside Fourth Of July Barbecues, Parades, Family-Friendly Activities And Fireworks

July 3, 2013Our Guide To The City, The Philly 4th Of July Jam's Music, Art, Fashion And Food Festival At The Piazza At Schmidt's Today, July 3

Uwishunu covers everything fun and exciting happening in Philadelphia — read it daily for the latest on restaurants, bars, events, festivals, arts, music, hotels and more.
Details
Get Directions
July 4th fireworks location is 2600 Benjamin Franklin Parkway;
Fireworks on July 6 are at Penn's Landing
(215) 683-2200
Website
Neighborhood:
In the neighborhood
Accommodations

100 N. Columbus Boulevard
Philadelphia, PA 19106
(215) 627-7900
Website

View more hotels

Museums & Attractions

Restaurants & Dining

121 N. Columbus Boulevard
The Great Plaza at Penn's Landing
Philadelphia, PA 19106
Website

View more Restuarants & Dining
Find us on Facebook