AKA Rittenhouse Square
A luxurious space specializing in extended stays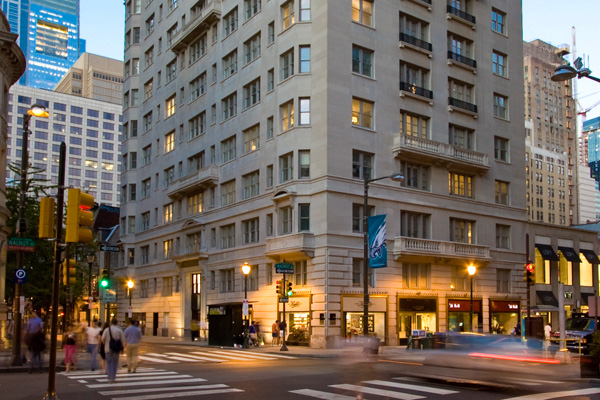 Description
AKA Rittenhouse Square is a luxury boutique property specializing in stays of a week or longer. Fusing luxuriously furnished apartments with the style and service of an intimate hotel, the AKA is the ideal choice for those who want to get to know Philadelphia during their stay.
Each AKA apartment, suite and penthouse offers a large space with a fully equipped kitchen, large living area and complimentary business services—including access to the on-site conference room. Contemporary touches are designed into each furnished apartment and in-suite internet access is also provided.
Residents at AKA Rittenhouse Square can also enjoy complimentary access to the brand new on-site fitness center with state of the art equipment and individual 32" LCD HD TVs at all cardio machines. For those looking for a more intense workout, classes or specific weight training equipment, residents can also enjoy complimentary access to The Sporting Club at The Bellevue.
Location
Sitting proudly on the corner of 18th and Walnut Streets, the majestic, twelve-story building has been respectfully transformed with stylish interiors—while preserving the building's historic façade.
Ideally located on the eastern side of Rittenhouse Square, guests can cross over Walnut Street and head into the park for an afternoon of reading or sunbathing or take a walk to Broad Street and take in a theatrical performance along the Avenue of the Arts.
Details
Get Directions
135 S. 18th Street
Philadelphia, PA 19103
(215) 825-7000
Website
Book your stay now
Related Tags
In the neighborhood
Restaurants & Dining

1946 Lombard Street
Philadelphia, PA 19146
(215) 545-0350
Website

View more Restuarants & Dining

Museums & Attractions

1701 Arch Street
Philadelphia, PA 19103

View more attractions

Accommodations

120 S. 17th Street
Philadelphia, PA 19103

(215) 569-8300
Website

View more hotels
Find us on Facebook