Hotel Palomar Philadelphia
A Kimpton Hotel near Rittenhouse Square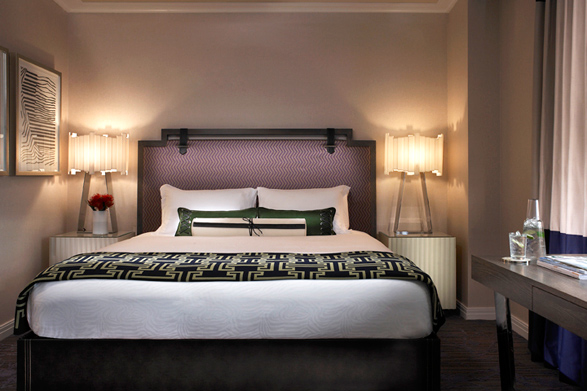 Description
Kimpton Hotels sets its sights on Philadelphia with the brand new Hotel Palomar Philadelphia, joining a new wave of sophisticated, artistic hotels in the City of Brotherly Love.
Located within Philadelphia's Rittenhouse area, Hotel Palomar boasts an eye-catching, Art Deco exterior.
The hotel's 230 guest rooms are each uniquely equipped with luxurious, stylish touches. Art Deco details reflect the building's origins while custom furnishings, Frette linens and superb amenities celebrate contemporary luxury. Soft, neutral earth tones are enlivened by tasteful splashes of color and original artwork.
On-site amenities include a 24/7 fitness center, in-room spa services, a hosted evening wine hour, complimentary internet access and more. Got a favorite four-legged friend? The Hotel Palomar is a very pet-friendly hotel.
An Eco-Friendly Hotel
Hotel Palomar is a LEED certified hotel. It is among a select number in the nation to enjoy this distinction, highlighting the Hotel Palomar's commitment to exceptional design and environmental responsibility.
To see a comprehensive list of the hotel's eco-friendly practices, click here.
Dining at Square 1682
At Hotel Palomar's new restaurant, Square 1682 (a LEED-certified restaurant), nationally celebrated Chef Guillermo Tellez introduces a New American menu with world flavors, designed for sampling and sharing.
The restaurant is located in a sleek, two-story space. Downstairs, an energetic bar scene and floor-to-ceiling wine display is backed by an exhibition kitchen. Upstairs, cozy tables and private booths allow for easy conversations and comfortable dining.
Square 1682 serves breakfast, lunch and dinner daily.
PATH: http://www.uwishunu.com/tag/hotel-palomar/feed/image/
April 15, 2014Take Advantage Of Tax Day Deals In Philadelphia At Restaurants, Hotels And Attractions Today, Tuesday, April 15

February 24, 2014The Hotel Palomar Hosts Glamsino Royale, A James Bond-Themed Party And Fundraiser For ActionAIDS, This Thursday, February 27; Save 20% Off Tickets

February 21, 2014Coming Attraction: Kimpton Hotels & Restaurants Officially Announces Plans For A Brand-New Property On The Benjamin Franklin Parkway

Uwishunu covers everything fun and exciting happening in Philadelphia — read it daily for the latest on restaurants, bars, events, festivals, arts, music, hotels and more.
Details
Get Directions
117 S. 17th Street
Philadelphia, PA 19103
(215) 563-5006
Website
Book your stay now
In the neighborhood
Restaurants & Dining

121 S. 17th Street
Hotel Palomar Philadelphia
Philadelphia, PA 19103
(215) 563-5008
Website

View more Restuarants & Dining

Museums & Attractions

1515 Cherry Street Philadelphia, PA 19102
(215) 241-7219
Website

View more attractions

Accommodations

210 W. Rittenhouse Square
Philadelphia, PA 19103
(215) 546-9000
Website

View more hotels
Find us on Facebook