Adventure Aquarium
The ocean's secrets revealed at Camden's riverfront aquarium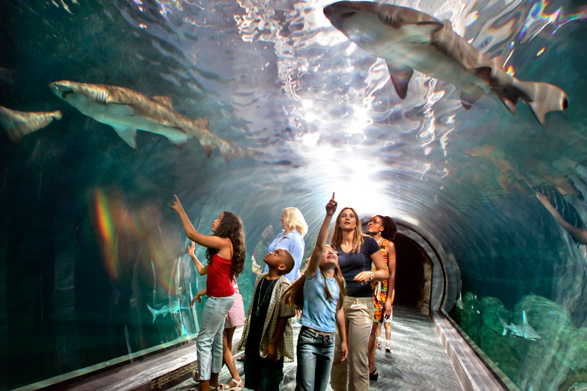 Description
The Experience
Families can roll up their sleeves and prepare for a thrill at Adventure Aquarium on the Camden, NJ Waterfront, America's Most Touchable Aquarium.
Open from 10 a.m. to 5 p.m., 365 days a year, Adventure Aquarium is a true waterfront treasure, featuring nearly 200,000 square feet of space, more than two million gallons of water and 6,500 animals.
The fifth largest aquarium in the country, Adventure Aquarium is the only aquarium in the world to exhibit hippos and one of only two aquariums in the country to exhibit a Hammerhead Shark. Adventure Aquarium offers numerous hands-on touch experiences including the all new Stingray Beach Club, where families can touch and hand-feed gentle and curious stingrays.
Hungry Hippos
At the West African River Experience, one of the largest and most popular attractions, you can immerse yourself in the mayhem of the Nile River Valley. Marvel at 20 species of African birds in a free-flight aviary and identify similarities between thousands of spectacular fish. Just be sure to give the hippopotamuses (Button and Genny) the distance they need; these relatively tame-looking creatures are the most dangerous animals in Africa, accounting for more human deaths than crocodiles, lions and tigers. Adventure Aquarium is the only aquarium in the world to exhibit hippos.
Shark Realm
In the the 550,000-gallon Shark Realm, where a 40-foot, underwater tunnel takes you deep into shark-infested waters, you'll feel what's it's like to have "Jaws" looming just over your shoulder. The bravest among you can even swim with the sharks (with advance reservations).
Other not-to-be-missed highlights at Adventure include the state-of-the-art 4-D Theater (the fourth "D" is for elements like wind and water), the Jules Verne Gallery, which features the exotic and rarely seen giant Pacific octopus, and Penguin Island, which is surrounded by a 17,000 gallon swimming pool for the island's resident birds — flightless African Penguins.
History
The New Jersey State Aquarium, with its signature white dome, first opened in February 1992. A wave of nearby development followed as the Camden waterfront became a popular riverside destination. In 2004, the New Jersey State Aquarium closed its doors to make way for the new Adventure Aquarium. Adventure Aquarium first opened its doors to the public on Memorial Day Weekend 2005 after a massive, $53 million renovation and expansion project.
Insider Tip
Adventure Aquarium's 6 seals consume 48.8 million calories a day. The average Philly cheesesteak has 393 calories, meaning each seal could eat the equivalent of an astounding 124,173 cheesesteaks a day.
Great Kids' Stuff
With several hands-on "TOUCH" exhibits including rays, jellies and even sharks, kids will learn through experience. Everyday, the Aquarium offers a diverse line-up of shows and demonstrations that will insure an up-close, personal and highly informative adventure.
Buy Tickets Online
Purchase tickets in advance before your visit Adventure Aquarium. Call (856) 365-3300 or click the button below to purchase tickets online.
Details
Get Directions
1 Riverside Drive
Camden, NJ 08103
(856) 365-3300
Website
Neighborhood:
Visit Official Website
Related Tags
In the neighborhood
Accommodations

100 N. Columbus Boulevard
Philadelphia, PA 19106
(215) 627-7900
Website

View more hotels

Museums & Attractions

Columbus Boulevard between Market and Walnut Streets
Philadelphia, PA 19106
Website

View more attractions

Restaurants & Dining

Columbus Boulevard and Lombard Circle Penn's Landing Philadelphia, PA 19106
(215) 923-1419
Website

View more Restuarants & Dining
Find us on Facebook