Benjamin Franklin Museum
Revitalized museum dedicated to the life and legacy of America's favorite Renaissance man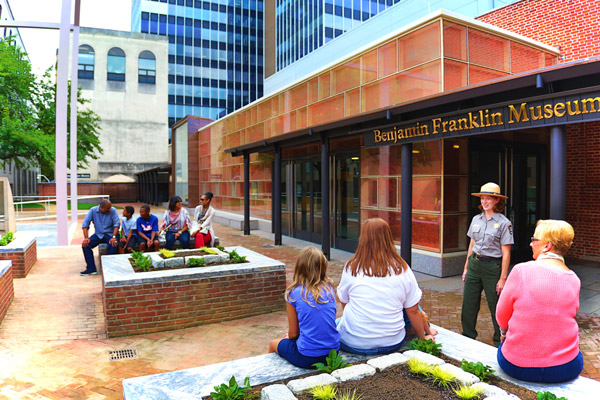 Description
Overview
Dedicated to the life, times and legacy of Philadelphia's famous founding father, the Benjamin Franklin Museum is now open following a major two-year revitalization.
The world-class museum features personal artifacts, computer animations and interactive displays exploring Franklin's life as a private citizen and statesman. All-ages exhibits and displays will offer visitors educational and fun ways to learn about Benjamin Franklin and the 18th century.
Visitors can learn about the various roles Franklin filled during his lifetime, including his work as a printer, a scientist, a diplomat and a founder of civic institutions. Individual rooms in the museum reflect different aspects of Franklin's personality and character traits as he was known to be strategic, rebellious, curious and full of wonder.
The Benjamin Franklin Museum reveals how Franklin embodied the spirit of the 18th century and how his ideas are still relevant today.
Ben Franklin's Facebook Page
Benjamin Franklin loved writing, socializing and sharing his thoughts and ideas with friends and colleagues, so it's safe to assume he'd have an equal love of social media. Heck, if he was around in 2004, he probably would have invented Facebook himself. Check out how he may have connected on the popular social media platform in his time.
View Ben Franklin's Facebook Page
Ghost House
Located in the courtyard outside the museum, the iconic "ghost house" is a standing steel structure designed by architects Robert Venturi and John Rauch with Denise Brown. The impressive framework traces the outlines of Ben Franklin's vanished house and print shop.
Hours & Admission
The Benjamin Franklin Museum will be open year round from 9 a.m. until 5 p.m.
A small fee will be charged for admission to the museum: $5 for adults, $2 for children (16 and under). Advanced reservations are not available, except for organized school groups.
Follow in Franklin's Footsteps
Follow Benjamin Franklin through the streets of his adopted city, where he invented many institutions and products still in use today and where later generations have created many attractions that honor his legacy.
Discover historic attractions visited by Franklin himself, sites dedicated to his accomplishments and local restaurants that would appeal to one of history's most prolific men in our Franklin's Footsteps Itinerary. Click the button below to read more.
PATH: http://www.uwishunu.com/tag/benjamin-franklin-museum/feed/image/
January 13, 2014A Guide To Celebrating The 308th Anniversary of Benjamin Franklin's Birthday With Deals, Attractions, Parties And More, January 17-19

January 8, 2014Deal Feed: Celebrate Ben Franklin's Birthday With A Weekend Of Free Admission To The Benjamin Franklin Museum Presented By Visitphilly.com, Friday Through Sunday, January 17-19

August 23, 2013The Benjamin Franklin Museum Presents Founder's Days As Part Of Its Opening Weekend Celebration And The National Park Service's 97th Birthday, August 24-25

Uwishunu covers everything fun and exciting happening in Philadelphia — read it daily for the latest on restaurants, bars, events, festivals, arts, music, hotels and more.
Details
Get Directions
317 Chestnut Street Philadelphia, PA 19106
(215) 965-2305
Website
Visit Official Website
In the neighborhood
Accommodations

201 S. Columbus Boulevard
Philadelphia, PA 19106
(215) 928-1234
Website

View more hotels

Museums & Attractions

1 North Independence Mall West Philadelphia, PA 19106
(215) 965-2305
Website

View more attractions

Restaurants & Dining

615 Chestnut St.
Philadelphia, PA 19106
(215) 928-0900
Website

View more Restuarants & Dining
Find us on Facebook