Boathouse Row
19th-century boat houses line the Schuylkill River just west of the Philadelphia Museum of Art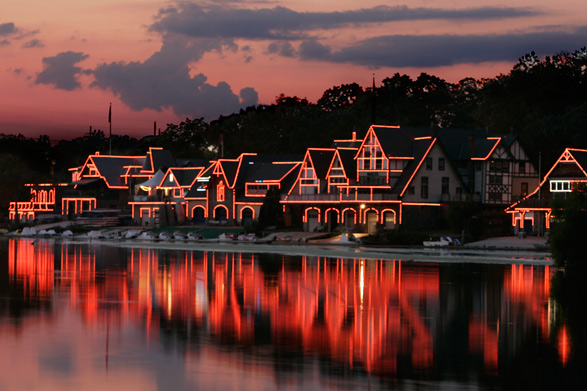 Description
The recipe is simple:
Take one river (Schuylkill)
Add a beautiful setting (Fairmount Park) and a fantastic city (Philadelphia)
Include a handful of boathouses
Mix in a whole lot of enthusiasm and interest
Result:
A great venue for rowing.
From a single rower on a peaceful river in the early morn to an exciting regatta with lots of noise, colors and fan fare — rowers of all ages and skill levels flock to the Schuylkill River to practice, compete, learn and last, but not least, enjoy the sport of rowing.
Local boating clubs take great pride in their 19th-century boat houses, which line the Schuylkill River just west of the Philadelphia Museum of Art. At night, lights outline one of the city's loveliest views, which is known as Boathouse Row.
Much of the park's rowing activity centers around Boathouse Row which is near the Philadelphia Museum of Art and sandwiched between Kelly Drive and the Schuylkill River. Along Boathouse Row, you'll find twelve structures. The first if Fairmount Park's recreation center, Lloyd Hall, at #1 Boathouse Row. Rowing clubs claim the next ten buildings. Each club is a member of the Schuylkill Navy of Philadelphia, the oldest amateur athletic governing body in America. The Sedgely Club, a private social club, rounds out the Row. Further down the River, you'll find the East Park Canoe Club and the Philadelphia Canoe Club.
Throughout the year, some of the clubs located along Boathouse Row hold programs for rowers of every skill level. Fairmount Park too hosts a summer rowing camp for young adults.
Find more information about the boathouses below.
PATH: http://www.uwishunu.com/tag/boathouse-row/feed/image/
October 1, 2013The Philadelphia International Dragon Boat Festival Makes Waves On The Schuylkill River, This Saturday, October 5

May 9, 2013Our Guide To The 75th Annual Aberdeen Dad Vail Regatta On The Schuylkill River, This Friday And Saturday, May 10-11

October 3, 2012The Philadelphia International Dragon Boat Festival Returns To The Schuylkill River This Saturday, October 6

Uwishunu covers everything fun and exciting happening in Philadelphia — read it daily for the latest on restaurants, bars, events, festivals, arts, music, hotels and more.
Details
Get Directions
1 Boathouse Row Philadelphia, PA 19130
(215) 685-3936
Website
Neighborhood:
In the neighborhood
Accommodations

Museums & Attractions

22nd Street and Benjamin Franklin Parkway
Along Benjamin Franklin Parkway
Philadelphia, PA 19109
(215) 988-1707
Website

View more attractions

Restaurants & Dining

1925 Fairmount Avenue
Philadelphia, PA 19130
(267) 514-7145
Website

View more Restuarants & Dining
Find us on Facebook