The Comcast Center
Philadelphia's tallest building is also one of the country's greenest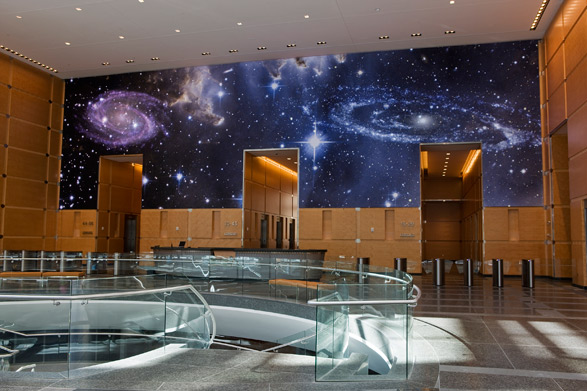 Description
The Building
Standing at a robust 975 feet tall, the newly opened Comcast Center is the tallest building in Philadelphia. And with its ambitious incorporation of eco-friendly technologies, the Center is also the tallest "green" building in the country.
Open to the Public
The Comcast Center is definitely anything but your run-of-the-mill office building. There are numerous reasons for you to stop by and check it out.
The building features a public plaza with a gorgeous fountain display, a dramatic eight-story "Winter Garden" and an energy-saving "glass curtain" that wraps around the Comcast Center, allowing for a 360° view of Philadelphia's urban landscape.
The building has also unveiled a Sony Style Comcast Labs Store, which includes an "Interactive Technology Lab" that is open to the public.
Most stunning of all, however, is "The Comcast Experience," a 2,000 square-foot LED screen projecting computer-generated images so realistic, you'll think they're jumping out of the wall. With a resolution 500% greater than that of an HD television, the Experience is a remarkable technological and artistic achievement.
The video wall, a giant HD video screen that is actually the largest four-millimeter LED screen in the world, is located right in the building's publicly accessible main lobby, so everyone can enjoy it.
Click here for more information about the video wall.
The Market at Comcast Center
Another one of the new building's main draws is its awesome selection of eateries. The Market at Comcast Center, located right below the building's main lobby, has more than 24,000 square feet of food retail and some 20 storefronts for your enjoyment.
Places like Bucks County Coffee Co., Di Bruno Bros., LaScala's, Mexican Post, Sook Hee's Produce, Susanna Foo's Dumpling Kitchen, Under the "C" gourmet seafood and Tokyo Sushi give you a wide variety of culinary tastes to try.
Table 31 Steakhouse Bistro
And all of this is in addition to Table 31 Steakhouse Bistro, the building's signature restaurant from the award-winning team behind Le Bec-Fin and Brasserie Perrier (now closed).
Table 31 Plaza Cafe (Outdoors)
The Center's picturesque outdoor cafe is perfect for spring, summer and fall dining. Located immediately in front of the building's main entrance, the plaza cafe is a great place to stop by for a lunch, a light bite, drinks or dinner. A beautiful fountain display lines the seating area, while the fare comes from Table 31's exceptional kitchen. And the view looking up at the tallest building between New York and Chicago is pretty nice, too.
So definitely add a visit to the Comcast Center to your "to-do" list during your stay in Philadelphia — you'll be witnessing architectural history in the making.
Sustainable Design
The cutting edge sustainable design of Comcast Center can be found in nearly every aspect of the building.
Comcast Center uses 40% less water than a typical office building, and fixtures will save more than three million gallons of drinking water annually. Waterless urinals in all restrooms will save 1.2 million gallons of urinal-water use every year.
Shading on the plaza reduces the heat-island effect caused by pavement by 70%. A glass curtain blocks 60% of heat while allowing 70% of the sun's visible light, reducing energy used for air conditioning while utilizing natural light to its fullest. An under-floor water loop is used to cool the winter garden and 6th floor atrium floor during the summer and warm it during the winter, saving energy.
PATH: http://www.uwishunu.com/tag/comcast-center/feed/image/
January 16, 2014First Look At The Sure-To-Be-Amazing Restaurant Located On The Top Floor Of The New Comcast Skyscraper, Almost 1,000 Feet Off The Ground

January 15, 2014Game Changer: Comcast Officially Announces Plans For New, 59-Story Skyscraper To Be Built In Center City Philadelphia

January 10, 2014Get in Shape With Breakfast Boot Camp At The Market & Shops At Comcast Center, January 11, 18 And 25

November 26, 2013The Comcast Holiday Spectacular Returns For The 2013 Holiday Season On Thanksgiving Day With A Festive Film Experience On One Of The World's Largest Four-Millimeter LED Screen

Uwishunu covers everything fun and exciting happening in Philadelphia — read it daily for the latest on restaurants, bars, events, festivals, arts, music, hotels and more.
Details
Get Directions
1701 John F. Kennedy Boulevard Philadelphia, PA 19103
Website
In the neighborhood
Accommodations

Museums & Attractions

1701 Arch Street
Philadelphia, PA 19103

View more attractions

Restaurants & Dining

16th Street and the Benjamin Franklin Parkway
Philadelphia, PA 19102
(215) 735-9797
Website

View more Restuarants & Dining
Find us on Facebook