Free Library of Philadelphia
Incredible collection of rare books, special collections and media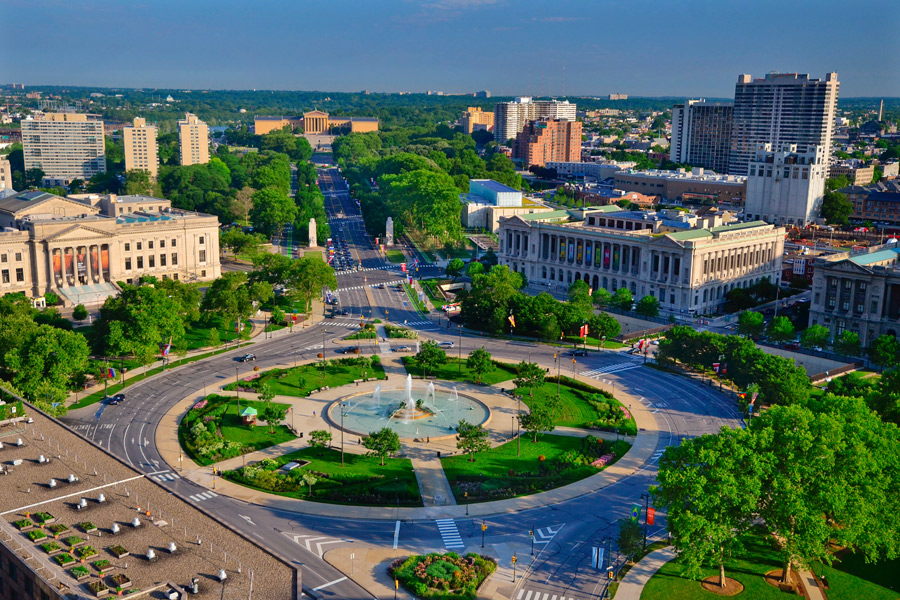 Description
The gorgeous Beaux-Arts building along the culture-heavy Benjamin Franklin Parkway serves as the heart of the Free Library of Philadelphia system, which includes more than 50 branches around the city.
In addition to typical library activities—checking out and returning books—visitors to this Central Library can explore a massive collection that boasts some notable and rare works, such as collections of Edgar Allan Poe, Beatrix Potter and medieval manuscripts.
The Map Collection opens up a world of more than 130,000 current and historical maps, and former band geeks can hum along to one of the strongest sheet music collections (numbering 350,000) in the country, plus the largest lending library of orchestral performance material in the world. Reservations to view rare materials (including collections of Edgar Allan Poe, Charles Dickens, Beatrix Potter, medieval manuscripts and more) may be required, though the library offers free tours six days a week.
Author readings and lectures, special exhibits and events and an annual festival keep Philadelphians celebrating Ben Franklin's idea of free public literature all year long.
The Rare Book Department
The Library boast more than 100,000 books and manuscripts in its Rare Book Department. Click below to learn more.
Insider Tip
At the Free Library of Philadelphia, 11:00 a.m. tours on weekdays lead visitors to the Rare Book Department to view such objects as the actual raven that was the inspiration for the famed Edgar Allan Poe poem.
PATH: http://www.uwishunu.com/tag/free-library/feed/image/
April 17, 2014Celebrate Shakespeare's 450th Birthday With Jugglers, Swordfighters, Cake And More At The Free Library of Philadelphia, Wednesday, April 23

April 7, 2014The Philadelphia Book Festival Returns With Dozens Of Events At Public Libraries Across The City, April 14 Through 19

January 22, 2014Roundup: Our Picks For Chinese New Year Celebrations In Chinatown And Beyond, January And February 2014

October 2, 2013Tonight Picks, Indian Summer Edition: Get Outside And Enjoy The Awesome Weather – PHS Pop-Up Garden, Alfresco Dining, Farmers' Markets, Evening Strolls, Free Orchestra Concert And More

August 14, 2013The Free Library Of Philadelphia's Parkway Central Branch Hosts A Citywide Maker Celebration, This Saturday, August 17

Uwishunu covers everything fun and exciting happening in Philadelphia — read it daily for the latest on restaurants, bars, events, festivals, arts, music, hotels and more.
Details
Get Directions
1901 Vine Street
Philadelphia, PA 19103
(215) 686-5322
Website
Neighborhood:
In the neighborhood
Accommodations

Museums & Attractions

18th Street and Logan Square Philadelphia, PA 19102
1-800-537-7676
Website

View more attractions

Restaurants & Dining

16th Street and the Benjamin Franklin Parkway
Philadelphia, PA 19102
(215) 735-9797
Website

View more Restuarants & Dining
Find us on Facebook