Independence Seaport Museum
An interactive museum exploring Philadelphia's maritime heritage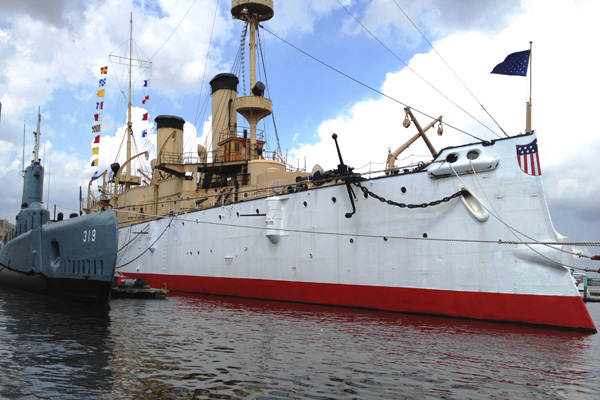 Description
The Experience
With historic vessels to board, an underwater ROV to maneuver and a mock cannon to fire, Philadelphia's maritime museum conveys what the Delaware and Schuylkill Rivers have meant to the city over the years. Along with displays that chronicle the city's contributions to naval and commercial maritime history, there are exhibits about what makes boats float, the China trade and local small craft.
Berthed right outside are the OLYMPIA, the nation's oldest floating steel warship (1892), most famous for being Admiral Dewey's flagship during his Spanish-American war victory in Manila Bay, and the BECUNA, a classic World War II submarine that fought battles in the South Pacific. Workshop on the Water is a working boat shop where you can watch artisans building and restoring traditional wooden boats.
History
The museum, dedicated to exploring the maritime history of the Delaware River, the Delaware Bay and tributaries, opened on Philadelphia's waterfront in July 1995 after more than 35 years of rich history as the Philadelphia Maritime Museum. In 1996, the museum assumed responsibility for the OLYMPIA and BECUNA, which are both designated as National Historic Landmarks.
Great Kids' Stuff
It's easier for kids than parents to shimmy through the hatches of the submarine USS BECUNA. They can imagine being in command here.
PATH: http://www.uwishunu.com/tag/independence-seaport-museum/feed/image/
April 21, 2014The Independence Seaport Museum Celebrates The Philadelphia Science Festival With A Full Day Of Free Boating With Museum Admission, Sunday, April 27

March 10, 2014The Independence Seaport Museum Hosts An Exhibition About The SS United States, A Trans-Atlantic Ocean Liner, Through September 14

January 31, 2014Happy Chinese New Year! Celebrations Continue Throughout The Weekend With The Big Lion Dance Parade On Sunday, February 2

January 23, 2014Tonight Picks: Center City Restaurant Week Continues, Chocolate-Themed Film Night At Independence Seaport Museum, Free Brandy Samples At The Trestle Inn And More

January 22, 2014Independence Seaport Museum Hosts A Sweet Movie Night With Free Chocolate Tastings, A Curator-Led Tour And More, Thursday, January 23

Uwishunu covers everything fun and exciting happening in Philadelphia — read it daily for the latest on restaurants, bars, events, festivals, arts, music, hotels and more.
Details
Get Directions
211 S. Columbus Boulevard Philadelphia, PA 19106
(215) 925–5439
Website
Visit Official Website
In the neighborhood
Accommodations

235 Chestnut Street Philadelphia, PA 19106
(215) 922-4443
Website

View more hotels

Museums & Attractions

Restaurants & Dining
Find us on Facebook