Mütter Museum
Medical wonders in an architectural gem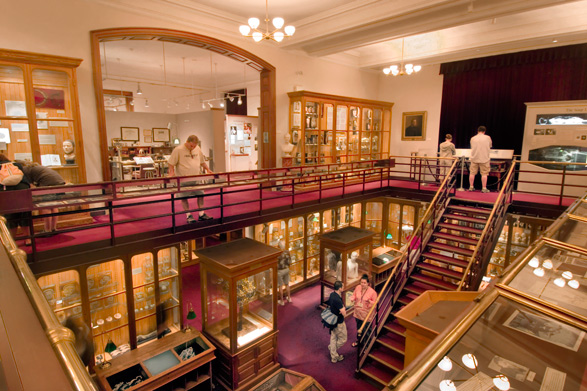 Description
The Experience
The Mütter Museum is a riveting storehouse for the anatomically strange. The Museum's display of 20,000 provocative items is designed to give a beneath-the-surface perspective of what physicians study.
Inside the Museum, you'll find a wide smattering of abnormal body parts preserved in fluid. You'll encounter skeletal formations — like that of a 7'6" man — that don't seem quite possible. Diseased and enlarged organs are tastefully displayed within glass-encased oak frames.
For the sake of comparison, illustrations of normal anatomical formations are cast in wax, plaster and papier mâché throughout the museum.
Connections to the famous include Marie Curie's electrometer, Dr. Benjamin Rush's medicine chest and, most spectacularly, the death cast of Chang and Eng, the original "Siamese Twins," whose autopsy was performed in the museum.
History
Philadelphia physician Thomas Mütter donated $30,000 and his 1,700-item personal museum of bones, plaster casts, medical illustrations and other pathological artifacts to the College of Physicians of Philadelphia. The College has continued to add to the collection since it opened as a museum in 1863.
The Mütter collection moved into its current building, which boasts grand marble and oak halls, in 1908.
Buy Tickets Online
Purchase tickets for general admission to the Mütter Museum in advance of your visit. Click the button below to buy tickets online at the Independence Visitor Center.
PATH: http://www.uwishunu.com/tag/mutter-museum/feed/image/
October 30, 2013The Mütter Museum Hosts A Sleepover Party With Flashlight Tours, A Movie Screening, Drinks And More, November 8-9

October 30, 2013Roundup: Day Of The Dead Celebrations At Bars, Restaurants And Museums In Philadelphia

October 29, 2013Halloween In Philadelphia 2013: Experience Haunted Philadelphia In Celebration Of The Spooky Season

April 3, 2013The Mütter Museum Turns Back The Clock With This Year's Mad Men-Themed Mütter Ball, Saturday, April 6

Uwishunu covers everything fun and exciting happening in Philadelphia — read it daily for the latest on restaurants, bars, events, festivals, arts, music, hotels and more.
Details
Get Directions
19 S. 22nd Street College of Physicians of Philadelphia Philadelphia, PA 19103
(215) 563-3737
Website
Neighborhood:
Visit Official Website
In the neighborhood
Accommodations

220 S 17th Street
Philadelphia, PA 19103
(215) 735-6000
Website

View more hotels

Museums & Attractions

1701 Arch Street
Philadelphia, PA 19103

View more attractions

Restaurants & Dining

116 S. 18th Street Philadelphia, PA 19103
(215) 568-1020
Website

View more Restuarants & Dining
Find us on Facebook