Philadelphia Museum of Art
The Art Museum covers 10 acres and houses more than 300,000 works spanning 2,000 years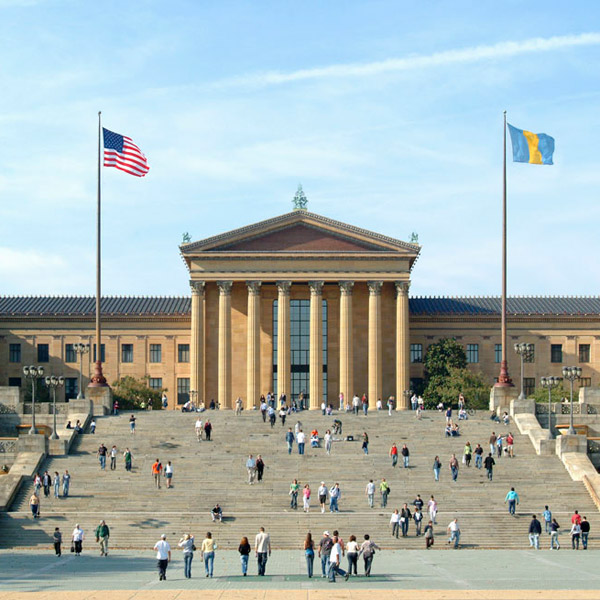 Description
The Experience
Like Philadelphia's own Parthenon, the Philadelphia Museum of Art sits majestically on a rise at the end of the Benjamin Franklin Parkway. The vast collections of this temple of art make it the third-largest art museum in the country, and an absolute must-see on the city's cultural circuit.
Among its impressive holdings in Renaissance, American, Impressionist and Modern art, some standouts include a great Rogier van der Weyden altarpiece, a large Bathers by Cezanne, a room devoted to Philadelphia's own Thomas Eakins, and Marcel Duchamp's notorious mixed-media Bride Stripped Bare by her Bachelors (The Large Glass), exactly as the dada master installed it.
Upstairs, breathe in other cultures and times through over 80 period rooms, from the medieval cloister to the Indian temple. The Museum has wowed visitors in recent years with shows it helped to organize, from Cezanne and Degas to Brancusi and Barnett Newman.
Museum Tour with Director Timothy Rub: The Philadelphia Inquirer walked the galleries with Philadelphia Museum of Art Director and Chief Executive Officer Timothy Rub, discovering his favorite pieces along the way. Read more here…
History
Founded during the nation's first centennial in 1876 as a museum of decorative arts, the Museum soon outgrew its quarters in Fairmount Park's Memorial Hall. Its new building, in the form of three linked Greek temples, opened in 1928. Julian Abele, the chief designer and the first African-American graduate of the University of Pennsylvania's architecture school, was inspired by the temples he saw while traveling in Greece.
Admission
Your ticket to the Philadelphia Museum of Art grants you two-consecutive days admission to the museum along with admission to the Ruth and Raymond G. Perelman Building and the restored Rodin Museum and Historic House Mount Pleasant.
Pay-What-You-Wish
On the first Sunday of the month and every Wednesday after 5 p.m., you can name your price of admission.
PATH: http://www.uwishunu.com/tag/philadelphia-museum-of-art/feed/image/
December 11, 2013Tonight Picks: Spirits And Suds Bar Crawl In East Passyunk, Holiday Shopping In Chestnut Hill And At The Christmas Village, A Holiday-Themed Pay-What-You-Wish Wednesday At The PMA And More

December 5, 2013Our Top Picks For Celebrating First Friday In Philadelphia With Live Music At The Barnes, A Philly-Themed Party In Old City, S'Mores In Graduate Hospital And More On Friday, December 6

December 4, 2013Tonight Picks: Philadelphia's Official Christmas Tree Lighting In Love Park, Menorah Lighting In Rittenhouse, Holiday-Themed Pay-What-You-Wish Wednesday At The PMA And More

December 2, 2013Roundup: Our Picks For 2013 Holiday Festivities In Neighborhoods Throughout Philadelphia

December 2, 2013With Art Philadelphia: Top Picks For December 2013 Art Happenings In And Around The City

Uwishunu covers everything fun and exciting happening in Philadelphia — read it daily for the latest on restaurants, bars, events, festivals, arts, music, hotels and more.
Details
Get Directions
2600 Benjamin Franklin Parkway
Philadelphia, PA 19130
(215) 763-8100
Website
Neighborhood:
Visit Official Website
Related Tags
In the neighborhood
Accommodations

Museums & Attractions

2025 Benjamin Franklin Parkway
Philadelphia, PA 19130
(215) 278-7000
Website

View more attractions

Restaurants & Dining

2301 Fairmount Avenue
Philadelphia, PA 19130
(215) 978-4545
Website

View more Restuarants & Dining
Find us on Facebook