The New Race Street Pier
Relaxing waterfront respite in the heart of the city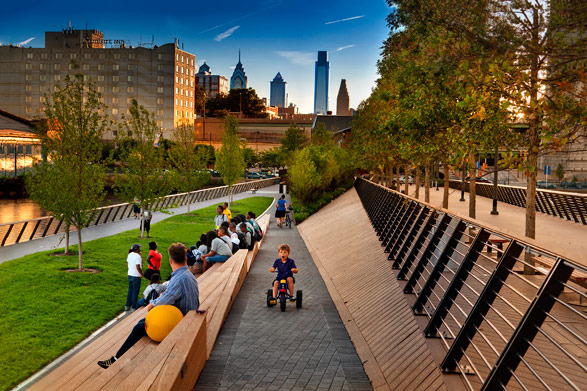 Description
Hours
Open 7 a.m. until 11 p.m.
The Experience
Adding to Philadelphia's amazing outdoor spaces, the new Race Street Pier on the Delaware River Waterfront is a relaxing respite in the heart of the city.
Located in the shadow of the Benjamin Franklin Bridge, the Pier features two-levels for riverside recreation. The upper terrace, dubbed the grand sky promenade, rises 12-feet towards the bridge and is paved with Trex, a sustainable, synthetic decking material made out of reclaimed plastic and wood. The promenade is connected to the lower terrace by a multi-tiered seating area, perfect for watching the tide roll in.
Coincidentally, at high tide the river comes just 4.5 feet from the lower level of the pier, bringing you right up to the water's edge.
The Race Street Pier is picnic-friendly with a spacious lawn featuring multiple types of grasses and perennials along with more than three-dozen trees cultivated in New Jersey for the World Trade Center Memorial at Ground Zero in New York City.
The pier is the first part of a multi-phase revitalization of the Central Delaware Waterfront. Click here to learn more.
Don't Miss
The new Race Street Pier is not just a daytime destination, as the pier features extensive lighting including fully lighted rails and over 200 LED Solar Light Blocks embedded into the paving.
Outsider Tip
All visitors are provided with free, 4G WiMAX internet access courtesy of Clear.
PATH: http://www.uwishunu.com/tag/race-street-pier/feed/image/
October 31, 2013Our Picks For Celebrating First Friday In Philadelphia With Art Openings, Free Music, Festive Soirees And S'Mores On Friday, November 1

September 19, 2013Tonight Picks: Fall Festivals Fill The City With Street Fare Food Truck Block Party In Mt. Airy, Third Thursday Live And Local At Race Street Pier, Rittenhouse Row Fall Fashion Crawl And More

September 16, 2013Enjoy Free Live Music And Free Craft Beer At The Final Third Thursday Live And Local Event Of The Summer, This Thursday, September 19

September 10, 2013Discover Race Street Pier On A Musical Walking Tour Created By Local Musicians Beginning On October 1

September 6, 2013Celebrate First Friday, September 6, In Neighborhoods Across Philadelphia With Art Openings, Free Movies And The Fringe Festival

Uwishunu covers everything fun and exciting happening in Philadelphia — read it daily for the latest on restaurants, bars, events, festivals, arts, music, hotels and more.
Details
Get Directions
Columbus Blvd. & Race Street Philadelphia, PA
Website
Neighborhood:
In the neighborhood
Accommodations

201 S. Columbus Boulevard
Philadelphia, PA 19106
(215) 928-1234
Website

View more hotels

Museums & Attractions

Restaurants & Dining

221 N. Columbus Boulevard
Philadelphia, PA 19123
215-279-7134
Website

View more Restuarants & Dining
Find us on Facebook