Sesame Place®
Nation's only theme park based entirely on the award-winning television show, Sesame Street®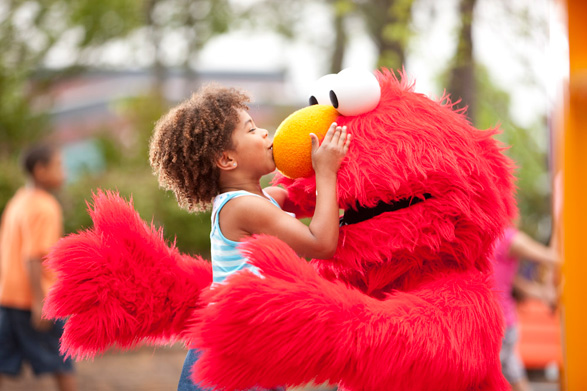 Description
Featured Offer
Kids FREE Getaway Package
Save BIG on a fun family getaway to Sesame Place! Available for a limited-time, this family getaway package includes one FREE child's admission ticket with each full price adult admission ticket. Each admission ticket is valid for any two visits through 12/31/14.
Overview
Sesame Place is the nation's only theme park based entirely on the award-winning television show Sesame Street. Ideal for families with young children, it is the place where parents and children can share in the spirit of imagination and experience Sesame Street together through whirling rides, water slides, colorful shows and furry friends.
New in 2014: Opening in May is the all-new Cookie's Monster Land, featuring five exciting rides, a three-story net climb and a soft play area for the park's youngest visitors.
Located just 30 minutes north of Philadelphia and 90 minutes south of New York City, Sesame Place is the place for kids and the kid in all of us.
Sesame Place brings the Sesame Street television show and its values to life for children through play. What began as a three-acre theme park has now grown to be a 14-acre must-see destination for children across the country.
The place where families with young children can build memories to last a lifetime, Sesame Place provides an environment of exciting, enriching, experiences. Attractions range from thrill rides such as Blast Off in Elmo's World, water rides like the surprise-packed adventures on Sky Splash in Twiddlebug Land, and active play areas like the challenging three-story high Nets-n-Climbs in Big Bird's Court.
Throughout the season there are special events including The Count's Halloween Spooktacular, A Very Furry Christmas, and a concert series featuring kid-favorite recording stars. And of course when they aren't walking around greeting guests, Elmo, Big Bird, Cookie Monster, Bert, Ernie, the Count, and the rest of the Sesame Street characters are the stars of musical shows throughout the park and can be seen in the Neighborhood Street Party
Cookie's Monster Land
Opening in May 2014, Sesame Place is opening its furriest land ever, Cookie's Monster Land. Join everyone's favorite Sesame Street monsters in a fun-filled area filled with attracting and play areas.
Take a ride on Captain Cookie's High "C's" Adventures, a track featuring small inclines that mimic the gentle rolling ways of the ocean, or spin 40-feet above the ground on the Flying Cooking Jars. Families can also hit the dance floor in spinning, disco ball tea cups with their favorite furry monsters on the Monster Mix Up.
Learn more and get a sneak preview of Cookie's Monster Land by clicking the button below.
Insider Tip
All packages include a FREE kid's meal with every paid adult at Breakfast or Lunch with Elmo & Friends! Plus, enjoy savings on in park add-on items to enhance your family getaway.
Park Map
Click your way through Sesame Place before you visit. Plan your day and find out which attractions are just right for your family using the button below.
Location
The park is located at 100 Sesame Road, Langhorne, PA and is less than a 30-minute drive north of Philadelphia, PA. Sesame Place is just 15 minutes southwest of Trenton, NJ, 90 minutes south of New York City, NY, 1.5 hours from Allentown, PA, 2.5 hours north of the Baltimore, MD / Washington, DC area, 3 hours from Hartford, CT / New Haven, CT, 5 hours south of Boston, MA and 6 hours from Pittsburgh, PA. Mass transit is available via bus (SEPTA) from Philadelphia, PA (Monday – Saturday) and New York City, NY via train.
Photo Opportunities
Take photos with your favorite Sesame Street friends and capture memories that will last a lifetime. All photos will be saved on your complimentary photo pass wristband and can be viewed and printed at 1-2-3 Smile With Me! or Front Gate Photo. Photos of your Character Dining and Vapor Trail roller coaster experiences are also available.
Restaurants and Snack Carts
Sesame Place offers a variety of foods with fresh and wholesome ingredients. Menu items include hand-carved oven-roasted turkey sandwiches, grilled chicken on Ciabatta, fresh garden salads and much more. In addition to the restaurants listed below, there are two Snack Shops and more than a dozen snack carts located throughout the park offering sundaes, refreshing tropical fruit drinks, authentic Italian water ice and popcorn.
Buy Tickets Now
Tickets to Sesame Place are available for purchase in advance online.
Details
Get Directions
100 Sesame Road
Langhorne, PA 19047
(866) GO-4-ELMO
Website
Visit Official Website
Find us on Facebook