Academy of Natural Sciences of Drexel University
One of the world's foremost natural history museums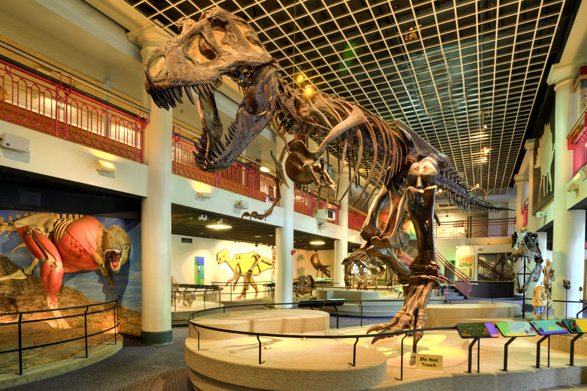 Description
200 Years of Discovery
The discoveries that rocked the world then and now share four floors of exhibit space in this family-friendly museum that showcases the Academy's remarkable collections. The fully constructed Tyranosaurus rex, one of the largest meat-eating dinosaurs, towers over Dinosaur Hall, also home to fossils from the Hadrosaurus foulkii, discovered in New Jersey in 1856. You can climb inside a Tyrannosaurus rex skull, try on horns and claws, and dig for fossils.
Multitudes of butterflies from Kenya, Costa Rica and Malaysia flit around you in a simulated tropical rain forest. Large game animals acquired in the 1920s and 1930s are mounted in 3-D painted dioramas that replicate their natural habitats; for Philadelphians of that era, this was their first sighting of an Indian tiger or a wildebeest.
History
Founded in 1812, The Academy of Natural Sciences is the oldest continually operating museum of its kind in the Western Hemisphere. It sponsored some of the seminal explorations for American wildlife and fossils, and by the early 1900s, expanded those explorations to Africa, Asia and the Antarctic. Researchers worldwide utilize the museum's more than 17 million specimens for biodiversity studies.
Insider Tip
Many of the museum's live animals are featured in shows throughout the day. Don't miss the small but dazzling gem and crystal collection.
Great Kids' Stuff
In the Outside-In hands-on nature center, children can touch a hissing Madagascar cockroach or a snake, crawl through a tree trunk and examine fossils under a microscope.
Butterflies!
Butterflies! took flight in October 2009 at the Academy, with dozens of different butterflies from around the world encased in over 1,200-square-feet of exquisite gardens and interactive freedom. Witness the different stages in a butterfly's life cycle, or let your imaginations take flight as you experience the beauty and charm of these delicate creatures.
Plan Your Visit
For ticket information, operating hours and special offers, click the button below.
PATH: http://www.uwishunu.com/tag/academy-of-natural-sciences/feed/image/
December 4, 2013Sister Cities Park Winterfest Returns To Logan Square With Visits From Santa, Kid-Friendly Activities, Hot Chocolate And More, December 7, 14 And 21

October 24, 2013Tonight Picks: Terror Behind The Walls At Eastern State Penitentiary, Kick The Keg Happy Hour Benefit At Red Owl Tavern, Glow In The Park Fundraiser For The Fairmount Park Conservancy And More

October 11, 2013Dinosaurs Unearthed At The Academy Of Natural Sciences, Brings Life-Size Animatronic Dinosaurs To The Museum, October 12-March 30

September 13, 2013Roundup: Our Picks For Major Art And Cultural Exhibitions At Museums In And Around Philadelphia This Fall

August 27, 2013A Guide To Labor Day Weekend In Philadelphia: Special Events, Exhibitions, Festivals, Fireworks, Barbecues, Beer Gardens And More

Uwishunu covers everything fun and exciting happening in Philadelphia — read it daily for the latest on restaurants, bars, events, festivals, arts, music, hotels and more.
Details
Get Directions
1900 Benjamin Franklin Parkway Philadelphia, PA 19103
(215) 299-1000
Website
Visit Official Website
Related Tags
In the neighborhood
Accommodations

1700 Benjamin Franklin Parkway Philadelphia, PA 19103
(215) 981-5678
Website

View more hotels

Museums & Attractions

Broad and Spruce Streets
Philadelphia, PA 19102
(215) 893-1999
Website

View more attractions

Restaurants & Dining

16th Street and the Benjamin Franklin Parkway
Philadelphia, PA 19102
(215) 735-9797
Website

View more Restuarants & Dining
Find us on Facebook