The Franklin Institute
One of the oldest and most beloved science museums in the country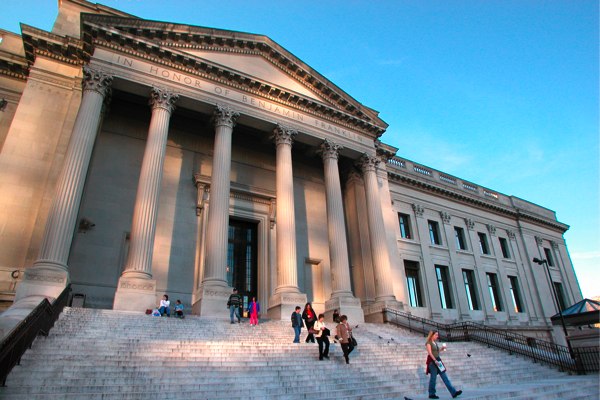 Description
The Experience
An innovator in designing hands-on exhibits before "interactive" became a buzzword, The Franklin Institute is as clever as its namesake. Its eminently touchable attractions explore science in disciplines ranging from sports to space.
Highlights include The Sports Challenge, which uses virtual-reality technology to illustrate the physics of sports; The Train Factory's climb-aboard steam engine; Space Command's simulated earth-orbit research station; a fully equipped weather station; and exhibits on electricity.
Films assume grand proportions on the Tuttleman IMAX Theater's 79-foot domed screen; galaxies are formed and deep space explored in North America's second-oldest planetarium, which reopened in 2002, sporting the continent's most advanced technology. Don't miss the 3D Theater and the indoor SkyBike.
The History
In 1824, The Franklin Institute opened in Independence Hall to honor Benjamin Franklin and his inventiveness. In 1934, with the construction of the current building and the adjacent Fels Planetarium, it became a hands-on science museum. The IMAX Theater and the Mandell Center were added in 1990. Today, it's Pennsylvania's most visited museum. In the museum's rotunda is the Benjamin Franklin National Memorial, with a 20-foot-tall marble statue of the scientist and Founding Father.
Great Kid's Stuff
Course through the walk-through heart like a human corpuscle; at 15,000 times life size, it's one of the museum's first and most popular attractions.
PATH: http://www.uwishunu.com/tag/franklin-institute/feed/image/
May 2, 2013Introducing The Franklin Institute's Blockbuster Summer Exhibition Spy: The Secret World of Espionage, Opening Saturday, May 4

April 26, 2013Celebrate Mexican Culture All Week Long During Philadelphia Mexican Week, Sunday, April 28 To Sunday, May 5

April 4, 2013Reminder: Titanic: The Artifact Exhibition Bids Farewell To Philadelphia On Sunday, April 7

March 11, 2013Stargaze With The Franklin Institute's Chief Astronomer Derrick Pitts At The Night Skies In The Observatory Event On The Second Thursday Of Each Month

Uwishunu covers everything fun and exciting happening in Philadelphia — read it daily for the latest on restaurants, bars, events, festivals, arts, music, hotels and more.
Details
Get Directions
222 N. 20th Street
Philadelphia, PA 19103
(215) 448-1200
Website
Neighborhood:
Upcoming Events
Events could not be retrieved at this time
Related Tags
In the neighborhood
Accommodations

135 S. 17th Street
Philadelphia, PA 19103
(215) 563-7474
Website

View more hotels

Museums & Attractions

18th and Walnut Streets Center Fountain Philadelphia, PA 19103

View more attractions

Restaurants & Dining

18th Street and Walnut Street
Stretching from Broad St. to 21st St., between Spruce and Market Streets
Philadelphia, PA 19103
Website

View more Restuarants & Dining
Find us on Facebook