The Franklin Institute
One of the oldest and most beloved science museums in the country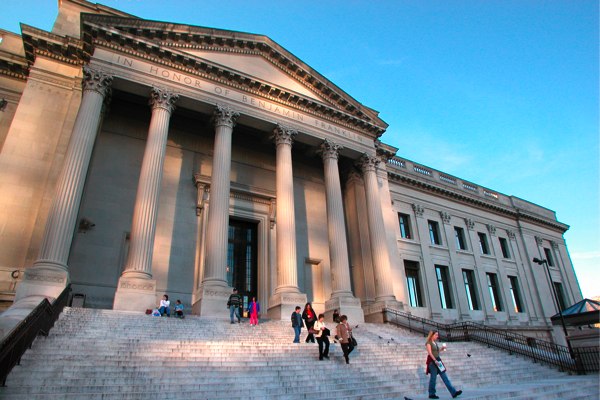 Description
The Experience
An innovator in designing hands-on exhibits before "interactive" became a buzzword, The Franklin Institute is as clever as its namesake. Its eminently touchable attractions explore science in disciplines ranging from sports to space.
Highlights include The Sports Challenge, which uses virtual-reality technology to illustrate the physics of sports; The Train Factory's climb-aboard steam engine; Space Command's simulated earth-orbit research station; a fully equipped weather station; and exhibits on electricity.
Films assume grand proportions on the Tuttleman IMAX Theater's 79-foot domed screen; galaxies are formed and deep space explored in North America's second-oldest planetarium, which reopened in 2002, sporting the continent's most advanced technology. Don't miss the 3D Theater and the indoor SkyBike.
The History
In 1824, The Franklin Institute opened in Independence Hall to honor Benjamin Franklin and his inventiveness. In 1934, with the construction of the current building and the adjacent Fels Planetarium, it became a hands-on science museum. The IMAX Theater and the Mandell Center were added in 1990. Today, it's Pennsylvania's most visited museum. In the museum's rotunda is the Benjamin Franklin National Memorial, with a 20-foot-tall marble statue of the scientist and Founding Father.
Great Kid's Stuff
Course through the walk-through heart like a human corpuscle; at 15,000 times life size, it's one of the museum's first and most popular attractions.
PATH: http://www.uwishunu.com/tag/franklin-institute/feed/image/
December 5, 2013Tonight Picks: East Passyunk Avenue's Christmas Tree Lighting, PAFA After Dark, Holiday Lights And Craft Beer At Waterfront Winterfest, Repeal Day Parties And More

December 4, 2013Sister Cities Park Winterfest Returns To Logan Square With Visits From Santa, Kid-Friendly Activities, Hot Chocolate And More, December 7, 14 And 21

November 21, 2013The Hunger Games: Catching Fire Premieres At The Franklin Institute Tonight, November 21, A Full Day Before It Is Released Nationwide

November 14, 2013Tonight Picks: Grand Opening Of Electrical Spectacle: A Holiday Light Show At Franklin Square, Philly Photo Day Reception, Stargazing At The Franklin Institute And More

November 8, 2013The Franklin Institute Presents An Exhibition Of Archeological Treasures In One Day in Pompeii, On View November 9-April 27, 2014

Uwishunu covers everything fun and exciting happening in Philadelphia — read it daily for the latest on restaurants, bars, events, festivals, arts, music, hotels and more.
Details
Get Directions
222 N. 20th Street
Philadelphia, PA 19103
(215) 448-1200
Website
Neighborhood:
Visit Official Website
Related Tags
In the neighborhood
Accommodations

1715 Rittenhouse Square Philadelphia, PA 19103
(215) 546-6500
Website

View more hotels

Museums & Attractions

2030 Sansom Street
Mainstage at The Adrienne
Philadelphia, PA 19103
(215) 592-9560
Website

View more attractions

Restaurants & Dining

261 S. 20th Street
Corner of 20th and Manning Streets
Philadelphia, PA 19103
Website

View more Restuarants & Dining
Find us on Facebook