The Penn Museum
Unearthing the riches of the world's cultural heritage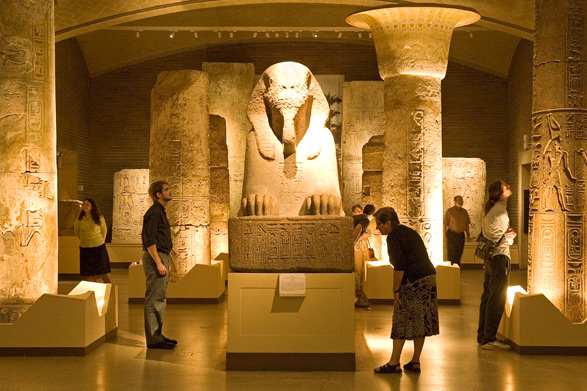 Description
The Experience
If you called its 12-ton Egyptian sphinx "one in a million," you'd be right: it is just one in a collection of nearly a million objects at the University of Pennsylvania Museum of Archaeology and Anthropology (commonly known as the "Penn Museum")—one of the world's finest archaeological and anthropological museums.
For more then 125 years, the Penn Museum has sponsored more than 300 worldwide scientific expeditions which yielded many of the artifacts on display including Sumerian cuneiform clay tablets (some of the world's oldest writing), architectural elements from the 3,200-year-old palace of the pharaoh Merenptah, the 4,500-year-old jewelry of Queen Puabi's from the Mesopotamian Royal Cemetery at Ur (in modern-day Iraq), towering ancient Maya stone monuments and evocative masks from West Africa.
Ancient Greek and Italian treasures are presented in a suite of Classical World galleries. Other noteworthy galleries explore ancient Egypt and Egyptian mummies, Africa, Asia, and Central America.
In addition to its permanent galleries, the Penn Museum also hosts rotating special exhibitions. Currently on view through March 2, 2014: Black Bodies in Propaganda: The Art of the War Poster curated by History Detectives' host Tukufu Zuberi.
The building itself is an experience: it's a unique, Italian Romanesque building with Arts and Crafts features. Outside, you'll find beautiful public gardens featuring fountains and sculptures by Alexander Stirling Calder and a koi pond.
History
The University of Pennsylvania Museum of Archaeology and Anthropology was founded in 1887, when the University agreed to send out a first expedition to the site of Nippur in modern-day Iraq. Since then this active museum and research institution has been exploring cultures through time and across continents and sharing the adventure with the public.
Other Information
Open Tue – Sun
Insider Tip
The Chinese Rotunda, one of the largest unsupported masonry domes in the World, houses a collection of Chinese monumental art that spans thousands of years.
Great Kids' Stuff
Children are fascinated by the ancient Egyptian mummies. A special ongoing project and gallery, In the Artifact Lab: Conserving Egyptian Mummies, lets everyone watch a conservator at work—and ask questions!
Buy Tickets In Advance
Tickets for the Penn Museum are available in advance online. Click the button below to purchase tickets online.
Details
Get Directions
3260 South Street
Philadelphia, PA 19104
(215) 898-4001
Website
Neighborhood:
Visit Official Website
In the neighborhood
Accommodations

3600 Sansom Street
Philadelphia, PA 19104
(215) 222-0200
Website

View more hotels

Museums & Attractions

3723 Chestnut Street Philadelphia, PA 19104
(215) 386-0234
Website

View more attractions

Restaurants & Dining

3801 Chestnut St.
Philadelphia, PA 19104
(215) 222-1234
Website

View more Restuarants & Dining
Find us on Facebook