Philadelphia's Magic Gardens
Artist Isaiah Zagar's masterpiece on South Street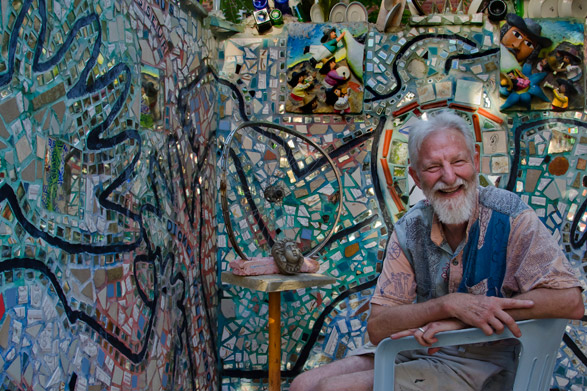 Description
The Experience
Covering an indoor and outdoor space equivalent to half a city block, Philadelphia's Magic Gardens glisten with creativity, urban renaissance and a hint of madness.
Isaiah Zagar, a local artist who began tiling South Street in the 1960s and never stopped, constructed the space out of cement, bicycle spokes, bottles, ceramic shards and other artistic knick-knacks.
The tiled passages of the Magic Garden weave over- and underground — and, perhaps more than anything, through the mind of a dedicated and inspired artist.
Zagar has created more than 100 mosaics in Philadelphia, the majority of them along the South Street corridor. A walk around the neighborhood unveils not only the work of one artist, but a geographic renaissance.
History
In the 1960s, a group of artists and entrepreneurs began renting derelict storefronts and recreating the South Street neighborhood. Isaiah Zagar was at the forefront of that movement.
In its early years, the Magic Gardens faced an uncertain future. Zagar began building the labyrinthine sculpture on land he didn't own and, in 2004, the absentee landlord put it up for sale.
After a public outcry that resulted in an outpouring of community support and donations, the nonprofit organization Philadelphia's Magic Gardens was formed to purchase and maintain the grounds. And Philadelphia is all the better for it.
Today, the Magic Garden complex is the gateway to both a moment in Philadelphia's history — the South Street Renaissance — and the work of a unique artist whose odyssey continues to be living, working and playing on Philadelphia's South Street.
The Eye's Gallery
You can see more of Isaiah's incredible work at The Eye's Gallery, a Mexican folk art shop owned by Isaiah's wife, Julia.
In the six-block walk down to The Eye's at 402 South Street, you'll experience much of Isaiah's artistic portfolio along the walls and sidewalks of his favorite neighborhood.
PATH: http://www.uwishunu.com/tag/philadelphias-magic-gardens/feed/image/
March 11, 2014Celebrate The 75th Birthday Of Philadelphia's Magic Gardens Founding Artist Isaiah Zagar This Sunday, March 16

February 18, 2014The Free Library Of Philadelphia Presents One Book, One Philadelphia 2014 With Literary Events Across The City Through March 19

February 10, 2014Roundup: Our Picks For Presidents' Day Celebrations In Philadelphia In 2014, Including Free Museum Admission, Themed Tours And More

February 5, 2014Roundup: Our Picks For Valentine's Day Celebrations, Events And Activities For Couples, Friends And Families In And Around Philadelphia

Uwishunu covers everything fun and exciting happening in Philadelphia — read it daily for the latest on restaurants, bars, events, festivals, arts, music, hotels and more.
Details
Get Directions
1022-1024 South Street Philadelphia, PA 19147
(215) 733-0390
Website
Neighborhood:
In the neighborhood
Museums & Attractions

334 South Street
Philadelphia, PA 19147
(215) 922-1011 (tickets)
Website

View more attractions

Restaurants & Dining

308 South Street
Philadelphia, PA 19147
(215) 922-7880
Website

View more Restuarants & Dining
Find us on Facebook