The Philadelphia Orchestra
Hear why they are "The Fabulous Philadelphians"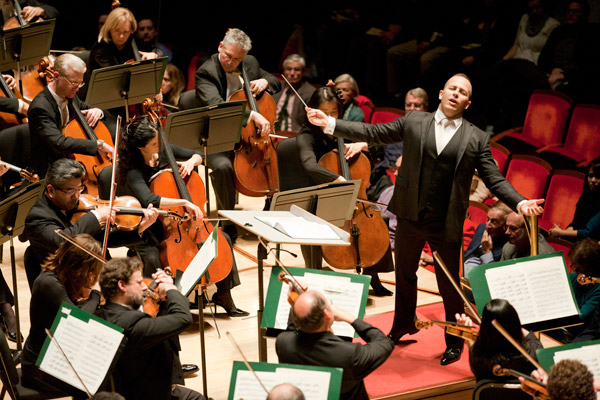 Description
2013-2014 Season
On the heels of his triumphant inaugural season as the Philadelphia Orchestra's new music director, Yannick Nézet-Séguin returns to Philadelphia for a highly-anticipated second season of concerts starting on Wednesday, September 25.
Yannick's collaborative style, indelible musical curiosity, and boundless enthusiasm, paired with a fresh approach to orchestral programming, have been heralded by critics and audiences alike. His second season features 11 phenomenal weeks of exciting collaborations with the world's most acclaimed soloists, including violinist Itzhak Perlman, and unique combinations of new and familiar works.
Save 10% on Select 2013-2014 Performances
Through October 1, you can save 10% on select Philadelphia Orchestra performances by using the special offer code "VISITPHILLY" at checkout when purchasing tickets online.
The Experience
Sergei Rachmaninoff, who played his riveting piano concertos with the Philadelphians, and whose Symphonic Dances were composed for them, believed the Philadelphia Orchestra the finest he'd heard anywhere. Olympic standards keep it at the pinnacle of the world's best — precision, balance, flow and those sumptuous strings. This is the place to hear Brahms, Mahler, Beethoven and Debussy polished to a sheen — and in a venue that gleams.
Excellent sightlines in The Kimmel Center's Verizon Hall include seats surrounding the stage that provide close-ups of first-class maestros and some extraordinary players. Listen for oboist Richard Woodhams whose beautiful tone reflects a historic lineage: Woodhams' teacher, the late John de Lancie, sat in the same chair, as did de Lancie's mentor, the great Marcel Tabuteau, before him.
Meet Yannick
Yannick (Yah-NEEK) Nézet-Séguin (NAH-zay SAY-gahn) is one of the most sought-after conductors on today's international classical music scene, widely praised by audiences, critics, and artists alike for his musicianship, dedication, and charisma.
A native of Montreal, he made his Philadelphia Orchestra debut in 2008 and in June 2010 was named the Orchestra's next music director.
Artistic director and principal conductor of Montreal's Orchestre Métropolitain since 2000, he became music director of the Rotterdam Philharmonic and principal guest conductor of the London Philharmonic in 2008.
After a successful inaugural season, Nézet-Séguin returns to Philadelphia for a highly-anticipated second season of concerts.
History
The orchestra's musical cohesion comes from players' pride and long leadership by extraordinary music directors: Leopold Stokowski created the orchestra's sound and began its multimedia adventures; Eugene Ormandy built its reputation with now-legendary recordings and premieres; Riccardo Muti added sex appeal and a brilliant discipline; Wolfgang Sawallisch has replenished traditions and recruited bold, young principals; Charles Dutoit mandated electrifying programs with masterful performances. With his dynamic and passionate style, Yannick Nézet-Séguin took the podium as music director in 2012.
Insider Tip
Save a bundle with PECO Power Hour tickets: From 5:30 p.m. to 6:30 p.m. before evening subscription concerts and 12:30 p.m. to 1:30 p.m. before 2 p.m. matinees, – a ticket anywhere in the house is $10, available at the Kimmel Center box office.
PATH: http://www.uwishunu.com/tag/philadelphia-orchestra/feed/image/
October 7, 2013Save The Date: The Philadelphia Orchestra Hosts A Free Neighborhood Concert At Temple University, Wednesday, November 6

October 2, 2013Tonight Picks, Indian Summer Edition: Get Outside And Enjoy The Awesome Weather – PHS Pop-Up Garden, Alfresco Dining, Farmers' Markets, Evening Strolls, Free Orchestra Concert And More

July 18, 2013The Philadelphia Orchestra Continues Its Summer Tradition Of Performing Alfresco At Longwood Gardens, July 18-19, And The Mann, Starting July 23

July 2, 2013Tonight Picks: Philadelphia Orchestra's Free Neighborhood Concert Plus Fireworks At Penn's Landing, Free Screening Of Rocky On The Art Museum Steps, The All-American Celebration On The Mall And More

July 1, 2013Our Day-By-Day Guide To Fourth Of July Week Celebrations In And Around Philadelphia, July 1-7

Uwishunu covers everything fun and exciting happening in Philadelphia — read it daily for the latest on restaurants, bars, events, festivals, arts, music, hotels and more.
Details
Get Directions
The Kimmel Center (Verizon Hall)
Broad & Spruce Streets
Philadelphia, PA 19102
(215) 893-1999
Website
Neighborhood:
Visit Official Website
Related Tags
In the neighborhood
Accommodations

10 Avenue of the Arts
Philadelphia, PA 19102
(215) 523-8000
Website

View more hotels

Museums & Attractions

Broad & Arch Streets Philadelphia, PA 19107
(215) 568–6250
Website

View more attractions

Restaurants & Dining
Find us on Facebook