North Bowl
It's not just about bowling at this Northern Liberties hotspot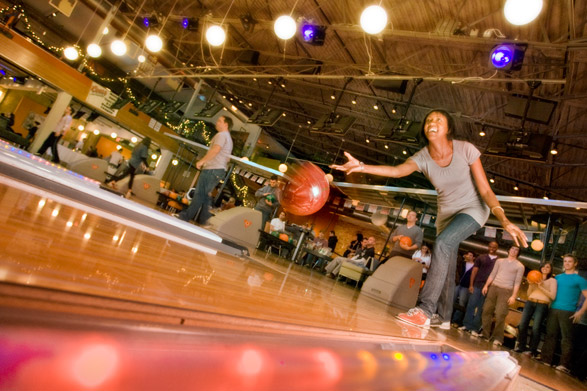 Description
Second Street in Northern Liberties just keeps getting better. Just months after a brand new Foodery opened on the southeast corner of Second and Poplar, which already claims one of the best bars in the city (Standard Tap), North Bowl opened just a few doors down.
Located in a former mechanics garage that was lovingly renovated over the past several years (with plenty of blood, sweat and tears) by owner Oron Daskal, North Bowl is an awesome addition to the neighborhood of Northern Liberties.
With more than 21,000 square feet, 17 bowling lanes, two full bars, an upstairs lounge complete with Italian sofas, pool tables and an arcade, North Bowl is really much more than just a place to bowl. It can be a place to grab a drink, enjoy a casual meal and/or hang out with friends as well.
The setting is striking — retro benches reminiscent of bowling alleys from the 1950s surround the lanes, stylized prints from The Big Lebowski adorn the walls, stained wood accents the sculpted bar, and a glass enclosed pod overlooks the lanes from the upstairs lounge. And the menu of classic comfort food hits the mark too with corn dogs and tater tots served nine different ways.
North Bowl is a truly unique Philadelphia establishment. Food, drinks, billiards, bowling and an address that makes it work — all the ingredients needed for a great night out with some of your favorite friends.
PATH: http://www.uwishunu.com/tag/north-bowl/feed/image/
April 2, 2014Tonight Picks: Karaoke Kick-Off For The Subaru Cherry Blossom Festival, Korean Film Series And Pay-What-You-Wish At The PMA, Girl's Night Out In Chestnut Hill And More

March 12, 2014Tonight Picks: Nerd Nite With The Franklin Institute At Frankford Hall, Dinner Deals In Chestnut Hill And Media, Free Music At The Kimmel Center And More

February 26, 2014Tonight Picks: East Passyunk Restaurant Week, $2 Night At North Bowl, Pay-What-You-Wish Wednesday At The PMA And More

January 15, 2014Tonight Picks: Pay-What-You-Wish Wednesday At The Philadelphia Museum Of Art, Fireside Dining Around Town, Alsace Dinner At Bistrot La Minette And More

November 22, 2013Roundup: Where To Dance, Drink And Celebrate On Thanksgiving Eve 2013 In Philadelphia, Wednesday, November 27

Uwishunu covers everything fun and exciting happening in Philadelphia — read it daily for the latest on restaurants, bars, events, festivals, arts, music, hotels and more.
Details
Get Directions
909 N. 2nd Street
Philadelphia, PA 19123
(215) 238-BOWL
Website
Neighborhood:
In the neighborhood
Museums & Attractions

Philadelphia Photo Arts Center 1400 N. American Street #103 Philadelphia, PA 19122
(215) 232-5678
Website

View more attractions

Restaurants & Dining

901 N. 2nd Street
Philadelphia, PA 19123
(215) 238-0630
Website

View more Restuarants & Dining
Find us on Facebook