Clark Park
At the center of it all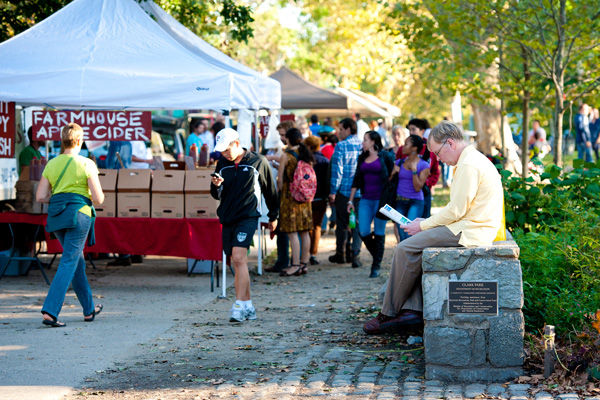 Description
Enjoyed by Spruce Hillers since the late 1800s, Clark Park always seems to play host of something intriguing, confusing, engrossing or all three. If food trucks, soccer leagues, cute dogs and that kind off stuff isn't your jam, stick around for the LARPers, or live-action role players, gouging each other with foam weaponry.
PATH: http://www.uwishunu.com/tag/clark-park/feed/image/
January 30, 2014Celebrate The 202nd Birthday Of Charles Dickens With Performances, Music And More With The Friends Of Clark Park On Sunday, February 2

December 2, 2013Roundup: Our Picks For 2013 Holiday Festivities In Neighborhoods Throughout Philadelphia

October 1, 2013Figment Philadelphia, A Giant Day Of Play, Brings Games, Arts And Crafts, Lessons, Interactive Exhibits And More To Clark Park On Sunday, October 6

Uwishunu covers everything fun and exciting happening in Philadelphia — read it daily for the latest on restaurants, bars, events, festivals, arts, music, hotels and more.
Details
Get Directions
43th Street and Baltimore Avenue
Philadelphia, PA 19104
Website
Neighborhood:
In the neighborhood
Restaurants & Dining

4200 Chester Avenue
Philadelphia, PA 19104
(215) 222-1255

View more Restuarants & Dining

Museums & Attractions

600 S. 43rd Street
Philadelphia, PA 19104
(215) 596-8721
Website

View more attractions