Penn's Landing
A hub of family-friendly activity throughout the year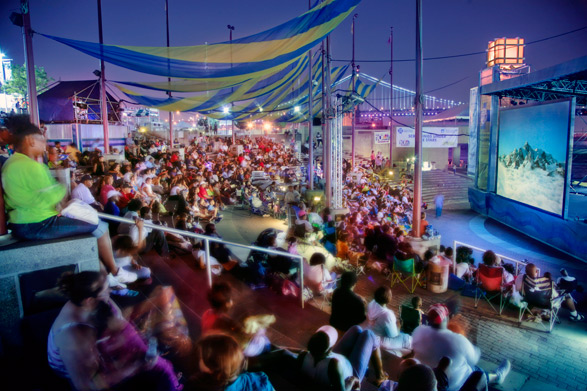 Description
The Delaware River Waterfront, just a short walk from Old City and Historic Philadelphia, hosts family-friendly attractions and events all year long.
Summer
Screenings Under the Stars : Every Thursday night in July and August, a different film will be screened outdoors on a big screen at Penn's Landing. Bring a blanket or a lawn chair and enjoy a great summer treat!
PECO Multicultural Series : You don't have to go overseas for a taste of all the world cultures that make Philadelphia such a diverse and interesting city. Just head over to Penn's Landing for its PECO Multicultural Series, a series of weekend outdoor festivals taking place May through September.
Summer Concert Series : The Great Plaza at Penn's Landing is home to free, alfresco concerts on Friday nights, and certain Saturdays, all summer long. From jazz to gospel to R&B, the Summer Concert Series has something for every music lover.
Winter
Blue Cross RiverRink : Enjoy a rejuvenating outdoor adventure at the Blue Cross RiverRink, an Olympic-sized ice rink at Penn's Landing where you can view both the Delaware River and the Benjamin Franklin Bridge. Don't worry if it's a little brisk — the RiverRink features a heated pavilion with a snack bar and game room to keep you warm.
New Year's Eve Fireworks: Penn's Landing hosts the city's biggest fireworks display to ring in the New Year.
Year-round
Independence Seaport Museum : With historic vessels to board, a ship's hull to rivet, and cargo to unload with miniature cranes, Philadelphia's maritime museum conveys what the Delaware and Schuylkill Rivers have meant to the city over the years. Along with displays that chronicle the city's contributions to naval and commercial maritime history, there are exhibits about what makes boats float, the China trade and local small craft.
The Great Plaza : The Great Plaza at Penn's Landing is one of the city's premier locations for outdoor concerts, festival, and private rentals. The site offers panoramic views of the Philadelphia skyline, the Delaware River, and the Benjamin Franklin Bridge as well as a unique waterfront ambiance.
Riverlink Ferry : A 12-minute scenic river tour gives you the opportunity to see sensational views of waterfront highlights and the City of Philadelphia's spectacular skyline, all while floating down the impressive Delaware River. The Ferry operates Saturdays and Sundays in May and September, and seven days a week between Memorial Day and Labor Day.
Festival Pier : The atmospheric Festival Pier hosts concerts and performances during the warmer months, including the extremely popular Roots Picnic in June.
PATH: http://www.uwishunu.com/tag/penns-landing/feed/image/
December 11, 2013Army-Navy Weekend Alert: The 114th Annual Army-Navy Game Returns To Philadelphia's Lincoln Financial Field This Saturday, December 14

December 6, 2013New Year's Eve In Philadelphia: Ring In 2014 With Two Dazzling New Year's Eve Fireworks Displays At Penn's Landing, 6 P.M. And Midnight

November 29, 2013Reminder: Waterfront Winterfest And Blue Cross RiverRink At Penn's Landing Officially Open Today, Friday, November 29

November 20, 2013Roundup: Our Top Picks For Must-See Holiday Attractions In Philadelphia And The Countryside In 2013

October 15, 2013Delaware River Waterfront Corporation To Hold A Public Meeting Tonight About The Future Plans For Penn's Landing

Uwishunu covers everything fun and exciting happening in Philadelphia — read it daily for the latest on restaurants, bars, events, festivals, arts, music, hotels and more.
Details
Get Directions
101 Columbus Boulevard Philadelphia, PA 19106
Website
Visit Official Website
Related Tags
In the neighborhood
Accommodations

100 N. Columbus Boulevard
Philadelphia, PA 19106
(215) 627-7900
Website

View more hotels

Museums & Attractions

320 Chestnut Street
Philadelphia, PA 19106
(215) 965-2305
Website

View more attractions

Restaurants & Dining

138 S. 2nd Street
Philadelphia, PA 19106
(215) 413-1443
Website

View more Restuarants & Dining
Find us on Facebook