Schuylkill River Trail
A 23-mile, multi-use path from Philadelphia to Valley Forge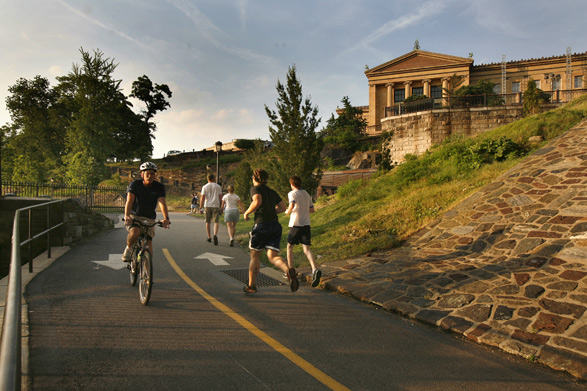 Description
The Exerience
This recreational path runs along the Schuylkill River from Center City Philadelphia to Valley Forge National Historical Park in Montgomery County, where the trail leads to the park's Betzwood Picnic Area.
The 23-mile trail, which winds through Conshohocken and Norristown after exiting the city, is a favorite for bicycle clubs, families, runners and walkers. If this loop isn't long enough, continue through the park to link up with the 19-mile Perkiomen Trail, a multi-use path leading to Green Lane Park.
The Montgomery County portion of the trail, which starts near the Shawmont neighborhood in Philadelphia, is paved for its entire length.
Enter Your Zip to Book This AAA Package
Come Prepared
Most of the trail is a 10- to 12-foot wide paved surface with grass shoulders, and gets very busy on weekends. Parking is available at several train stations along the R-6 Norristown line, as well as at Valley Forge Park's Betzwood Picnic Area. But you really don't need a car to enjoy this trail, since it's easily accessible by public transit. Taking your bike up to Norristown by train is a great option, because you can hop right on the trail for an easy ride up to the park, or back to Philadelphia.
Don't Miss
Bike Freedom Valley, a June fund-raising ride that supports the Greater Philadelphia Bicycle Coalition.
Outsider Tip
The Schuylkill River trail now extends all the way to the Schuylkill Banks. Take the trail to Manayunk, the Art Museum or beyond. It's worth a quick side trip to Mill Grove via the Audubon Loop, just past Valley Forge Park, and Conshohocken and Norristown are easy places to stop and eat.
Details
1 Boathouse Row
(Trail spans 25 miles with multiple access points)
Philadelphia, PA 19130
(MapQuest)
Website
In the neighborhood
Accommodations

Museums & Attractions

Sedgley Drive and Lemon Hill Drive
East Fairmount Park
Philadelphia, PA 19130
(215) 232–4337
Website

View more attractions

Restaurants & Dining

2321 Fairmount Avenue
Philadelphia, PA 19130
(215) 787-9930
Website

View more Restuarants & Dining
Find us on Facebook