Partner With
VISIT PHILADELPHIA®
In the world of destination marketing, more collaboration means more visitation. That's why VISIT PHILADELPHIA has been teaming up with regional partners for years. Learn how we can work together to promote your business and Greater Philadelphia to travelers. We want to share your stories through our communications, advertising, websites and social media.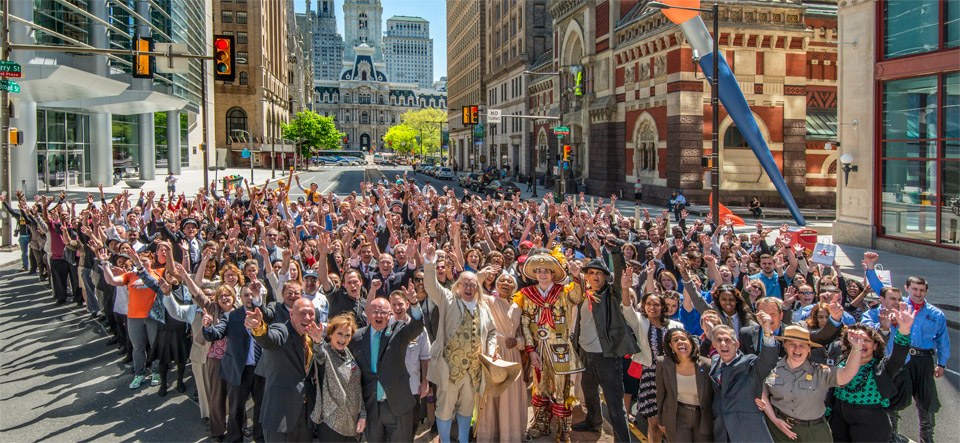 ADVERTISE ON VISITPHILLY.COM
VISIT PHILADELPHIA®, formerly known as the Greater Philadelphia Tourism Marketing Corporation (GPTMC), is excited to introduce new advertising opportunities for regional museums, attractions, restaurants, hotels and more interested in advertising on visitphilly.com.
Visitphilly.com is VISIT PHILADELPHIA's call-to-action: On the site, users discover the promise of a Philadelphia trip, and they decide to experience it for themselves. Everything VISIT PHILADELPHIA does — advertising, communications, social media, partnerships — drives to visitphilly.com.
To learn more about how you can promote your business on visitphilly.com, download the rate card below or contact abby.siegel@milespartnership.com.
Top Five Reasons to Advertise on Visitphilly.com
Visitphilly.com's audience is young, affluent and well-educated. (Source: Quantcast)
Visitphilly.com's highly-qualified, travel-oriented audience is ready to spend: Visitors who book a hotel room through visitphilly.com spend nearly $1,000 per visit to Philadelphia — and they spend more outside of the hotel than in it. (Source: Visit Philadelphia Survey)
Visitphilly.com converts potential visitors into actual visitors: 74% of online survey respondents said that visitphilly.com increased their interest in visiting Philadelphia. (Source: Visit Philadelphia Survey)
Visitphilly.com is the most visited destination website of the ten largest cities in the country. (Source: Quantcast)
Visitphilly.com's audience is constantly growing — in 2015, the site received 12.5 million visits, a 22% increase over 2014. (Source: Google Analytics)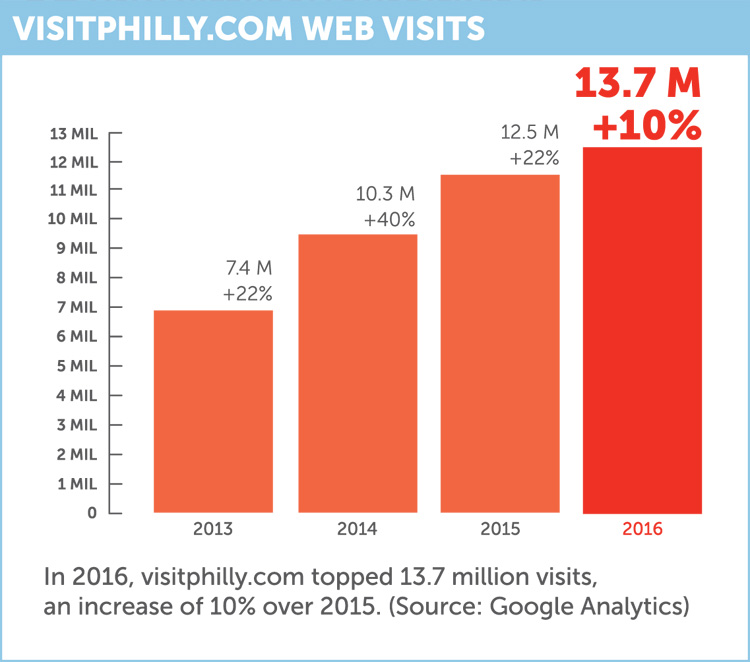 Advertising Rate Card
To learn how you can promote your business on visitphilly.com, refer to rate the card below:
---
JOINT MARKETING PROGRAM
The campaign With Love, Philadelphia XOXO® is a proven image builder and business driver. Organizations can get in on the media buy through this program, which includes strategic direction, creative support and matched investment from VISIT PHILADELPHIA.
Our Joint Marketing Program enables us to buy high-impact advertising placements in markets and mediums that our partners couldn't afford on their own. Since 2011, 23 partners have invested nearly $1.6 million in the program and, in doing so, have secured customized With Love messages in Suburban and Penn stations; on SEPTA, NJ Transit and PATCO trains; and in popular email blasts such as The New York Times' Great Getaways and ShermansTravel. By buying into this program, our partners show their confidence in and commitment to Philadelphia, our campaign, our call-to- action (visitphilly.com) and our marketing expertise.
For more on the Joint Marketing Program, contact: Jordan Parenti, jordan@visitphilly.com
A look at our partners to date:
The Academy of Natural Sciences of Drexel University
AdventureAquarium
Amtrak
Barnes Foundation
Benjamin Franklin Museum
Chester County Conference and Visitors Bureau
CityPASS
The Franklin Institute
Longwood Gardens
National Constitution Center
National Museum of American Jewish History
Peddler's Village
Penn Museum
Philadelphia Flower Show
Philadelphia International Festival of the Arts
Philadelphia Museum of Art
The Philadelphia Orchestra
PhiladelphiaUnion
Please Touch Museum®
Sesame Place®
SugarHouseCasino
Towns of the Philadelphia Countryside
Valley Forge Convention and Visitors Bureau
---
PARTNERSHIP OPPORTUNITIES
Use this piece as your partnership checklist, and get in touch with the people listed for each tactic to find out how they can promote your attraction, event, exhibition, restaurant or hotel.
These opportunities are free. (How often do you hear that?) It's a win-win strategy—and it's proven to be a successful model over our nearly two decades of destination marketing. Partnerships are what we do.
---
SPECIAL SECTIONS AND PROGRAMS
Special Editorial Sections
Get your message in the hands of travelers while they're traveling. We've spearheaded several special sections in US Airways and Arrive magazines that highlight the region to national and international travelers — in the sky and on the rails. Contact: Jordan Parenti, jordan@visitphilly.com
Special Programs
Partner with like-minded attractions and organizations to spread a strong message to consumers. For example, to make our With Art Philadelphia® campaign a reality, we brought together 17 civic and cultural institutions to shine a light on the city's art scene. We intend to lead more opportunities like this in the future. CONTACT: Jordan Parenti, jordan@visitphilly.com