Tommy DiNic's Roast Pork and Beef
Home to the "Best Sandwich in America"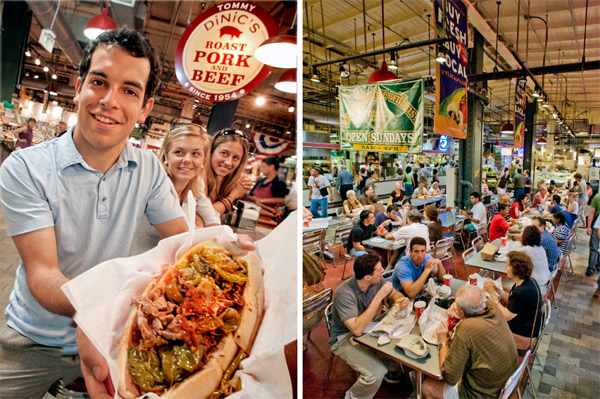 Description
When it comes to quintessential Philly sandwiches, the cheesesteak may be more famous, but the roast pork sandwich is a sleeper favorite of many. And for an authentic roast pork sandwich, there are a few places in Philadelphia that make it better than anywhere else. One of those places is DiNic's
Located in the famous Reading Terminal Market in Center City, DiNic's has been wowing locals and visitors alike for decades with its amazing roast pork sandwich. Then, in 2012, its roast pork sandwich was deservingly crowned "The Best Sandwich in America" by Adam Richman's Best Sandwich in America.
And for anyone who's ever had a roast pork sandwich at DiNic's, you can appreciate the distinction. It is one insanely delicious sandwich.
The pork at DiNic's is rubbed with Italian herbs and spices, roasted for five hours, then sliced thin and topped with sharp provolone and broccoli rabe. It's a sandwich that is on a whole different level.
And now that it's been named the best sandwich in the country, the secret is out.
PATH: http://www.uwishunu.com/tag/dinics/feed/image/
August 16, 2012Philadelphia's Sandwich Supremacy Continues: DiNic's Roast Pork Sandwich Wins The Title Of "Best Sandwich In America"

August 14, 2012Dinic's And John's Roast Pork Both Up For The Title Of "Best Sandwich In America" This Wednesday, August 15 At 9 P.M. On The Travel Channel

June 6, 2012DiNic's At Reading Terminal To Compete On Adam Richman's "Best Sandwich In America"; Tune Into The Travel Channel At 9 P.M. Tonight

Uwishunu covers everything fun and exciting happening in Philadelphia — read it daily for the latest on restaurants, bars, events, festivals, arts, music, hotels and more.
Details
Get Directions
12th & Arch Streets
(215) 923-6175

Visit Official Website
In the neighborhood
Accommodations

21 N. Juniper Street Philadelphia, PA 19107
(215) 496-3200
Website

View more hotels

Museums & Attractions

One North Broad Street Philadelphia, PA 19107
(215) 988-1900
Website

View more attractions

Restaurants & Dining
Find us on Facebook