Frankford Hall
A little slice of Munich in Fishtown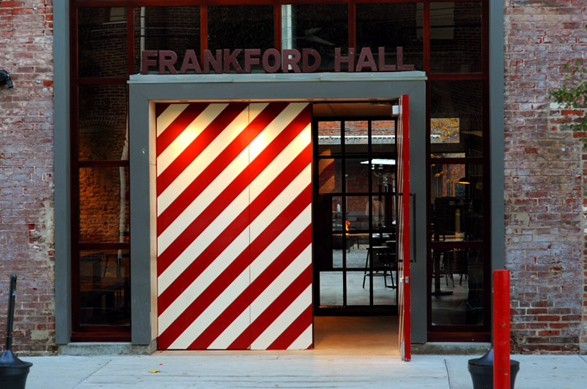 Description
The Experience
Stephen Starr's outdoor oasis in Philadelphia's neighborhood is a deceptively simple concept – take a traditional German "biergarten" and give it a modern edge.
Pass through Frankford Hall's red-and-white candy-striped doors and enter Philadelphia's largest beer garden with seating for 160 people inside and 240 more in the outdoor courtyard.
The renovated industrial space features exposed brick walls with re-claimed industrial metals. The indoor space is separated from the gravel-lined courtyard by metal garage doors, which remain open during the warm summer months. Communal picnic tables provide plenty of seating while three separate bars – one specifically reserved for beer – keep the drinks flowing.
Up to nine beers are on tap at any given time an can be ordered by the half liter or in massive one-liter stein.
When you start to feel the pangs of hunger, head to Frankford Hall's walk-up counter for a variety of German favorites like bratwursts served with sauerkraut or pickled red cabbage, schnitzels, rotisserie chicken, spaetzle with gravy, Bavarian dumplings, fries with curry ketchup and more.
New on the menu: Six brand new, seriously impressive burgers created by Chef Jim Davidson have been added to the expanded menu in Fall 2011. The burgers, a dry-aged beef blend from LaFrieda, are all served on Hudson Bakery soft buns with crispy French fries. Also available are a turkey burger, Colorado lamb burger, tomato tartare vegetarian raw "burger and sustainable Atlantic salmon burger.
The heart-stopping star of the new menu is the Ultimate Poutine burger, an open face dry-aged beef patty topped with fontina fries and foie gravy.
Don't Miss
Frankford Hall's signature soft pretzels, roughly the size of your head, are the perfect tool to soak up all that delicious beer. They are available for purchase from one of several roving vendors.
Outsider Tip
Those with a competitive edge can play friendly game of table tennis on the free-to-use ping pong tables in the courtyard.
PATH: http://www.uwishunu.com/tag/frankford-hall/feed/image/
March 12, 2014Tonight Picks: Nerd Nite With The Franklin Institute At Frankford Hall, Dinner Deals In Chestnut Hill And Media, Free Music At The Kimmel Center And More

March 6, 2014Nerd Nite, Frankford Hall And The Franklin Institute Team Up To Present A Pompeii-Themed Nerd Nite, Next Wednesday, March 12

February 12, 2014Tonight Picks: Pay-What-You-Wish At The PMA, Opening Reception For ICA@50: Pleasing Artists And Publics Since 1963 With Music From Questlove, "Shuck Buddies" Happy Hour At Oyster House And More

December 12, 2013Visit With Santa Claus And Enjoy Craft Beer At Frankford Hall, This Weekend And Next Weekend, December 14-15 And 21-22

Uwishunu covers everything fun and exciting happening in Philadelphia — read it daily for the latest on restaurants, bars, events, festivals, arts, music, hotels and more.
Details
Get Directions
1210 Frankford Avenue
Philadelphia, Pennsylvania 19125
(215) 634-3338
Website
Neighborhood:
Visit Official Website
In the neighborhood
Museums & Attractions

E. Columbia Avenue and Beach Street
Philadelphia, PA 19106
Website

View more attractions

Restaurants & Dining

1201 N. Frankford Avenue
(Corner of Frankford and Girard)
Philadelphia, PA 19125
(215) 739-9684
Website

View more Restuarants & Dining
Find us on Facebook