Tony Luke's
The age-old dilemma: the Cheesesteak or the Roast Pork Italian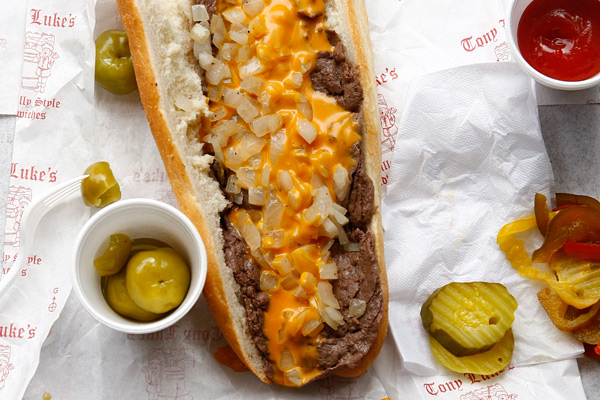 Description
Located next to an I-95 underpass on an otherwise dull stretch of Oregon Avenue in South Philadelphia, Tony Luke's is a Philadelphia institution. There's no need for an inside here — you order and pick up your sandwich from the street side windows and feast upon your reward at the outdoor picnic-style tables. When ordering, don't be offended if the staff seems a bit a less than friendly; they take pride in giving a hard time to both regulars and first-timers. It's part of Tony Luke's lure.
While the menu of countless delicious "Old Philly Style Sandwiches" can seem overwhelming, you can't go wrong with either the Cheesesteak (with Wiz or American) of the Roast Pork Italian, the two most popular choices by far.
The Cheesesteak is thick and juicy and sure to impress. Bud don't overlook the Roast Pork Italian, considered by many to be not only Tony Luke's best sandwich, but also to be the finest Italian Roast Pork sandwich in the city. Stuffed with tender and spicy roast pork, garlicky broccoli rabe and sharp provolone and topped with a drizzle of rich gravy, the Roast Pork Italian will make you think twice about ever ordering a cheesesteak again.
action
Insider Tip
While it seems difficult (and almost downright foolish) to ever stray from Tony Luke's two classics, there are several other delicious, artery-clogging items on the menu for you to enjoy, including the enormous Beef Buster, the Texas Wiener with chili sauce and the Double Burger Royal. Just be sure to bring along your antacid of choice.
PATH: http://www.uwishunu.com/tag/tony-lukes/feed/image/
July 31, 2013Chefs Jose Garces, Marc Vetri And Peter McAndrews To Serve Up Signature Fare At Lincoln Financial Field For The 2013 Philadelphia Eagles Season

October 31, 2012The Sixers Begin Their 50th Season in Philadelphia Tonight At The Wells Fargo Center; Celebrate All Season Long With Dollar Dog Nights And Special Ticket Packages

January 5, 2012Amuse Bouche: An Authentic Philly Cheesesteak – "Whiz Wit" – From Tony Luke's In South Philadelphia

December 5, 2011Philly Chefs And Restaurateurs Expanding: Garces Goes West, Starr To D.C., Zama To Miami, La Colombe To Chicago And Vetri To New Jersey

Uwishunu covers everything fun and exciting happening in Philadelphia — read it daily for the latest on restaurants, bars, events, festivals, arts, music, hotels and more.
Details
Get Directions
39 E. Oregon Avenue Philadelphia, PA 19148
(215) 551-5725
Website
Neighborhood:
Visit Official Website
In the neighborhood
Accommodations

4301 Island Avenue
Philadelphia, PA 19153

(267) 298-1700
Website

View more hotels

Museums & Attractions

6825-31 Norwitch Drive Philadelphia, PA 19153
(215) 365-7233
Website

View more attractions

Restaurants & Dining

1100 Pattison Ave.
Philadelphia, PA 19148
Website

View more Restuarants & Dining
Find us on Facebook