Macy's Center City
Macy's downtown Philadelphia location is in a National Historic Landmark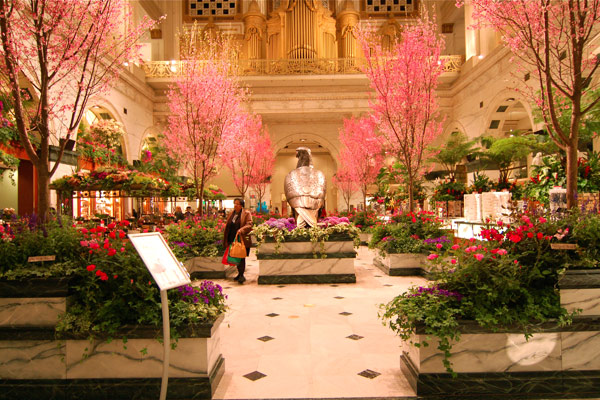 Description
In August of 2006, Macy's opened in Center City Philadelphia. The store's site — the former John Wanamaker building — has been recognized as one of the most architecturally significant retail spaces in the U.S. and is a National Historical Landmark.
With a three-story steel structure and Italian and Greek marble arches decorating the store's Grand Court, the Macy's building is nothing short of an architectural masterpiece.
Whether you have a passion for architecture or fine shopping, the Macy's building should be a stop on your trip to Philadelphia. You can even take a narrated tour of the building — in addition to browsing the store's extensive collection of clothing, shoes and accessories.
Wanamaker Grand Organ
The store boasts many landmarks, but the undisputed highlight is its "Great Pipe Organ." Originally erected in 1904, the organ is one of the world's largest. And Macy's Grand Court is the ideal location for it, offering exceptional acoustics to the organ's incredibly dynamic sound.
Don't miss the annual Holiday Light Show, a light-and-sound extravaganza in the Grand Court that dates back to 1955.
Welcome Savings Pass
An added perk to any international or out-of state visitor is Macy's 11% welcome savings pass. Visit the store's visitor center to collect your discount pass, then enjoy an 11% discount in addition to tax-free shopping on clothing and shoes.
Details
Get Directions
1300 Market Street
Philadelphia, PA 19107
(215) 241-9000
Website
Neighborhood:
Related Tags
In the neighborhood
Accommodations

1700 Benjamin Franklin Parkway Philadelphia, PA 19103
(215) 981-5678
Website

View more hotels

Museums & Attractions

1412 Chestnut Street
Philadelphia, PA 19103
(215) 569-9700
Website

View more attractions

Restaurants & Dining

1730 Chestnut Street
Philadelphia, PA 19103
(215) 665-9220
Website

View more Restuarants & Dining
Find us on Facebook