Peddler's Village
Step outside your routine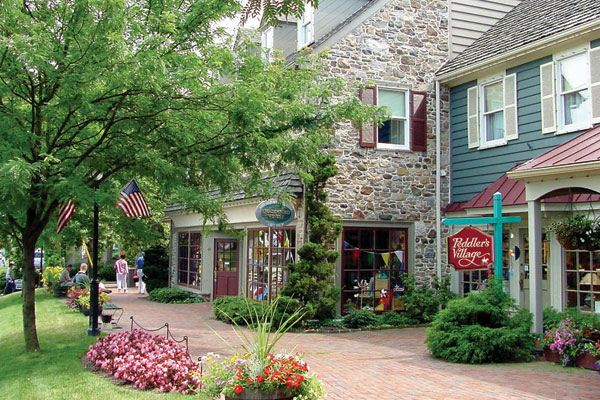 Description
Peddler's Village has small town, colonial charm, with 70 specialty shops, five restaurants and a 70-room inn spread across 42 acres of landscaped grounds and winding walkways.
For families, the Village includes Giggleberry Fair, a 10,000-square-foot entertainment center comprised of: The Grand Carousel, a restored 1922 Philadelphia Toboggan Company carousel; Giggleberry Mountain, a three-story, six-level obstacle course and maze with side-by-side racing slides; and the newest attraction, Giggles Discovers! with interactive play stations featuring Giggles Fire Station #1 and Comfyland.
Five restaurants provide a choice of on-site dining. Peddler's Village also hosts 11 festivals year round, including The Apple Festival, one of many themed weekends, held every year in November. People of all ages enjoy shopping, crafts, live entertainment and, of course, lots of apples.
Golden Plough Inn at Peddler's Village
Located in Peddler's Village, the 70-room country inn reflects the architectural style of Colonial America. The main part of the building incorporates the historic Buttonwood Inn, which dates back to the 18th century. Many rooms have fireplaces and over-sized whirlpool tubs. Click the link below to learn more and book your stay.
Details
Get Directions
41 Peddler's Village Road
(Routes 202 and 263)
Lahaska, PA 18931
(215) 794-4000
Website
Visit Official Website
Find us on Facebook