Blue Cross Broad Street Run
May 5: A 10-mile road race along Philadelphia's historic Broad Street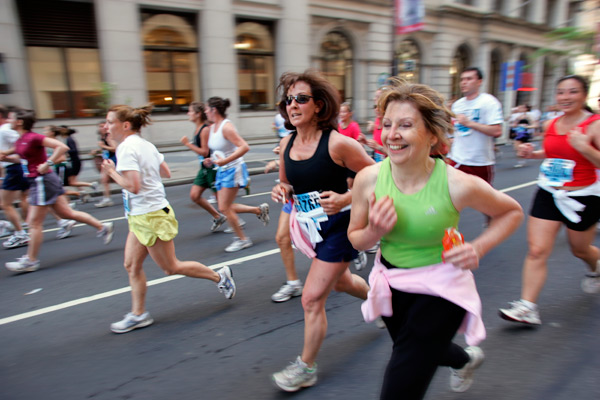 Description
Dates:
Race Day: May 5, 2013
Overview
The 34th Annual Blue Cross Broad Street Run is a 10-mile, point-to-point course running from the northern edge of the city to the Philadelphia Navy Yard on the Delaware Waterfront.
You'll pass many of the city's most important landmarks along the way, including Temple University, City Hall, Pennsylvania Academy of the Fine Arts, The Avenue of the Arts and the Philadelphia stadium complex.
Expect record-breaking times and a field of about 18,000 runners on this USATF-certified course, which rates as one of the fastest in the county by Runner's World Magazine. The race finishes inside the Philadelphia Navy Yard.
Runners' Info
There are eleven water stations, digital clocks at each mile market, aid stations, port-a-potties, entertainment and numerous ambulances on the course. The course is traffic-free in the south-bound lanes and monitored by police. This course is certified by USATF.
Come Prepared
There is a fee for entry and registration is required. Due to the limited amount of parking in the start area, runners are asked to park (free) near the finish area at Broad and Pattison. From there the SEPTA Broad Street subway line (free) will take runners to the starting point at Central High School.
Find even more info in the helpful FAQ section of the Broad Street Run website.
Details
Get Directions
Broad Street and Somerville Avenue
(Central High School Athletic Field)
Philadelphia, PA 19141
(215) 683-3594
Website
Neighborhood:
In the neighborhood
Accommodations

1331 W. Berks Street Philadelphia, PA 19122
(215) 235-6200
Website

View more hotels

Museums & Attractions

12th Street and Berks Walk
Philadelphia, PA 19122
(215) 204-8230
Website

View more attractions

Restaurants & Dining
Find us on Facebook