Philadelphia 76ers
Go Sixers!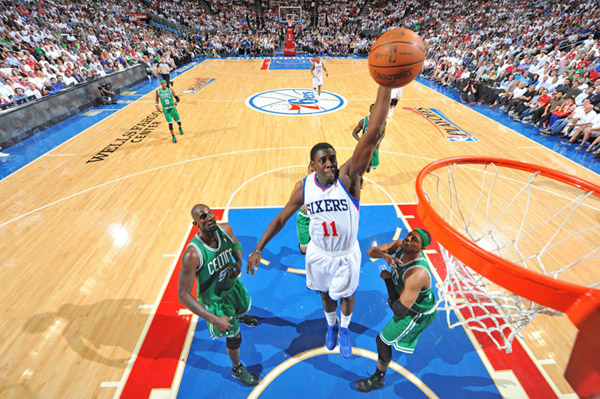 Description
2012-2013 Season
This season marks 50 years in Philadelphia for the 76ers!
The Sixers are led by former Sixer great, head coach Doug Collins, and the roster is composed of a solid young core, including 2013 All-Star Jrue Holiday, Evan Turner and Thaddeus Young — not to mention All-Star center Andrew Bynum. Catch the team in action at the Wells Fargo Center and follow them in their quest to capture the Atlantic Division crown and compete with the best of the Eastern Conference.
Tickets, Packages and Promotions
Want to see the 76ers live and in-person at the Wells Fargo Center? Single game tickets are available at sixers.com.
The Sixers have various ticket packages and ticket specials available during the season, including the popular Family Fun Package, which includes four tickets, four hotdogs and four sodas, starting at $60. Ten-game, three-game and other packages are also available at different times during the season, and can be purchased at sixers.com.
Also, throughout the year, the team hosts promotional nights with giveaways, Dollar Dog nights, discounts and more.
History
In 1963, the Syracuse Nationals moved to Philadelphia and became the Philadelphia 76ers. By 1967, the 76ers held the league's best record and won the NBA championship. Wilt Chamberlain, Hal Greer and Billy Cunningham starred. Cunningham would return to coach the 76ers and lead them to the NBA championship in 1983 – Philadelphia's last major championship – with a 4-0 sweep over the Los Angeles Lakers thanks to the help of Maurice Cheeks, Julius Erving and Moses Malone.
Since that last title, the 76ers have had their ups and downs. In 1999, the team made its first trip to the playoffs, spark-plugged by Allen Iverson and team owner Pat Croce, since 1991 when the colorful Charles Barkley led the team to the Eastern Conference Finals. In 2001, the Sixers ignited that famous Philadelphia spirit by winning the NBA Eastern Conference and making it to the NBA Finals for the first time in 23 years.
Details
Get Directions
3601 S. Broad Street
Wells Fargo Center
Philadelphia, PA 19148
(215) 339-7676
Website
Neighborhood:
Related Tags
In the neighborhood
Accommodations

4630 Island Avenue Philadelphia, PA 19153
(215) 492-1611
Website

View more hotels

Museums & Attractions

1100 Pattison Ave.
Philadelphia, PA 19148

View more attractions

Restaurants & Dining

1100 Pattison Ave.
Philadelphia, PA 19148

View more Restuarants & Dining
Find us on Facebook