July 4th in Philadelphia
An Hour-By-Hour Guide
How to get the most out of Independence Day in Philly
Philadelphia, the birthplace of independence, is celebrating the Fourth of July in 2014 in a big, big way. Festivals and events honoring America's birthday are taking place throughout the day all across the city.
From Vice President Joe Biden making an appearance at Independence Hall to the Largest Free Concert in America, the Super Scooper All-You-Can-Eat Ice Cream Festival to fireworks over the Art Museum, visitors and residents alike have tons of options for celebrating America's birthday.
And with July 4th happening on a Friday, there's no better time to turn your celebration into a patriotic getaway with the Visit Philly Overnight® Hotel Package. Not only will you be able to celebrate America's birthday in America's birthplace, but also your car stays FREE. Click here to book your stay.
Plan your Independence Day celebration with our hour-by-hour guide to July 4th in Philadelphia below.
July 4, 2014
Morning
Celebration of Freedom Ceremony
Time: 10-11 a.m.
Location: 6th and Chestnut Streets
Vice President Joe Biden will join Mayor Michael Nutter, Martin Luther King III and others for the Celebration of Freedom Ceremony, which takes place in front of Independence Hall. Pay tribute to the history of our great nation with a patriotic and inspiring morning of music, speeches and a reading of excerpts from the Declaration of Independence. This year's ceremony recognizes the 50th anniversary of the Civil Rights Act of 1964 and the 60th anniversary of the Brown v. Board Supreme Court decision.

All-American Celebration
Time: 10 a.m.-5 p.m.
Location: Independence Mall
Meet the nation's founding fathers, including Benjamin Franklin, George Washington and Thomas Jefferson, participate in Colonial-era games, sign up to become a member of the Continental Army and enjoy daily special events during the All-American Celebration in Historic Philadelphia.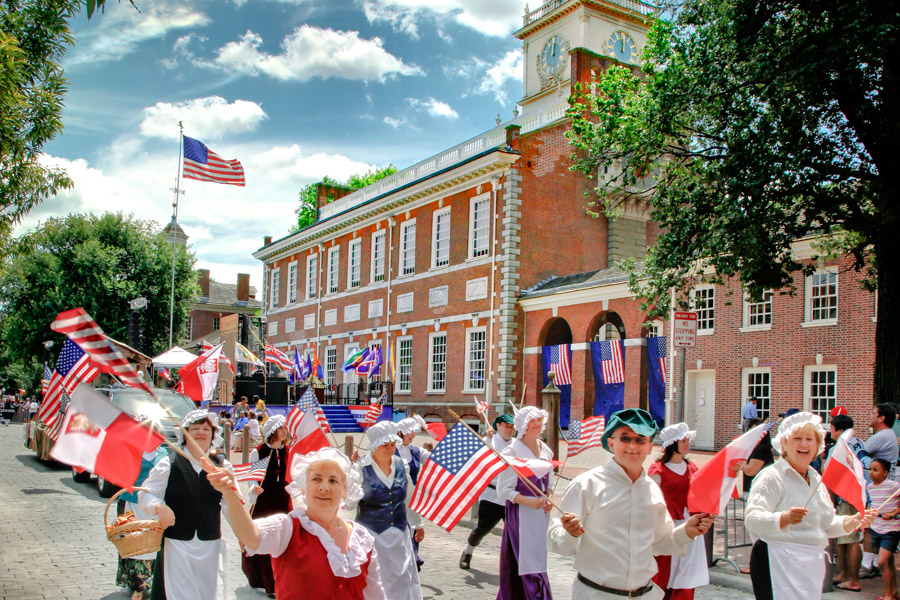 The Independence Day Parade features dozens of floats, marching bands, antique cars and more than 5,000 marchers who begin at Independence Hall and wind through Philadelphia's most historic streets.
(G. Widman for Visit Philadelphia)

1776 Experience
Time: 10 a.m.-5 p.m.
Location: National Constitution Center
Experience the life of an American Revolutionary War soldier as you enter a recreated historic military encampment on the lawn of the National Constitution Center. Practice mustering with the troops, visit the wounded in a medical tent, look for a new sword at the blacksmith shop or go hands-on with carpentry and leatherwork as you experience the soldier's life.

Independence Day Parade
Time: 11 a.m.
Location: Parade starts at 6th and Chestnut Streets
More than 5,000 participants will take to the streets of Historic Philadelphia for a patriotic and colorful parade featuring marching bands, floats, military members and more.

Battleship New Jersey Fantail BBQ
Time: 11 a.m.-4 p.m.
Location: Battleship New Jersey
Step aboard the Battleship New Jersey for a special July 4th on the deck of the historic vessel. Be sure to check out the Teach Fleet Lego Display featuring massive, naval-themed Lego models up to eight-feet long.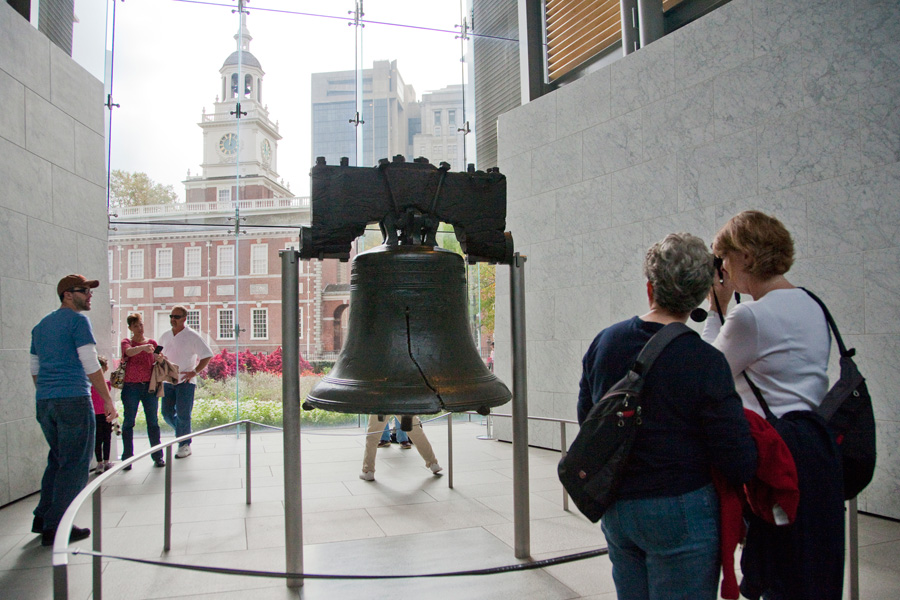 The Liberty Bell Center has extended hours on July 4th, from 9 a.m. to 8 p.m.
(M. Fischetti for Visit Philadelphia)

Historic Germantown Independence Day Celebration
Time: 11:30 a.m.-4 p.m.
Now in its 10th year, the annual Independence Day Celebration in Historic Germantown is a day of free events including tours of historic attractions, family-friendly activities, live music, a farmer's market, the ringing of the historic Concord School bell and more. Featured activities during the day-long celebration include make-your-own ice cream at Stenton, purchase organic produce from the Farmer's Market at Wyck and free tours of Cliveden.
Afternoon
Party on the Parkway
Time: Noon-7 p.m.
Location: Benjamin Franklin Parkway
Head to the Benjamin Franklin Parkway to celebrate America's Birthday with a massive celebration featuring live music, family-friendly activities, games, food and more.
---
Guide to July 4th in Philadelphia
For our complete guide to the fireworks, concerts, family-friendly events and more happening over the week of July 4th, click the button below.
View guide to July 4th in Philadelphia
---

Super Scooper All-You-Can-Eat Ice Cream Festival
Time: Noon-5 p.m.
Location: Penn's Landing
Bring your sweet tooth to Penn's Landing for the three-day, immensely popular all-you-can-eat ice cream spectacular benefiting the Joshua Kahan Fund for pediatric cancer. A $7 donation is required to join the fun.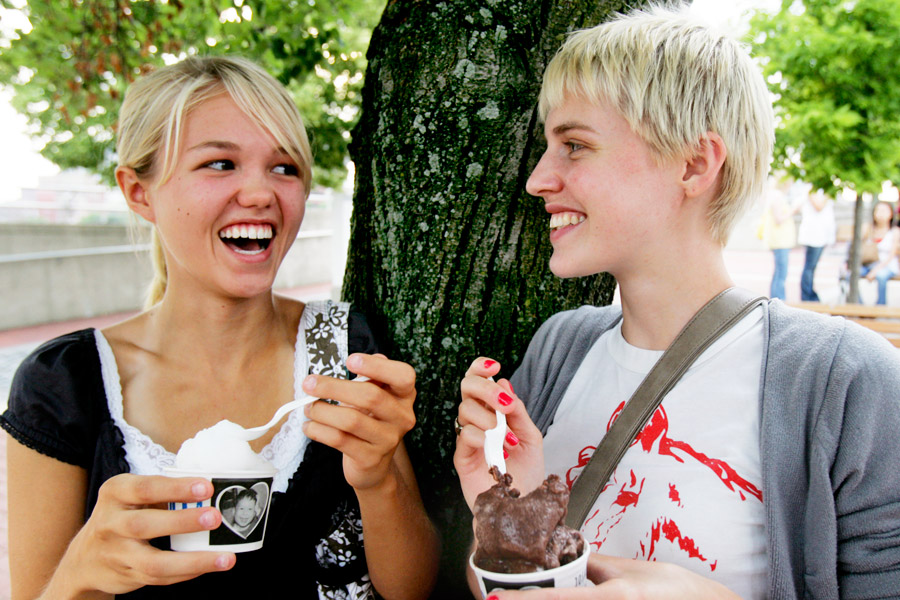 At the Super Scooper "All-You-Can-Eat" Ice Cream Festival, a $7 donation gives you an unlimited amount of the frosty, yummy, worth-every-calorie treat.
(Photo by G. Widman for Visit Philadelphia)

4th of July at the Powel House
Time: Noon-6 p.m.
Time: Noon-6 p.m.
Location: Powel House | 244 S. 3rd Street
Celebrate the 4th of July at the Powel House with a day-long celebration featuring guided tours, barbecue, cocktails, live music and more. Tickets are available online in advance or at the door.

America's Birthday Party with Betsy Ross and Termini Bros. Bakery
Time: 1 p.m.
Location: Independence Visitor Center
The Independence Visitor Center is hosting a sweet celebration for America's Birthday with Termini Brothers Bakery. A spectacular five-tier cake will be decorated at the Visitor Center starting at 10 a.m. and leading up to the celebration at 1 p.m. The cake will be surrounded by 2,500 cupcakes configured into the shape of an American flag. When decoration of the cake is complete, a fife and drum will lead Betsy Ross into the Visitor Center to conduct a brief ceremony celebrating our nation's 238th birthday. Betsy will cut the cake and Termini Bros. Bakery staff will then give away the cupcakes to the public — for free.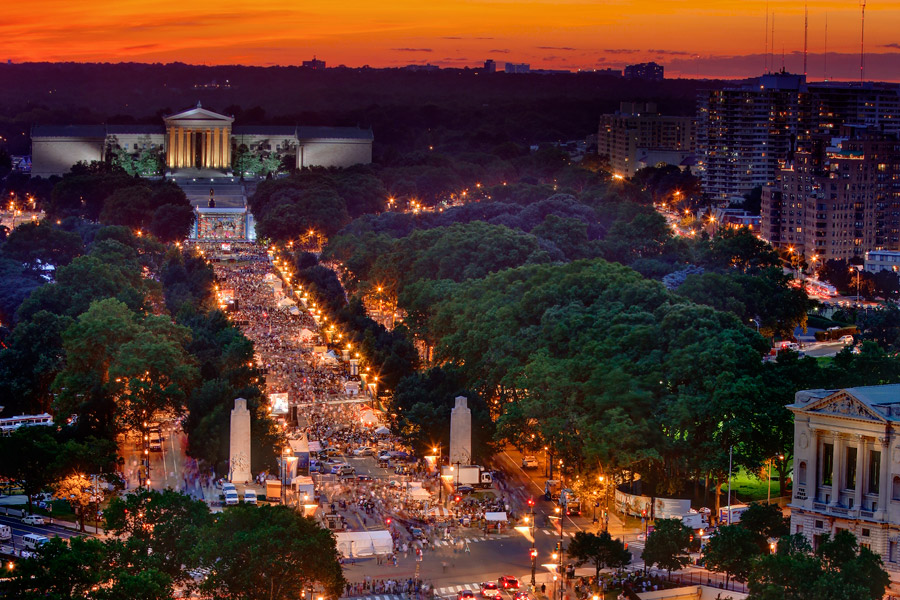 The day-long Party on the Parkway will be packed with blocks of delicious food, interactive fun and more.
(G. Widman for Visit Philadelphia)

Let Freedom Ring
Time: 1-2 p.m.
Location: Independence National Historical Park
Descendents of the Signers of the Declaration of Independence and Pennsylvania Society's Sons of the Revolution take part in this special event in the shadow of Independence Hall. The morning celebration concludes with symbolic tapping of the Liberty Bell at 2 p.m.
Evening
Fourth of July Weekend at SugarHouse Casino
Time: Doors open at 6 p.m.
Location: SugarHouse Casino
SugarHouse Casino is kicking-off its Outdoor Summer Concert Series July 4th weekend with an amazing, free performance from WAR. Celebrate with classic hits from the '60s-70s' funk band and enjoy a beach-themed retreat on the Delaware River Waterfront complete with summery snacks and tropical drinks.

Philly 4th of July Jam and Grand Finale Fireworks
Time: 7-11 p.m.
Location: Benjamin Franklin Parkway | More Details | Where to Watch Map – Parkway
Celebrate America's birthday with the "Largest Free Concert in America." Starting at 7 p.m., The Roots, Ed Sheeran, Nicki Minaj, Jennifer Hudson, Aloe Blacc, Ariana Grande and Vicci Martinez will perform live on the Parkway, with actor and comedian Marlon Wayans serving as host of the event. The festivities will be covered live locally by 6ABC, simulcast on VH1 and Palladia and live streamed on PhillyJam.VH1.com.
The evening ends with an incredible fireworks finale over the Philadelphia Museum of Art.
Want a great view of the show? Check our our interactive map of the top places to watch the fireworks.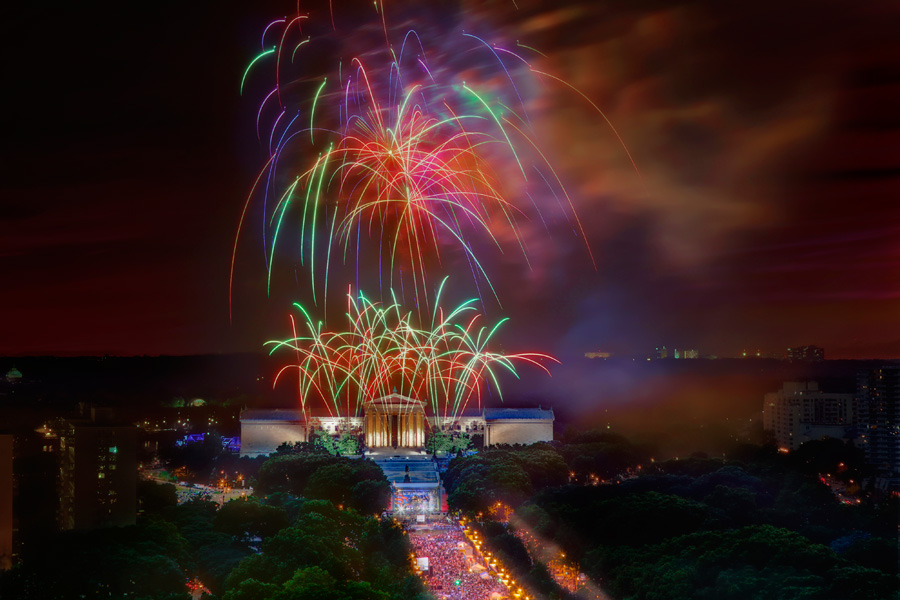 Don't miss the incredible July 4th fireworks display over the Philadelphia Museum of Art following the free Philly 4th of July Jam on the Parkway.
(Photo by G. Widman for Visit Philadelphia)
Getting There: Parking & Public Transit
Public Transit
City officials urge the public to either walk to the events or take SEPTA. Public transportation is an easy way to get in and out of Center City. SEPTA will operate additional service on July 4th to assist festival-goers. All SEPTA Regional Rail, bus, trolley, Market-Frankford and Broad Street Line services will operate on a Sunday schedule on July 4th, with additional late-night service to accommodate concert-goers.
Here is information on SETPA services:
Market Frankford Line: Ten additional trains will be added to provide service every 5 to 7 minutes, beginning at 4:30 p.m. These service levels will remain in effect through 1:15 a.m. SEPTA's Overnight subway service pilot program will be in effect through the holiday weekend, with service operating every 20 minutes until 5 a.m. 15th Street Station provides easiest access to and from the festivities on the Parkway.
Broad Street Line: Eight additional trains will provide service every 5 to 7 minutes beginning at 4:28 pm. These service levels will remain in effect through 1:15 a.m. Overnight subway service will be in place throughout the holiday weekend with service operating every 20 minutes until 5 a.m. Spring Garden, Race- Vine and City Hall Stations provide easy walking access to the Parkway.
Regional Rail: SEPTA will extend Regional Rail service for customers leaving Center City after the fireworks display on the Parkway. A total of seventeen trains will depart from Suburban Station between 11:30 p.m. and 12:45 a.m. Trains will make all local stops. Special schedules are accessible online at www.septa.org/events/holiday.html
Trolley: Additional trips will be added on Routes 10, 11, 13, 34, and 36 following the fireworks display, as needed.
Buses: Riders should be on alert regarding detours that will be in place for road closures due to the festivities on the Parkway and Center City area. Specific detours for routes 5, 7, 9, 17, 21, 33, 38, 42, 43, 44, 47, 48, 57 and 61 have been posted online, with some beginning on Wednesday, July 3. More service-detour information is available on the septa.org
Passengers are encouraged to purchase fares in advance. Complete service information is available on SEPTA's website and from its Customer Service, at (215) 580-7800, or on social media @septa_social.
PHLASH Trolley
PHLASH trolley transportation is an inexpensive, convenient way to visit attractions in Center City ($2 per ride; $5 all-day). The PHLASH service will operate on July 4th. For holiday route detours and schedules, contact the Independence Visitor Center, (800) 537-7676 or visit PhillyPHLASH.com.
Parking Information
For-pay parking lots and garages conveniently are located on or near the Parkway. Call individual facilities ahead for parking options, prices and availability, or visit the Philadelphia Parking Authority website.