Thanksgiving Dinner
at Philadelphia Restaurants for 2016
Let the city's top restaurants do the cooking on Thanksgiving
This Thanksgiving, let one of Philadelphia's awesome restaurants do dinner for you.
Dozens of great dining establishments are offering sit-down dinners for those aiming to avoid the cooking, baking, grocery store rush and post-meal clean up of Thanksgiving dinner.
Still want to dine at home? There are also tons of eateries taking orders for turkeys and Thanksgiving dinners.
Before dinner, head to the Benjamin Franklin Parkway for the annual Philadelphia Thanksgiving Day Parade, the oldest parade of its kind in the U.S. complete with festive floats, giant balloons, lively dancers, costumed characters, celebrities and marching bands.
Inside Tip: Wake up in the midst of the action (or stay over after a filling meal!) with the Visit Philly Overnight Hotel Package.
Whether you're looking for a farm-fresh turkey with a side of locally grown veggies or a lavish buffet at one of the city's premier hotels, there's a Thanksgiving option here for you. Read on for our picks for Thanksgiving dinners in the Philadelphia region.
Sit-Down Dinners on Thanksgiving Day
Bank and Bourbon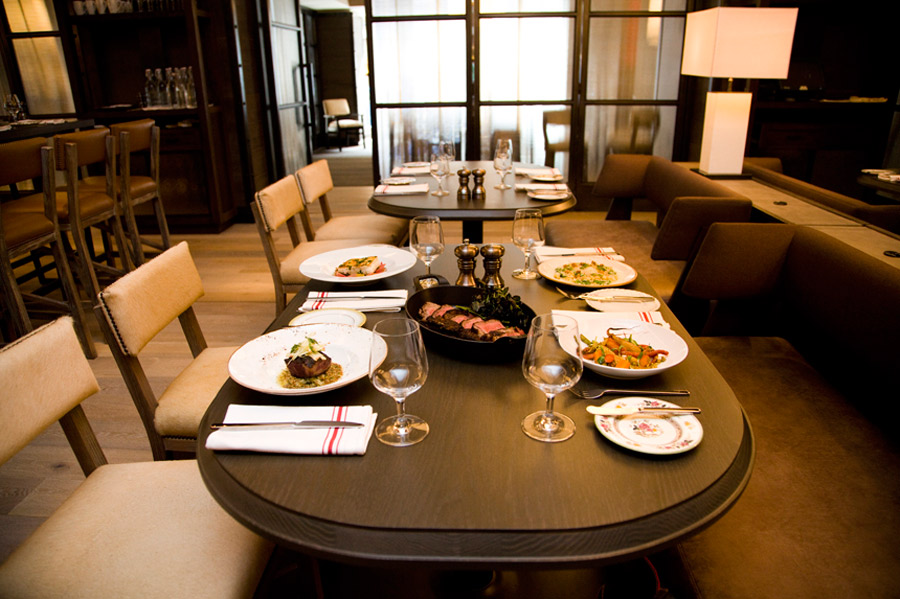 Bank and Bourbon at the Loews Philadelphia Hotel is offering a delicious three-course, prix-fixe meal on Thanksgiving Day. (M. Edlow for Visit Philadelphia)
November 24, 2016
The Lowes Philadelphia Hotel restaurant offers a sumptuous three-course spread (beef barley soup, roasted turkey with herb brioche stuffing and bourbon bread pudding with maple ice cream). The prix-fixe menu is $55 per person, not including tax and gratuity, and seatings run from 11:30 to 2:30 p.m. and 4:30 to 10 p.m. Reserve online or by calling 215-231-7300.
Square 1682
November 24, 2016
The Hotel Palomar's dining room delivers a chic holiday meal that includes pumpkin bisque, maple glazed turkey with braised collard greens and pecan pie. Dinner service begins at 3 p.m., and costs $55 for adults and $25 for kids.
City Tavern
November 24, 2016
Participants in the four-course family-style banquet at Old City's historic eatery will be serenaded by live music. The menu includes a champagne shrub, appetizer sampler, salad, traditional turkey (or ham, roast beef, salmon or tofu) and trimmings, plus a selection of desserts with madeira toast, all for $88.95 a person and $35.95 for children 12 and under.
Moshulu
November 24, 2016
From noon to 8 p.m. the Penn's Landing dining destination invites visitors aboard for a three-course cornucopia. For $60 per person (not including tax, gratuity and beverages), there's New England oyster and crab gratin, turkey and veggies or less predictable options like duck breast with foie gras gnocchi, plus warm apple turnovers with caramel ice cream and hot cider.
The Twisted Tail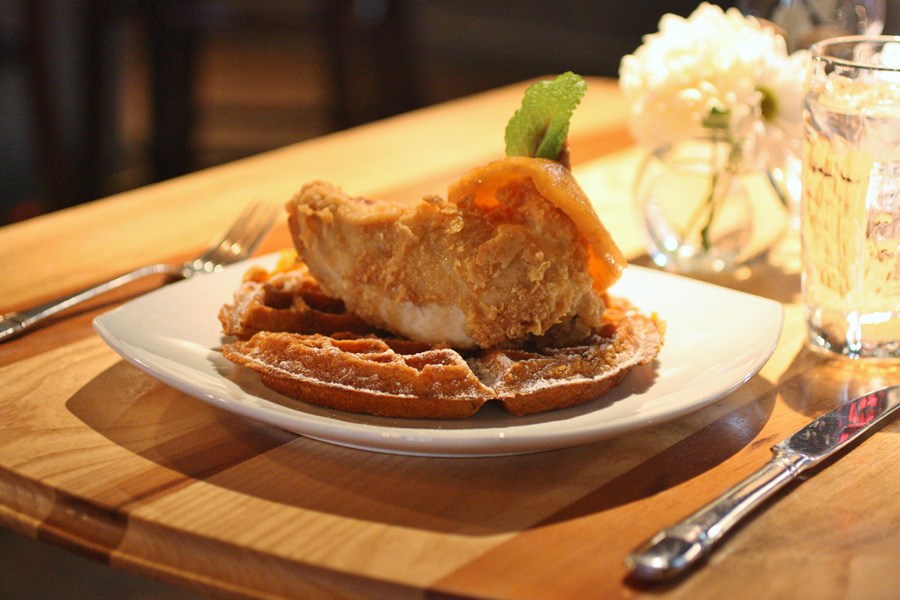 The Twisted Tail on South Street will be offering family-style Thanksgiving comfort food in the restaurant or to-go for the food-centric holiday. (Photo courtesy Twisted Tail)
November 24, 2016
Served family style at the restaurant or available to-go, the Southern-fried T Day at Twisted Tail runs from noon to 10 p.m. for $47 a person. On the table: a choice of turkey, prime rib, ham or salmon; a spread of sides that includes Brussels sprouts, potatoes, stuffing and more; and a whole pie of choice.
Bridget Foy's
November 24, 2016
One of the few restaurants to offer an a la carte Thanksgiving option, Bridget Foy's caters to both the most holiday-centric guests and those who just want to eat. The South Street institution's menu includes a traditional Thanksgiving meal (turkey, sprouts, cranberry sauce and stuffing) as well as items like smoked eggplant hummus, steak frites and vegetable curry.
Devon Seafood Grill
November 24, 2016
The feasting can begin as early as noon at Rittenhouse Square's Devon Seafood Grill. Until 8 p.m., the restaurant serves up a three-course prix-fixe meal (lobster bisque; turkey and goodies; apple croustade) costing $40 for adults and $20 for children 12 and under.
Fine Palate
November 24, 2016
Savor a four course, pre-fixe menu ($55 per person) at Rittenhouse Square's Fine Palate, where a choice of Chateaubriand steak with potato puree and roasted wild mushrooms or crown-roasted turkey with Brussels sprouts, sourdough stuffing and sweet potato puree are at the center of the feast. While drinks are not included, a new, highly seasonal cocktail menu offers a plethora of festive pairing options.
Paramour at the Wayne Hotel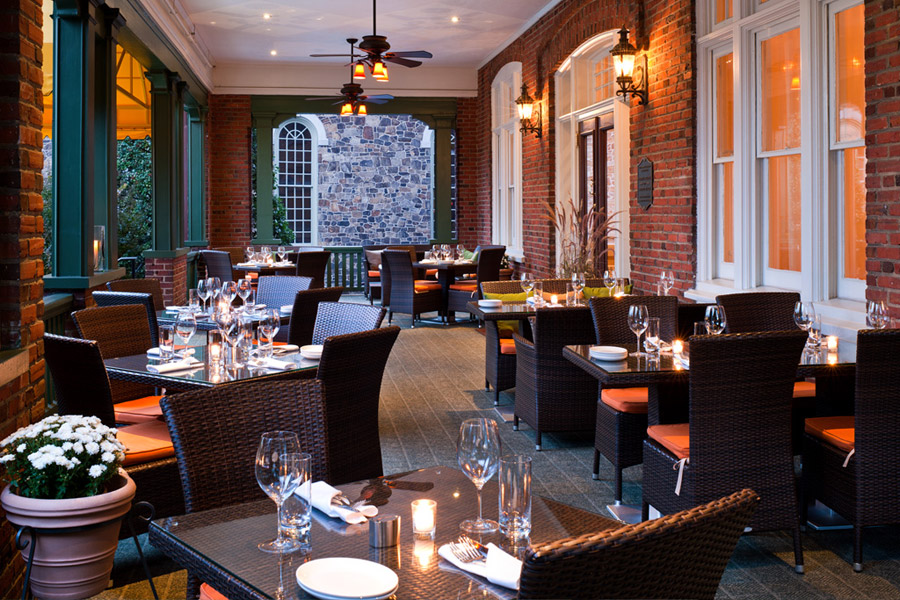 Enjoy a sumptuous three-course meal at the Paramour at the Wayne Hotel on Thanksgiving Day. (Photo courtesy the Wayne Hotel)
November 24, 2016
A three-course prix-fixe dinner ($60 with the option of an additional wine pairing for $35) showcases late fall's splendid flavors at this refined hotel restaurant. The meal might start with cream of chestnut soup with gingersnap crumble, continue with turkey with pumpernickel and mushroom stuffing and end with pumpkin cheesecake with ginger mousse.
More on Paramour at the Wayne Hotel
Del Frisco's
November 24, 2016
For the first time ever, the grand steakhouse opens its doors to Thanksgiving eaters. For $49 per person and $24 for children 12 and under, the choice of eats includes butternut squash soup, turkey, sides and pumpkin cheesecake.
Urban Farmer
November 24, 2016
Leave it to the sustainable steakhouse to cleverly update the Thanksgiving meal. The prix-fixe meal ($75 per person not including tax and gratuity) spans charcuterie, chestnut soup and a choice of entrée (turkey, prime rib or cod), plus family-style sides and a choice of dessert that includes caramel poached pears with chocolate sorbet.
Aqimero
November 24, 2016
The Ritz-Carlton's new restaurant welcomes holiday diners with a four-course meal for $80 per person. Offerings include lobster bisque, honey mezcal-brined turkey breast and roasted sweet potatoes with candied walnuts and marshmallow.
Davio's
November 24, 2016
Italian steaks make way for turkey, potatoes and gravy on Thanksgiving at both local Davio's locations. The special family-style dinner ($49 for adults and $15 for children 12 and under) covers all the bases, and there's even a turkey sandwich to take out and eat the following day.
Hyatt at The Bellevue
November 24, 2016
Join Hyatt at The Bellevue for an afternoon feast, where an abundance of classic Thanksgiving favorites will be served up to those dining between 1-6 p.m. The restaurant will take reservations every 30 minutes and meals will cost $69 per guest (exclusive of gratuity and beverages).
Ruth's Chris Steak House
November 24, 2016
Three courses of turkey dinner plus an option to take leftovers keep the proceedings at Ruth's Chris in line with holiday tradition. The meal starts at noon and costs $39.95 per person.
More on Ruth's Chris Steak House
The Little Lion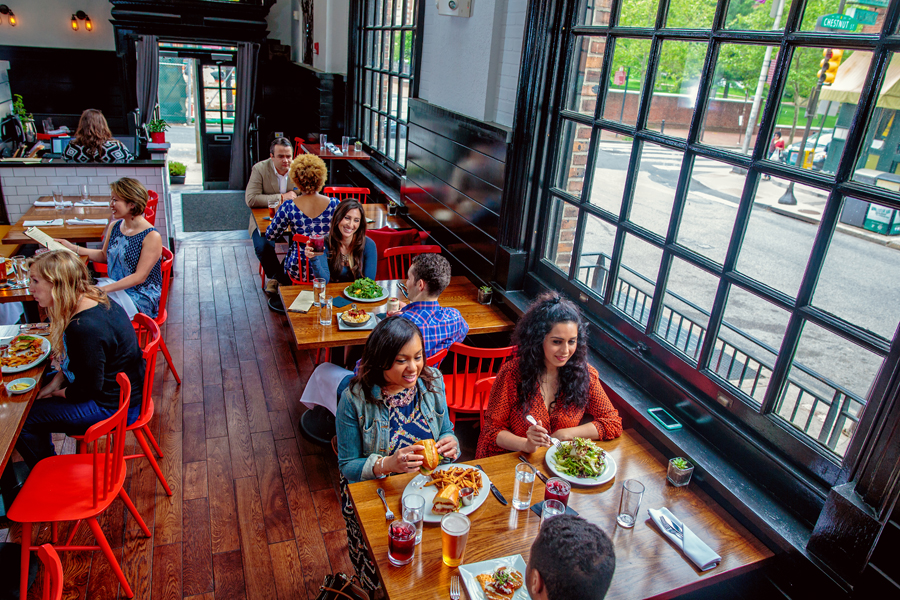 Order dinner to go or have dinner at The Little Lion in Old City. (J. Fusco for Visit Philadelphia)
November 24, 2016
Diners are invited to stay or order takeout on Thanksgiving at Old City's The Little Lion. The Southern-inflected menu includes a choice of turkey, ham, catfish and more, plus sides like cheddar grits and greens and sweet potato hash.
Buffets on Thanksgiving Day
Chima
November 24, 2016
It's a meat-lover's bonanza every day at Chima Brazilian Steakhouse but on Thanksgiving, American fare gets added to the bounty. Think turkey, gravy, stuffing, sweet potatoes, green bean casserole and more.
The Radnor Hotel
November 24, 2016
From noon until 6 p.m., the buffet stretches far and wide at The Radnor Hotel's annual Thanksgiving celebration (38.95 for adults and $17.50 for children ages five to eleven). Cheese boards, crudité and smoked fish set the stage for beef, ham, turkey and veggie accompaniments, plus a dessert table with a chocolate fountain.
XIX (Nineteen)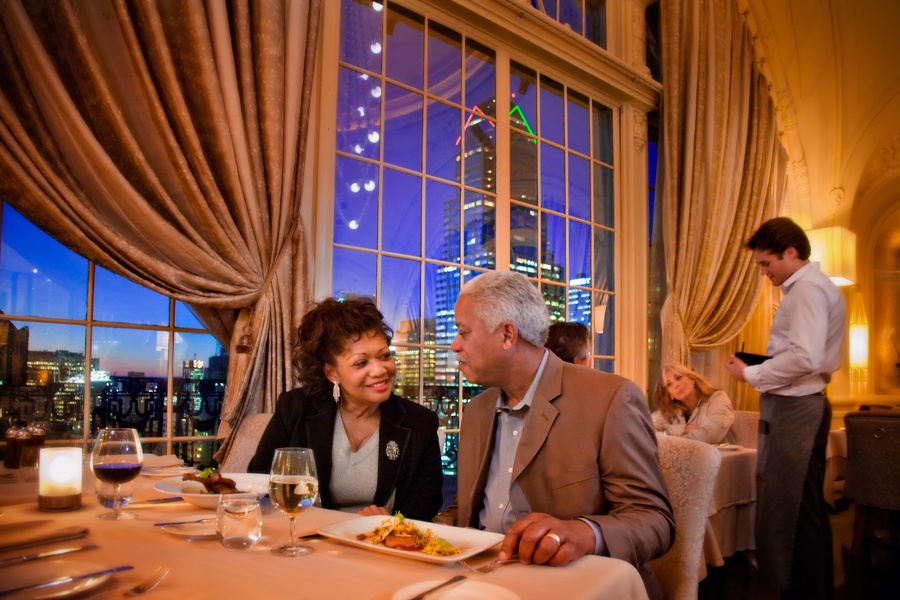 XIX hosts a buffet-style meal every Thanksgiving. (G. Widman for Visit Philadelphia)
November 24, 2016
The annual buffet at the Hyatt at the Bellevue's dramatic dining room promises to be as spectacular as ever. For $69 ($35 for children), diners can sample oysters and shrimp; salads and antipasto; carving boards with a range of meats; the house versions of sides like green beans, sweet potatoes and stuffing; and a next-level dessert selection.
London Grill
November 24, 2016
Fairmount's affable restau-bar serves up Thanksgiving buffet style ($45 for adults and $22.50 for children 11 and under). The meal begins with squash soup or a green salad, followed by endless roasted turkey, cider-glazed ham, green beans, pie and more.
Spirit of Philadelphia
November 24, 2016
The Spirit of Philadelphia welcomes landlubbers to a Thanksgiving afternoon lunch cruise with a classic buffet. The cruise and meal costs $69.90 per adult and $41.95 for children ages three to twelve.
More on Spirit of Philadelphia
Sofitel Philadelphia
November 24, 2016
Chez Colette cooks up a Thanksgiving buffet from noon to 4 p.m., but with a French twist. In addition to the traditional eats, the restaurant offers charcuterie and cheese and oysters on the half shell.
Take-out Specials
Percy Street Barbecue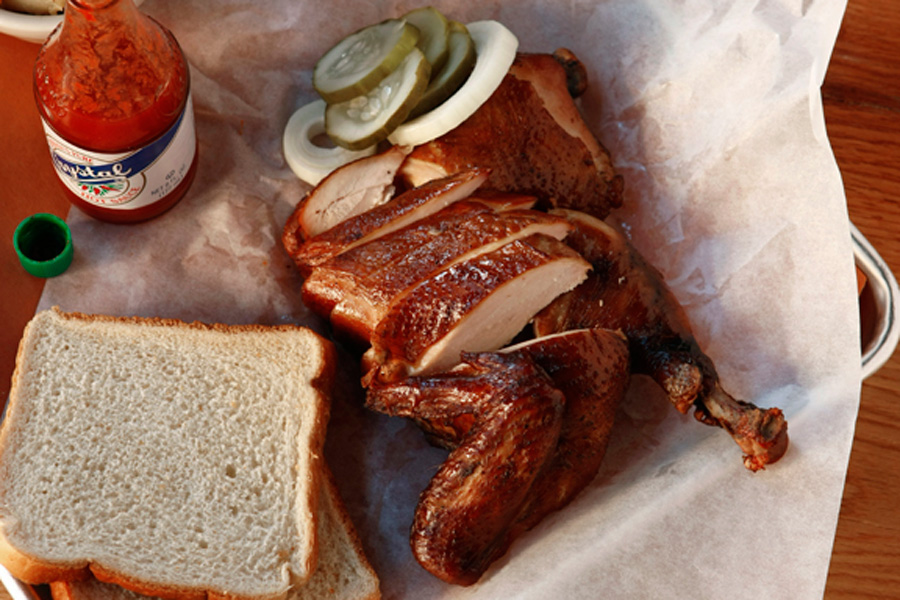 Percy Street Barbecue will once again offer incredible take-home meals for those who are weary of the kitchen this Thanksgiving. (Photo by J. Varney courtesy Percy Street Barbecue)
Order through November 16, 2016
Take-out diners can choose from a complete Southern-style Thanksgiving dinner (15-pound smoked turkey with sides and pie) or a basic dinner (turkey plus gravy and cranberry sauce) plus optional sides.
Di Bruno Bros.
Order through November 18 for pickup between November 22 and 24
Di Bruno Bros. offers two options for holiday entertaining: A beautiful cheese board for takeaway and a Thanksgiving dinner package, replete with all the sides and pie. Customers can also opt for a la carte hors d'oeuvres and dessert.
Ela
Order through November 21 for pickup by November 23
Ela's pre-fixe dinner includes two tasty turkey options, spice-brined turkey breast and turkey thighs stuffed with house-ground sausage. It's paired with more than a handful of sides, ranging from gnocchi with butternut squash, ricotta and hazelnuts to charred Brussels sprouts with black pepper and pecorino cheese.
Relish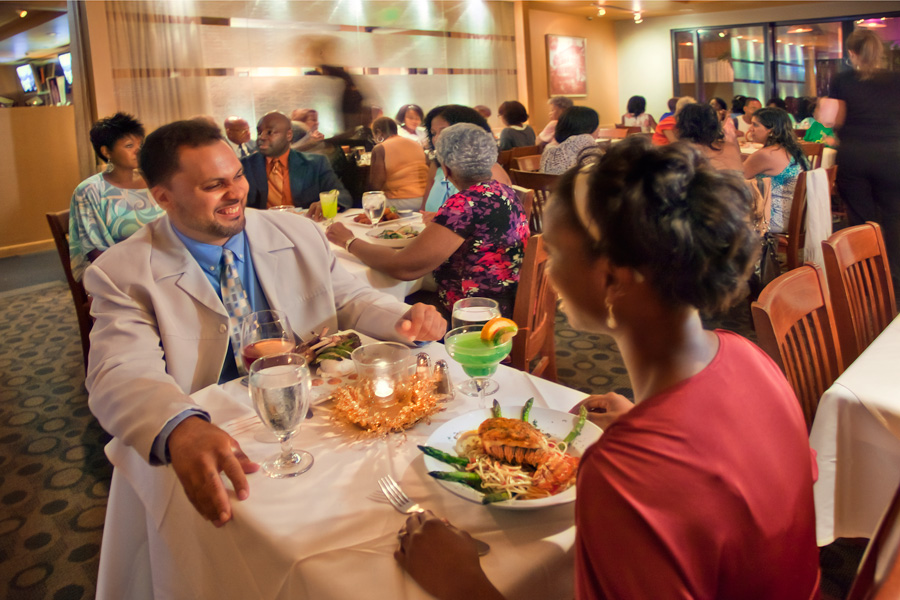 Get everything you need for Thanksgiving dinner with Relish's banquet package. (G. Widman for Visit Philadelphia)
Order by November 20, 2016
No party is too big to feed with Relish's expansive banquet package. Turkey, wings or brisket come with everything from the mac and cheese and stuffing to the lemon pound cake and sweet potato pie.
Jake's Sandwich Board
Order by November 21, 2016
Jake's Sandwich Board takes the stress out of the equation by offering the main dish — slow-roasted turkey for up to 24 people — and letting customers make their own favorite sides to accompany it.
High Street on Market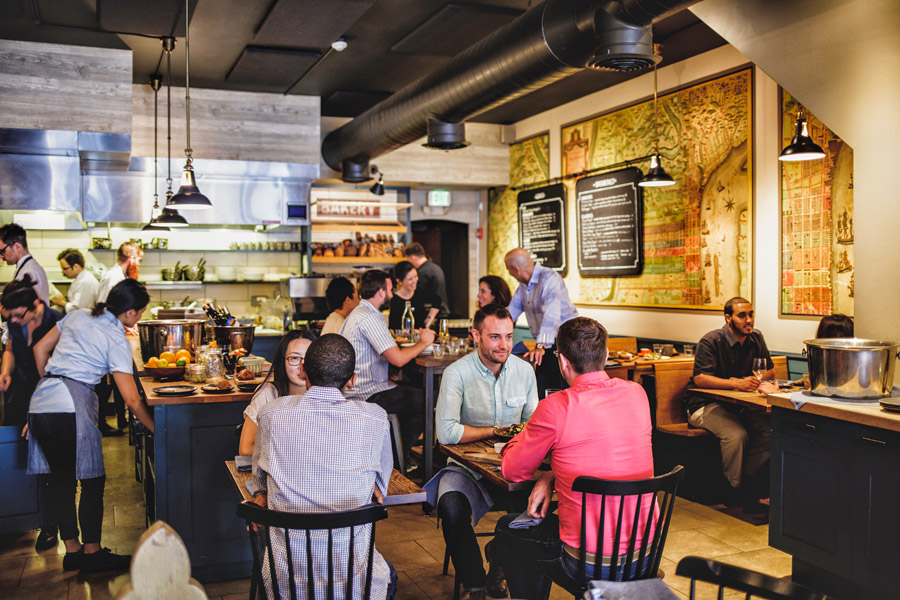 Pre-order your favorites for pickup from High Street on Market this Thanksgiving. (J. Fusco for Visit Philadelphia)
November 9-23, 2016
Breaking bread with loved ones requires excellent bread. High Street on Market will be accepting pre-orders for holiday loaves like anadama and ancient grains and pies such as their malted pumpkin to be picked up Tuesday or Wednesday before the big day.
Iron Hill Brewery
Wednesday, November 23
All twelve regional locations of the brewpub will sell Gobble Gobble Growlers the day before Thanksgiving. Guests can take home Pumpkin Ale or other seasonal flavors to complement their holiday feast.
Miss Rachel's Pantry
Order by Saturday, November 19 for pickup on Wednesday, November 23
Miss Rachel's Pantry offers vegan-friendly take-out dishes such as a pastry wrapped harvest roast, mashed potatoes, cranberry bread stuffing and holiday cookies, which can be ordered a la carte or as a full meal.
Tria
November 19, 2016
With the new state laws allowing restaurants to offer takeaway wine, Tria opens up a Weekend Wine Market at its Fitler Square location the Saturday before Thanksgiving. Customers can choose from six holiday-appropriate selections.
---