The Macy's Christmas Light Show
at Macy's Center City
A Philadelphia holiday tradition since 1955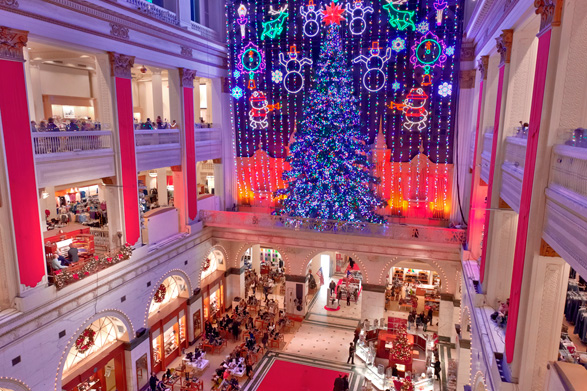 Description
Dates
November 29-December 31, 2013
The Experience
A perfect family outing, the Christmas Light Show and Wanamaker Organ Concert at Macy's is a Philadelphia holiday tradition that dates back half a century.
Come to the famous Center City store — housed in the historic Wanamaker Building — to watch snowflakes, ballerinas and reindeer float beyond the four-story-high velvet curtain of the Grand Court atrium.
During the light show, more than 100,000 bright, energy-efficient LED lights combine to create fantastic holiday images. The lighting display is accompanied by festive music from the world-renowned Wanamaker Grand Organ.
Insider Tip: The Macy's Magic Christmas Tree seen during the show is made up of approximately 34,500 LED lights.
Showtimes
The Christmas Light Show can be seen every two hours, seven days a week starting November 29. See times listed below for more information:
Daily:
10 a.m., 12 p.m., 2 p.m., 4 p.m., 6 p.m., 8 p.m
Holiday Hours:
Monday, December 24 (Christmas Eve): 10 a.m.–5 p.m.
Christmas Day: Closed
Wednesday, December 26–Saturday, December 29: 10 a.m.– 7 p.m.
Sunday, December 30: 11 a.m. – 6 p.m.
Monday, December 31 – New Year's Eve: 10 a.m. – 5 p.m.
Call store directly for more information: (215) 241-9000.
Dickens Village
A Philadelphia tradition for more than 20 years, the third floor of Macy's is transformed into "Dickens Village" for the holiday season. The 6,000-square-foot Village on the 3rd floor of Macy's Center City brings Charles Dickens' classic A Christmas Carol to life with more than 100 fully animated figures reenacting 26 of the story's most memorable moments.
Holiday Hours
November 29–December 23: 10 a.m.–7 p.m.
Tuesday, December 24 (Christmas Eve): 10 a.m.–7 p.m.
Christmas Day: Closed
December 26–December 28th: 10 a.m.–7 p.m.
Sunday, December 29: 11 a.m.–6 p.m.
Monday, December 30: 10 a.m.–7 p.m.
Tuesday, December 31 (New Year's Eve): 10 a.m.–5 p.m.
Holiday Windows
Macy's has been wowing crowds with their elaborate holiday window displays and celebrations since the early 1870s. The first store to feature holiday windows in the spirit of the holiday season, Macy's continues this joyful tradition today.
PATH: http://www.uwishunu.com/tag/macy's-holiday-light-show/feed/image/
November 26, 2013The Macy's Christmas Light Show, A Decades-Old Philadelphia Tradition, Returns For The 2013 Holiday Season On Friday, November 29

November 20, 2013Roundup: Our Top Picks For Must-See Holiday Attractions In Philadelphia And The Countryside In 2013

December 20, 2012Tonight Picks: Rittenhouse Row Holiday Party, Zahav's "Very Jewish (And Korean!) Christmas Party," Philadelphia Orchestra Concert, South Street Santa Bar Crawl And More

Uwishunu covers everything fun and exciting happening in Philadelphia — read it daily for the latest on restaurants, bars, events, festivals, arts, music, hotels and more.
Details
Get Directions
1300 Market Street Philadelphia, PA
(215) 241-9000
Website
Related Tags
In the neighborhood
Accommodations

100 N. Columbus Boulevard
Philadelphia, PA 19106
(215) 627-7900
Website

View more hotels

Museums & Attractions

219 S. Sixth Street Philadelphia, PA 19106
(215) 925-2688
Website

View more attractions

Restaurants & Dining

21 S. 5th Street
Philadelphia, PA 19106
(215) 625-0300
Website

View more Restuarants & Dining
Find us on Facebook