Kensington Kinetic Sculpture Derby & Arts Festival 2015
Off-beat design competition and community arts festival
Description
Date:
May 16, 2015
Overview
The Kensington Kinetic Sculpture Derby & Arts Festival is the new name for one of the city's quirkiest spring events. Formerly two events, the Trenton Avenue Arts Festival and Kensington Kinetic Derby is a day-long celebration of the creative spirit and community pride.
Cheer on design ingenuity during the Kinetic Sculpture Derby, a design competition featuring a wild array of human-powered vehicle floats.
Wander Trenton Avenue and explore more than 200 local artists, vendors and fantastic food trucks during the arts festival. Throughout the day, enjoy live performances, demonstrations and neighborhood attractions.
The festival raises money for projects in the area while exposing people to an off-the-beaten-path neighborhood.
Kinetic Sculpture Derby
The playful Kensington Kinetic Sculpture Derby is a parade of art and design. The quirky tournament seeks to award the most creative human-powered vehicles and entertain crowds with hilarious costumes and float themes.
The Kinetic Sculpture Derby parades mobile sculptures along a three-mile urban obstacle course through the Kensington and Fishtown neighborhoods, finishing with messy splashdown in a mud pit. The friendly, juried competition features six awards: Best Art, Best Costume, Best Engineering, People's Choice, Best Breakdown and the highly coveted Judge's Choice Award.
Click the image below to view the full Kinetic Sculpture Derby map.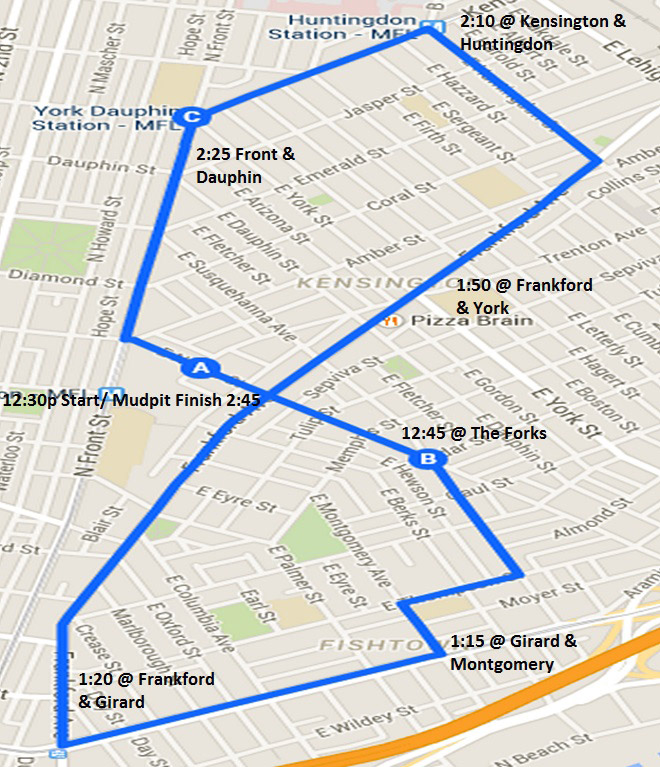 For more info on the festivities at each spectator spot, click the button below.
Kinetic Sculpture Derby Spectator Spots
The Arts Festival
The Fishtown and East Kensington neighborhoods contain an incredible mix of local artists. Don't miss the handmade goods and wares on view and for sale during the festival, nor the tunes by a half dozen local acts.
Among the more than 200 vendors, look for vintage decor, handmade jewelry, children's clothing, organic bath, body and home goods, ceramics, custom photography, screen-printed t-shirts and so much more!
Click the image below to view the full Arts Festival map.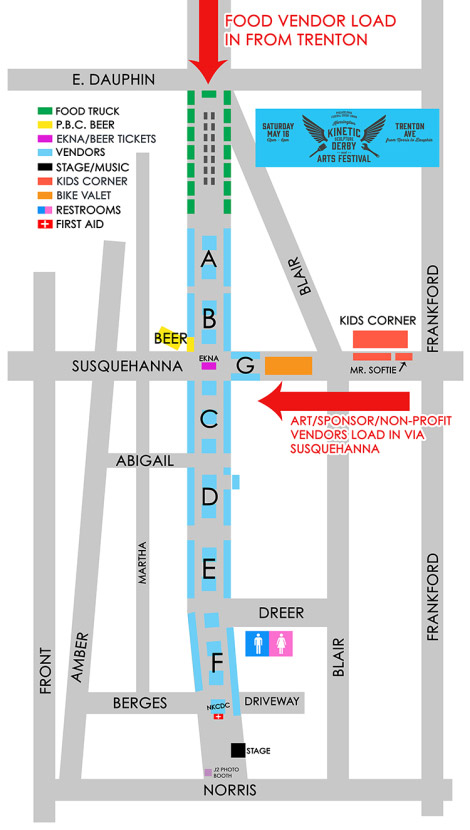 For more information on the Arts Festival, click the button below.
The Layout
The Festival spans approximately six total blocks, four along Trenton Avenue — between Norris Street and Frankford Avenue — and another two along Susquehanna, crisscrossing Trenton — from Martha Street to Frankford Avenue.
Food
Come hungry to taste-test a veritable smorgasbord of fare from local food trucks and food vendors.
Past food trucks found at the festival have included Chewy's, Foo Truck, Just Jackie's Food Truck, Little Baby's Ice Cream, Mucho Bueno, Prime Stache, Primo Pizza, Sum Pig Food Truck, Sweet Box Cupcakes, Taco Mondo and many, many more.
Plus, look for fresh produce from Greensgrow Farms and local craft brews from Philadelphia Brewing Co.
Getting There
Arriving at the festival is a cinch via public transportation. The festival is just five blocks from the Berks stop on the Market Frankford Line. Also, there is plenty of street parking in the area — look to Trenton Avenue North of Frankford and York Street.
Details
Get Directions
Trenton Avenue and Norris Street
Philadelphia, PA 19125
(215) 427-0350
Website
Neighborhood:
Visit Official Website
In the neighborhood
Museums & Attractions

2146 E. Susquehanna Ave.
Philadelphia, PA 19125
(215) 315-3077
Website

View more attractions

Restaurants & Dining

202 E. Girard Avenue
Philadelphia, PA 19125
(215) 425-1847

View more Restuarants & Dining
Find us on Facebook