Night Market Philadelphia
Philadelphia's favorite street food festival coming to a neighborhood near you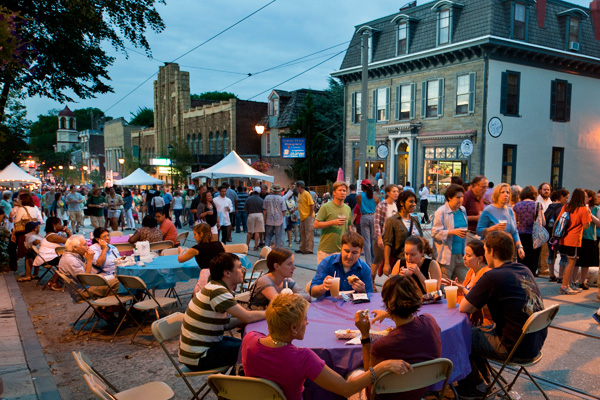 Description
Dates
May 15 – Old City
June 19 – West Oak Lane
August 21 – Lancaster Avenue
October 2 – Chinatown
Overview
A popular series of outdoor street festivals, Night Market Philadelphia is a seasonal celebration of food, music and community held in the city's vibrant neighborhoods.
Attracting thousands of visitors from around the region, the preeminent celebration of street food features dozens of the city's best food trucks and restaurants along with live entertainment from local musicians, artists and more.
In 2013, Night Market hosted four wildly successful outings in Fairmount, West Oak Lane, South Street and Chinatown. This year will be just as phenomenal with Night Markets planned for Old City, West Oak Lane, Lancaster Avenue and Chinatown.
For more information, click the button below.
Night Market on Instagram
Want to see why everyone loves Night Market? Check out the best Instagrams from past Night Markets below.
View Night Market South Street Instagram Gallery
View Night Market Fairmount Instagram Gallery
Stay Tuned
Check back for the latest updates, maps, directions and tips for navigating Night Market Philadelphia.
PATH: http://www.uwishunu.com/tag/night-market/feed/image/
April 14, 2014The Food Trust's Night Market Philadelphia Street Food Festival Returns For A Sensational Fourth Season, Starting With Night Market Old City On Thursday, May 15

October 3, 2013Tonight Picks: The Last Night Market Of The Year(!) Rolls Into Chinatown, Pizzeria Stella's Alfresco Birthday Celebration, PAFA After Dark And Much More

October 3, 2013Night Market Philadelphia Hits Chinatown Tonight, October 3, With Its Final Event Of The Season Featuring More Than 60 Food Vendors, Local Beer, Live Music And More

September 12, 2013Save The Date: The Food Trust's Night Market Philadelphia Heads To Chinatown For Its Final Event Of The Season, Thursday, October 3

September 5, 2013Roundup: A Guide To The More Than 50 Late-Summer And Early-Fall Festivals Coming Your Way In Philadelphia

Uwishunu covers everything fun and exciting happening in Philadelphia — read it daily for the latest on restaurants, bars, events, festivals, arts, music, hotels and more.
Details
Get Directions
10th and Race Streets Philadelphia, PA
Website
Visit Official Website
Find us on Facebook