Odunde Festival
One of the largest and most longstanding African-American street festivals in the nation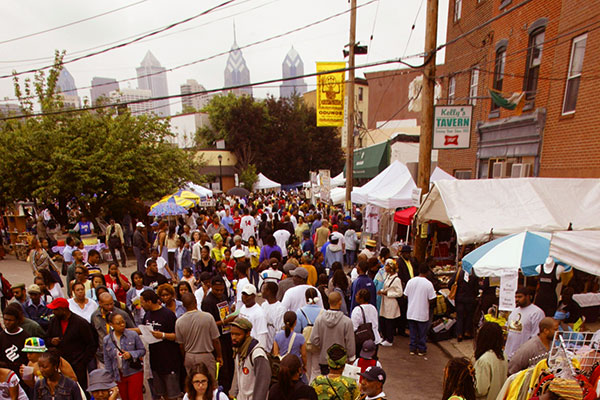 Description
Date:
June 8, 2014
Overview
The annual Odunde Street Festival, held every second Sunday in June, brings a genuine taste of Africa to South Street and one of Philadelphia's oldest, historically African-American neighborhoods.
The festival begins with a procession to the Schuylkill River, where prayers are offered and blessings bestowed. The procession then returns to 23rd and South Streets for the start of the street festival.
This year, as the landmark festival enters its fourth decade, it becomes a three-day abundance of cultural, historical and family-friendly events.
Odunde is the creation of its South Philadelphia founder, Lois Fernandez, who launched the festival after visiting similar celebrations in Africa. The concept originates from the Yoruba people of Nigeria, West Africa, and celebrates the coming of another year for African-Americans and Africanized people around the world.
ODUNDE, Inc. is an educational and cultural organization that sponsors year-round programs featuring the African Diaspora as well as the annual Odunde Festival. Traditionally, the festival draws 22 percent of its visitors from outside the Philadelphia region.
Come Prepared
Festival streets will be closed to traffic and parking, so consider taking public transportation.
Don't Miss
Odunde's authentic African Marketplace features vendors from around the world, including the Caribbean and Brazil.
Outsider Tip
Odunde is a Yoruba word that means "Happy New Year." Every year, Odunde draws vendors from not only America but from Ghana, Nigeria, Senegal, and Guinea.
The Festival is almost like a large family reunion. And the aromas of Africa, the Caribbean and beyond fill the air.
Details
Get Directions
23rd Street and South Street
(The Street Festival on Sunday is centered here)
Philadelphia, PA 19146
(215) 732-8510
Website
Neighborhood:
Visit Official Website
In the neighborhood
Museums & Attractions

2025 Washington Ave.
Philadelphia, PA 19146
(215) 921-3659
Website

View more attractions

Restaurants & Dining

2214 South Street
Philadelphia, PA 19146
(215) 545-4811
Website

View more Restuarants & Dining
Find us on Facebook