Wawa Hoagie Day
Celebrate Wawa Welcome America! with a 4.5 ton hoagie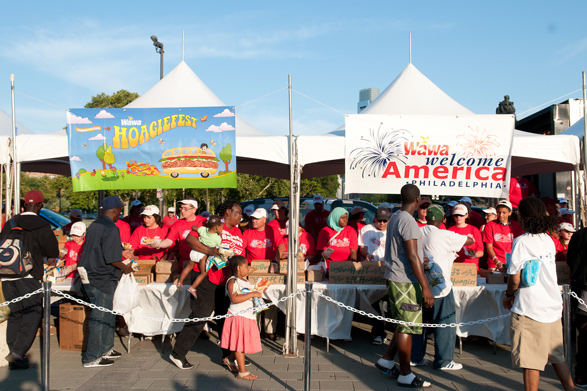 Description
Date:
Tuesday, July 2, 2013
Noon-2 p.m.
PLEASE NOTE: All fireworks shows and events are scheduled rain or shine. In case of inclement weather, follow @July4thPhilly on Twitter and Wawa Welcome America on Facebook for up-to-the-minute information.
Overview
One of the tastier events taking place during Wawa Welcome America!, Wawa Hoagie Day features a 4.5 ton hoagie and plenty of happy, hungry visitors.
Mayor Michael Nutter will be serving up hoagies on Independence Mall with the help of the Philadelphia Police and Fire Departments, Wawa associates and hoagie-lovers from around the region from 12 noon – 2 p.m.
The "hero" theme plays into honoring American troops. During the event, be sure to visit the "letters from home" station to show support for those fighting overseas.
You can also enjoy a concert by the Liberty Bells, the official USO Show Troupe, plus don't miss the hoagie-building contest with firefighters, police officers and members of the military to benefit local charitable organizations.
In addition to free food and entertainment, the National Constitution Center will be offering free admission all-day, courtesy of Wawa.
History
The first Wawa Hoagie Day was commemorated with a free, 500-foot hoagie at City Hall in 1992. On that day, then-Mayor Ed Rendell proclaimed the hoagie the "Official Sandwich of Philadelphia."
Details
Get Directions
Independence Visitor Center Lawn 1 N. Independence Mall West
Website
Find us on Facebook