Sister Cities Park
Outdoor oasis on the Benjamin Franklin Parkway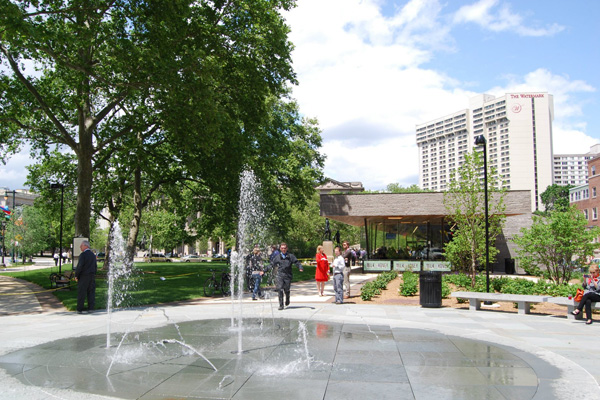 Description
Celebrate nature in the heart of the city with the newly renovated Sister Cities Park along the Benjamin Franklin Parkway.
Located on Logan Square in front of the Cathedral Basilica of Saints Peter and Paul, Sister Cities Park is a welcoming space featuring a brand new café, boat pond, educational garden and commemorative fountain.
Young visitors can play in the Wissahickon-inspired Children's Discovery Garden featuring winding pathways, scalable rocks and a meandering stream. Wade in the shallow waters of the nearby boat pond complete with rentable sailboats to harness the wind.
Sister Cities Plaza and Fountain
Within the bluestone plaza is the Sister Cities Fountain, a unique representation of the world with Philadelphia at its center. Jets of water playfully leap from 10 spouts representing Philadelphia's ten sister cities, including Florence, Italy and Tel Aviv, Israel.
Milk & Honey Café
Housed in the eco-friendly pavilion and community room, Milk & Honey Café offers up quick-breakfasts for those heading to work and fresh lunches for those in need of a pit stop while exploring the Parkway.
The menu features many of Philadelphia's own signature brands, from fresh-brewed La Colombe coffee to Bassets ice cream, South Street Philly bagels and BT brownies.
Sister Cities Visitor Center
Need some information during your visit? Stop by the Visitor Center at Sister Cities Park for free brochures, maps, helpful tips and purchase tickets for nearby attractions.
PATH: http://www.uwishunu.com/tag/sister-cities/feed/image/
May 20, 2013Get Your Free Music Fix With Center City District's Weekly Lunchtime Concert Series Beginning On Wednesday, June 5

May 9, 2013Reminder: Sister Cities Park Hosts A Free International Festival Celebrating Philadelphia's 10 Sister Cities This Saturday, May 11

May 2, 2013Roundup: Our Updated Guide To The Dozens Of Spring And Early Summer Festivals Hitting Philadelphia In The Coming Weeks

April 22, 2013Sister Cities Park To Host A Free International Festival Celebrating Philadelphia's 10 Sister Cities Around The World, Saturday, May 11

Uwishunu covers everything fun and exciting happening in Philadelphia — read it daily for the latest on restaurants, bars, events, festivals, arts, music, hotels and more.
Details
Get Directions
18th Street and Logan Square Philadelphia, PA 19102
1-800-537-7676
Website
Neighborhood:
Related Tags
In the neighborhood
Accommodations

1776 Benjamin Franklin Parkway
Philadelphia, PA 19103
(215) 561-1776
Website

View more hotels

Museums & Attractions

Restaurants & Dining

16th Street and the Benjamin Franklin Parkway
Philadelphia, PA 19102
(215) 735-9797
Website

View more Restuarants & Dining
Find us on Facebook