The Rocky Statue and the Rocky Steps
Two of the most famous tourist attractions in Philadelphia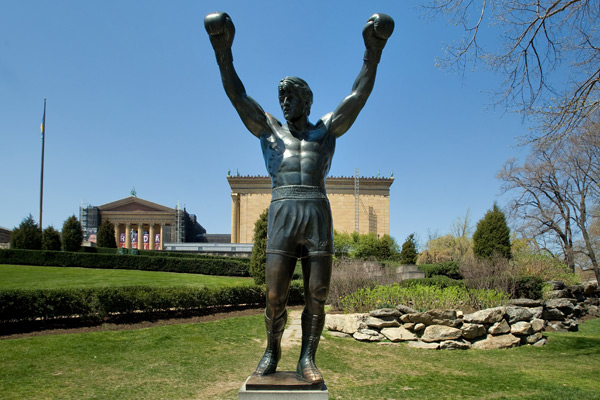 Description
The Rocky Statue
One of Philadelphia's most famous pieces of public art is a bigger-than-life boxer… literally. Originally created for Rocky III, the sculpture is now a real-life monument to a celluloid hero. The fictional Rocky Balboa of Sylvester Stallone's Rocky movies was immortalized in bronze in 1980. After filming for the movie completed, Stallone donated the statue to the City of Philadelphia.
The statue is located at the bottom of the stairs at the Philadelphia Museum of Art, so be sure to get a photo with Rocky Balboa himself.
The Rocky Steps
As famous as the statue itself are the stairs leading to the East Entrance of the Philadelphia Museum of Art, aka "The Rocky Steps." Making the iconic trip up the steps is regarded as a symbol of perseverance and determination.
Each year, thousands of people, young and old, recreate the scene from the legendary movie and make the trek up the steps. So remember to pack running shoes before you make the trip!
Once you reach the top and mimic Rocky's triumphant celebration, turn around for a breathtaking view of the scenic Benjamin Franklin Parkway and the Center City skyline.
Rocky Replicas
The original Rocky statue sculptor, A.Thomas Schomberg, is offering a limited number of 20-inch replicas at www.rockysculpture.com/. Statues are cast in resin then bronze plated and a limited number will be cast entirely in bronze.
Details
Get Directions
Art Museum Steps (To the right of the base of the Art Museum Steps) Philadelphia, PA 19019

Related Tags
In the neighborhood
Accommodations

Museums & Attractions

2600 Benjamin Franklin Parkway
Philadelphia, PA 19130
(215) 763-8100
Website

View more attractions

Restaurants & Dining

16th Street and the Benjamin Franklin Parkway
Philadelphia, PA 19102
(215) 735-9797
Website

View more Restuarants & Dining
Find us on Facebook