Longwood Gardens
One of the world's premier horticultural display gardens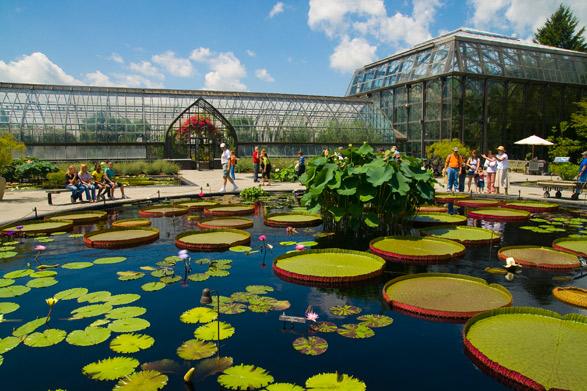 Description
The Experience
When you're at Longwood Gardens, it's easy to imagine that you're at a giant, royal garden in Europe. Stroll along the many paths through acres of exquisitely maintained grounds featuring 11,000 different types of plants.
Encounter a new vista at each turn: the Italian Water Garden, Flower Garden Walk, aquatic display gardens and many others. Amble through Peirce's Woods, eight outdoor "rooms" of distinct woodland habitats.
Inside the Conservatory is a lush world of exotic flowers, cacti, bromeliads, ferns and bonsai. Each season brings a different pleasure: spring magnolias and azaleas; summer roses and water lilies; fall foliage and chrysanthemums; and winter camellias, orchids and palms.
On land Quaker settler George Peirce purchased from William Penn, Peirce's grandsons planted an impressive arboretum. The presence of a sawmill on the property prompted industrialist Pierre Samuel du Pont to buy the land in 1906 to save the trees.
Christmas is spectacularly celebrated with carillon concerts, poinsettias and thousands of lights; summer evenings are embellished with concerts, illuminated fountain displays and occasional fireworks.
Come Prepared
Longwood Gardens is open daily, year-round.
Don't Miss
Indoor Children's Garden — Surrounded by tree-covered seating and Longwood's famous fountains, the new Indoor Children's Garden provides a safe and engaging space where children can learn about nature with amazing plants and fun activities around every corner.
The Garden features a Central Cove, a Rain Pavilion and a Bamboo Maze, filled with a jungle of tree-sized bamboos for children to explore.
Outsider's Tip
There are 17 fountains in the Indoor Children's Garden to enjoy, where children will want to splash and play. An extra shirt or small towel might come in handy!
Buy Tickets Online
Purchase tickets for general admission to Longwood Gardens in advance of your visit. Click the button below to buy tickets online at the Independence Visitor Center.
PATH: http://www.uwishunu.com/tag/longwood-gardens/feed/image/
November 25, 2013Roundup: A Guide To Christmas Tree Lighting Celebrations In The Philadelphia Region In 2013

November 25, 2013Longwood Gardens Opens A Longwood Christmas, Its Whimsical Holiday Show With Half-A-Million Twinkling Lights, Christmas Trees And More

October 22, 2013Longwood Gardens' Chrysanthemum Festival Returns This Weekend, Featuring More Than 20,000 Beautiful Blooms, October 26-November 24

September 13, 2013Longwood Gardens Presents The Season Finale Of Its Lively Fireworks And Fountains Event, This Saturday, September 14

Uwishunu covers everything fun and exciting happening in Philadelphia — read it daily for the latest on restaurants, bars, events, festivals, arts, music, hotels and more.
Details
Get Directions
1001 Longwood Road
Kennett Square, PA 19348
(610) 388-1000
Website
Visit Official Website
Related Tags
Find us on Facebook