Barbuzzo
Crowd-pleasing pizzas and Mediterranean dishes on 13th Street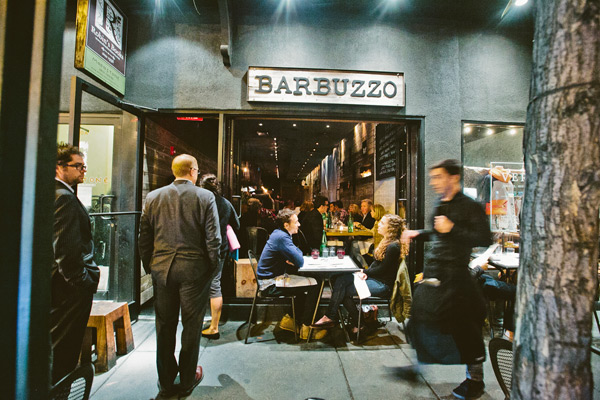 Description
The Mediterranean-inspired Barbuzzo from Marcy Turney and Valerie Safran has helped transform 13th Street into a dining destination.
Since opening in 2010, crowds have been packing the tables for the affordable small plates and creative pizzas featuring toppings like braised bacon and truffled farm eggs.
Be sure to save room for dessert. Enjoying Barbuzzo's salted carmel budino could be described as a life-changing experience. The creamy dessert, topped with a dark chocolate crust, vanilla bean caramel and sea salt, has proved so popular that it is often offered for sale separately during the holidays.
Barbuzzo's small space offers an intimate dining experience, with outdoor seating available during warm weather months.
Hours and Reservations
Barbuzzo is open for lunch Monday-Saturday from noon-3 p.m. Dinner is served daily from 5 p.m.-midnight.
Advance reservations are strongly recommended. Click the button below to view the full menu and make a reservation.
PATH: http://www.uwishunu.com/tag/barbuzzo/feed/image/
March 24, 2014Philly Wine Week Picks: Our Guide To Prix-Fixe Wine Dinners At Restaurants Around Town

January 7, 2014Chef Talk: Philadelphia's Chef Marcie Turney Reveals Her Favorite Restaurants, Preferred Markets, Food Secrets And More

November 21, 2013Tonight Picks: Beaujolais Nouveau Day In Midtown Village And Other Neighborhoods, The Hunger Games Early Premiere At The Franklin Institute, Food Fight Fundraiser For Fairmount And More

November 18, 2013Where To Celebrate The Wine-Fueled Beaujolais Nouveau Day 2013 At Bars, Restaurants And Shops In Philadelphia

October 4, 2013Our Guide To The 2013 Midtown Village Fall Festival, Returning To 13th Street This Sunday, October 6 With Multiple Beer Gardens, Amazing Food From Local Restaurants, Live Music, A Dunk Tank, Crafts And More

Uwishunu covers everything fun and exciting happening in Philadelphia — read it daily for the latest on restaurants, bars, events, festivals, arts, music, hotels and more.
Details
Get Directions
110 S. 13th Street
Philadelphia, PA 19107
9215) 546-9300
Website
Neighborhood:
Make A Reservation
In the neighborhood
Accommodations

1208 Walnut Street
Philadelphia, PA 19107
(215) 546-7000
Website

View more hotels

Museums & Attractions

Restaurants & Dining

837 N. 2nd Street
Philadelphia, PA 19123
(215) 238-6077
Website

View more Restuarants & Dining
Find us on Facebook