Top 10 Spots for
Authentic Philly Cheesesteaks
Our picks for the best places to go for a genuine Philly Cheesesteak experience
Here in Philly, cheesesteaks are a civic icon, a tourist draw and a cultural obsession. Often imitated around the world, the cheesesteak is rarely duplicated successfully outside of Philadelphia.
What Is A Cheesesteak?
A cheesesteak is a long, crusty roll filled with thinly sliced sautéed ribeye beef and melted cheese. Generally, the cheese of choice is Cheez Whiz, but American and provolone are also common choices. The art of cheesesteak preparation lies in the balance of flavors, textures and what is often referred to as the "drip" factor. Other toppings may include fried onions, sautéed mushrooms, ketchup and hot or sweet peppers.
Some sandwich shops also offer a cheesesteak hoagie, a hybrid version that combines the cheesesteak with cold hoagie dressings like lettuce, tomato and mayonnaise.
Cheesesteaks are fast, portable and readily available at steak shops, delis, food trucks, pizzerias and even some high-end restaurants throughout the region.
Cheesesteak History
The cheesesteak made its official debut in 1930. Pat Olivieri was a South Philadelphia hot dog vendor who one day decided to put some beef from the butcher on his grill. A taxicab driver noticed the alluring aroma and asked for his own steak sandwich.
The next day, as the story goes, rumor of the delicious lunch had spread, and cabbies around the city came to Olivieri demanding steak sandwiches. Soon after, Olivieri opened up a shop on 9th Street and Passyunk Avenue, Pat's King of Steaks, to sell his new creation. Eventually, according to legend, he added cheese to the recipe.
Today, Pat's grills are sizzling 24 hours a day, as are Geno's, the rival shop across the street. For 40 years, the two shops have waged a friendly competition to win the title of best cheesesteak in town, with Geno's founder, Joe Vento, claiming it was he, not Olivieri, who first added cheese to the cheesesteak.
How To Order A Cheesesteak
When ordering a cheesesteak at one of Philly's most famous cheesesteak shops, the idea is to let the cashier know a.) that you would like a cheesesteak, b.) what type of cheese you want, and c.) whether or not you want fried onions. And you have to be as concise as possible while doing so.
Locals have become so adept at this practice that they basically have it down to three words: saying "one whiz with" to the person behind the counter means that you would like one cheesesteak [denoted by the "one"] with Cheez Whiz as your choice of cheese [denoted by the "whiz"] and with fried onions [denoted by the "with"]. Similarly, saying "one provolone without" would secure you a single cheesesteak [one] made with provolone cheese [provolone] and without fried onions [without]. Or saying "two American with" would get you two cheesesteaks both with american cheese and fried onions.
Ok. Got it? Now go ahead and test out your ordering prowess for real. Just be forewarned: Lines can be long at peak times, and if you don't have your order and money ready to go, you might be sent to the back of the queue.
And now on to the list of where to find the best cheesesteaks in Philadelphia.
Where To Find The Best Cheesesteaks in Philadelphia
1. John's Roast Pork
A small shack amidst shopping plazas, John's Roast Pork is perennially cited as one of the city's top steak spots and it gets our nod for No. 1. Its secret weapon? A crusty seeded roll. John's has long been a favorite of South Philadelphia dock workers and contractors, having opened in 1930, but in the last decade or so it has really gained mainstream recognition as one of the best purveyors of cheesesteaks in the City of Philadelphia, including a James Beard Award for America's Classics. Also, don't miss the namesake roast pork sandwich. 14 Snyder Avenue, (215) 463-1951.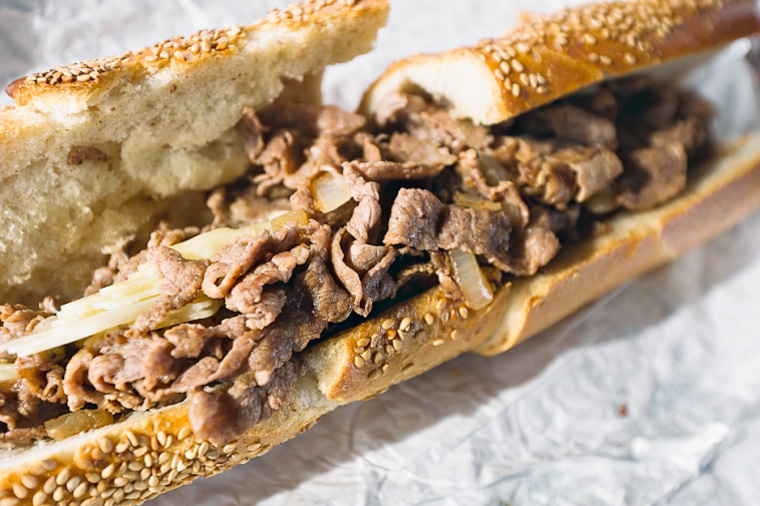 A close-up view of the cheesesteak at John's Roast Pork. (Photo courtesy of Rianvented)
2. Tony Luke's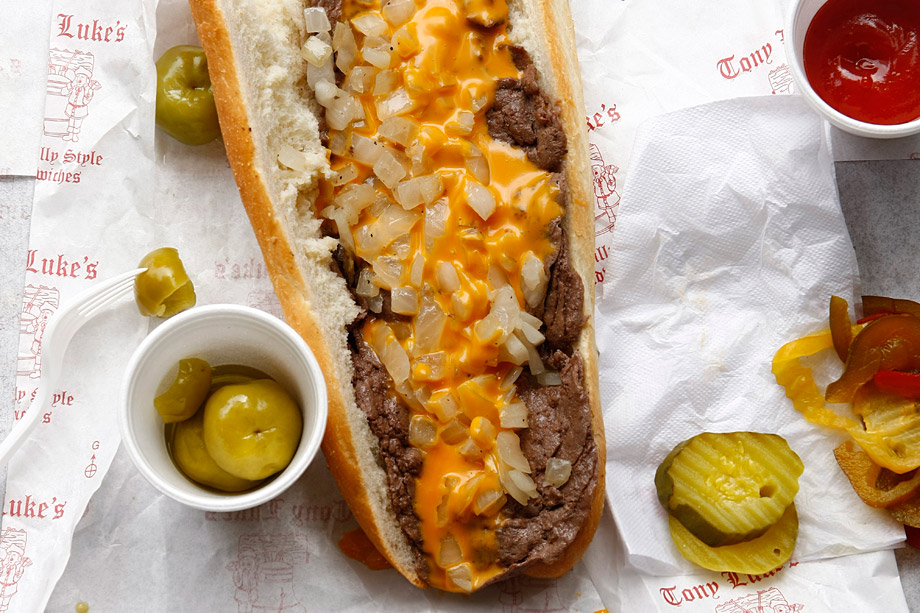 The "Whiz With" Cheesesteak from Tony Luke's. (Photo by J. Varney for Visit Philadelphia)
Located next to an I-95 underpass on an otherwise dull stretch of Oregon Avenue in South Philadelphia, Tony Luke's is another South Philadelphia institution. There's no need for an inside here — you order and pick up your sandwich from the street side windows and feast upon your reward at the outdoor picnic-style tables. When ordering, don't be offended if the staff seems a bit less than friendly; they take pride in giving a hard time to both regulars and first-timers. It's part of Tony Luke's lure. And note: Every sandwich at the award-winning Tony Luke's is worth ordering, and they taste even better during a game at the nearby sports complex. Want a sneak peek of their cheesesteak? Take a mouth-watering look… 39 E. Oregon Avenue. (215) 551-5725.
3. Pat's King of Steaks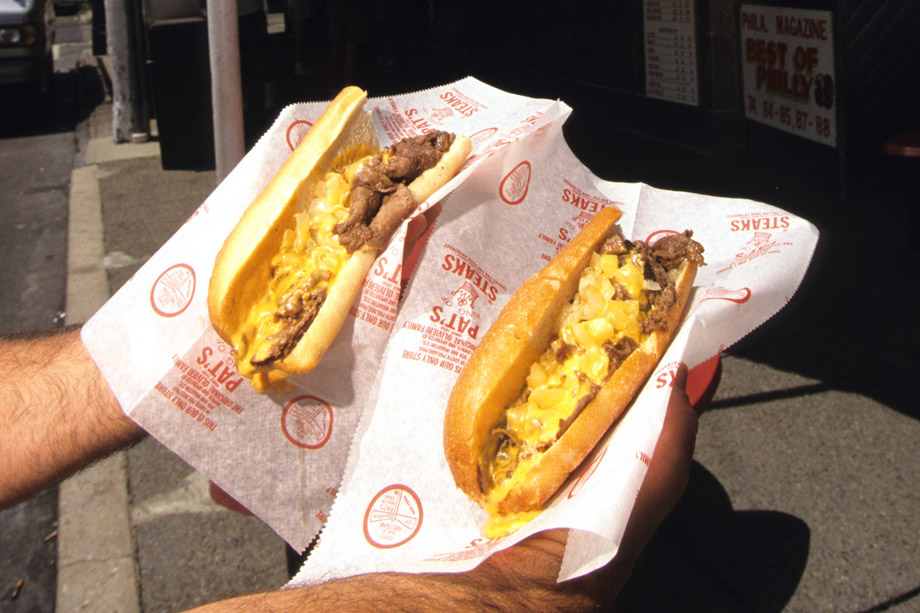 Two of the famous cheesesteaks from Pat's. (Photo by B. Krist for Visit Philadelphia)
The original home of the cheesesteak, Pat's King of Steaks is still owned and operated by the Olivieri family. Pat's claim to fame is that its founder, Pat Olivieri, invented the steak sandwich in 1930. Since then, Pat's has grown from a little stand at the southern end of South Philly's Italian Market to one of the most famous cheesesteak shops in the world, albeit still in the same location (and still the only location). 9th Street & Passyunk Avenue, (215) 468-1546.
4. Geno's Steaks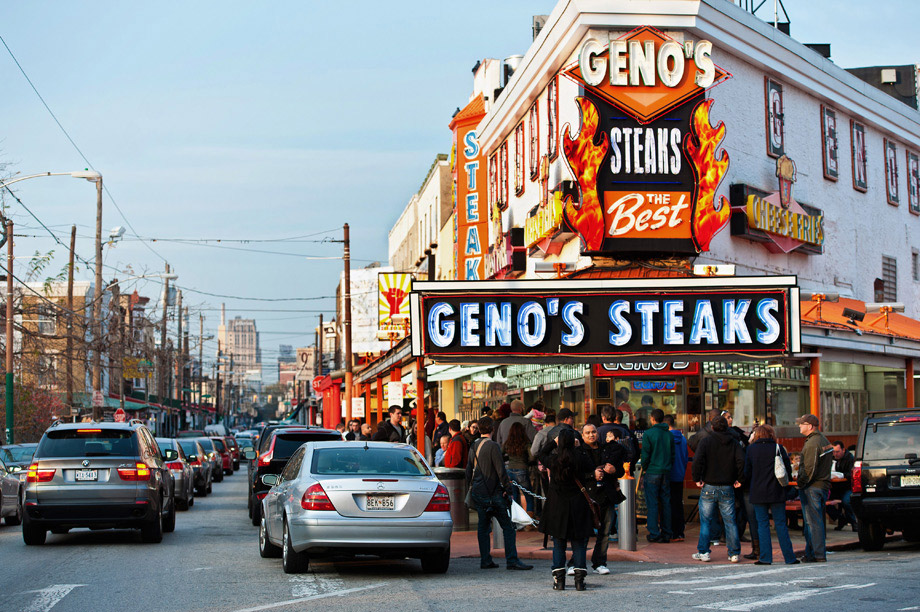 The line at Geno's sometimes extends into the street. (Photo by J. Fusco for Visit Philadelphia)
It may be across the street from the oldest cheesesteak joint in town, but Geno's Steaks is a formidable competitor going roll-for-roll with Pat's for more than four decades. Like Pat's, Geno's is open 24 hours a day, seven days a week so you can visit whenever you get the urge. 1219 S. 9th Street, (215) 389-0659.
5. Jim's Steaks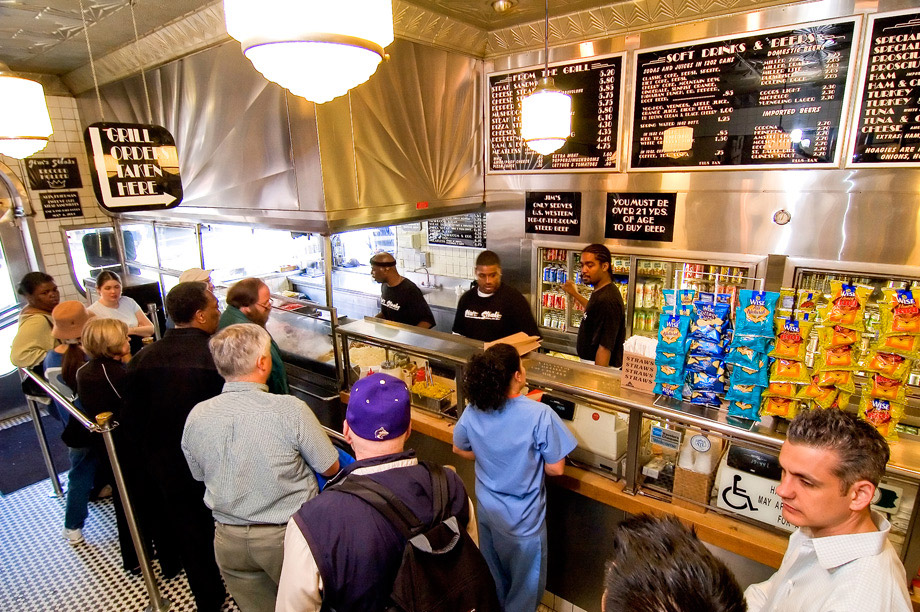 When ordering a cheesesteak at Jim's, hungry patrons get a front-row seat for the action. (Photo by B. Krist for Visit Philadelphia)
Jim's Steaks has multiple locations, but the classic smell of fried onions wafting down South Street makes that location the most memorable. Jim's Steaks is South Street's premier cheesesteak shop. The crowds can often mean an extra long wait before you actually get to taste one of Jim's fine cheesesteak sandwiches, as the line at Jim's often stretches out the front door and around the corner onto Fourth Street. 400 South Street, (267) 519-9253.
6. Campo's Deli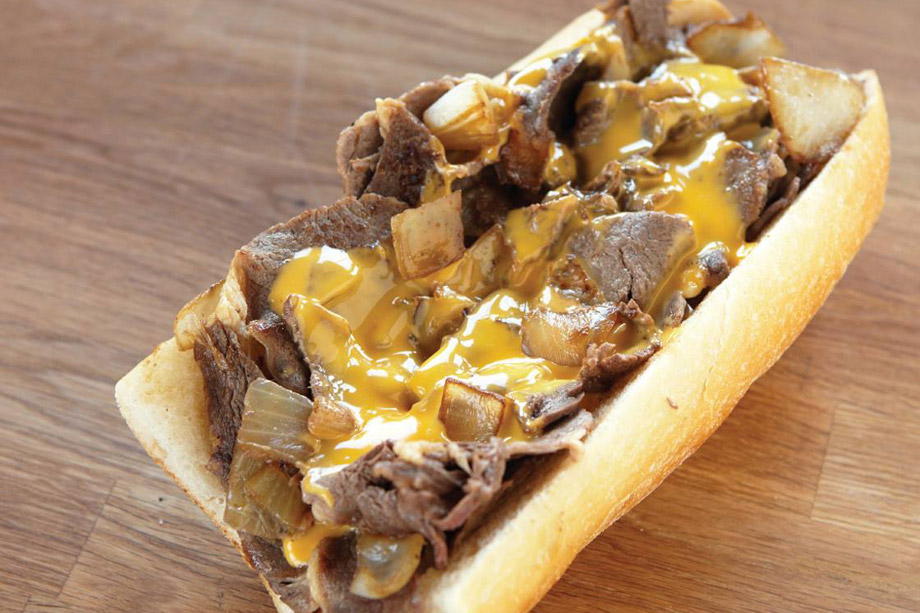 A close-up shot of the Whiz Wit at Campo's Deli in Old City Philadelphia. (Photo courtesy of Campo's)
Campo's Deli is a great spot for anyone looking to sample some authentic Philadelphia flavor without traveling too far to get it. Conveniently located on Market Street in Old City, Campo's is only three blocks from the Liberty Bell and the Independence Visitor Center. More famous for its creative menu of hoagies, Campo's Deli cooks up a respectable traditional cheesesteak, and they ship to other cities as well. 214 Market Street, (215) 923-1000.
7. McNally's Tavern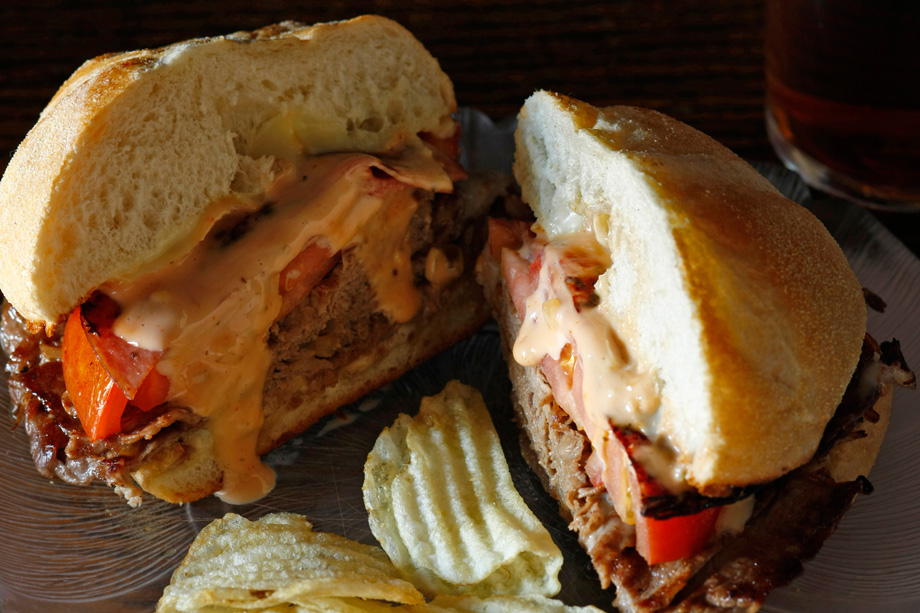 Unlike other cheesesteaks on this list, The Schmitter comes on a round roll. (Photo by J. Varney for Visit Philadelphia)
McNally's is a Chestnut Hill landmark and it's famous for its signature sandwich, the Schmitter®, which is a variation of Philadelphia's famous cheesesteak sandwich. The Schmitter includes the traditional grilled steak, fried onions and melted cheese but adds grilled salami, grilled tomatoes and a special sauce and comes on a toasted Kaiser roll instead of a long hoagie roll. While the combination might sound strange, it's famous for a reason — it's frighteningly delicious. Go ahead and put it on your Philadelphia bucket list. 8634 Germantown Avenue, (215) 247-9736.
8. Dalessandro's Steaks
Even The Tonight Show's Jimmy Fallon loves Dalessandro's Steaks.
If you're a saavy enough cheesesteak aficionado, you will no doubt want to make the trek out to Roxborough, near Manayunk in Philadelphia's northwestern ridge. There, along Henry Avenue, you'll find Dalessandro's Steaks. Dalessandro's has been serving delicious — if sinfully greasy — cheesesteaks from their corner locale for as long as anybody can remember. Legend has it that the grillmasters at Delassandro's season their sizable flattoped grill with fat before adding the meat. 600 Wendover Street, (215) 482-5407.
9. Steve's Prince of Steaks
Steve's Prince of Steaks recently opened a second location in Center City.
The original location of Steve's is on Bustleton Avenue in the Great Northeast section of the city, where over the past 30-plus years Steve's has earned a sizable and devoted following of fans who swear the long, thin cheesesteaks that the "Prince" serves are the best in Philadelphia. At their location at 16th & Market in Center City which opened in 2013, Steve's is making their famous cheesesteaks a lot more accessible, so expect many more visitors to become Steve's devotees in the near future. And we encourage you to go taste one for yourself and find out why. 41 S. 16th Street, (215) 972-6090; 7200 Bustleton Avenue, (215) 338-0985.
10. Shank's Original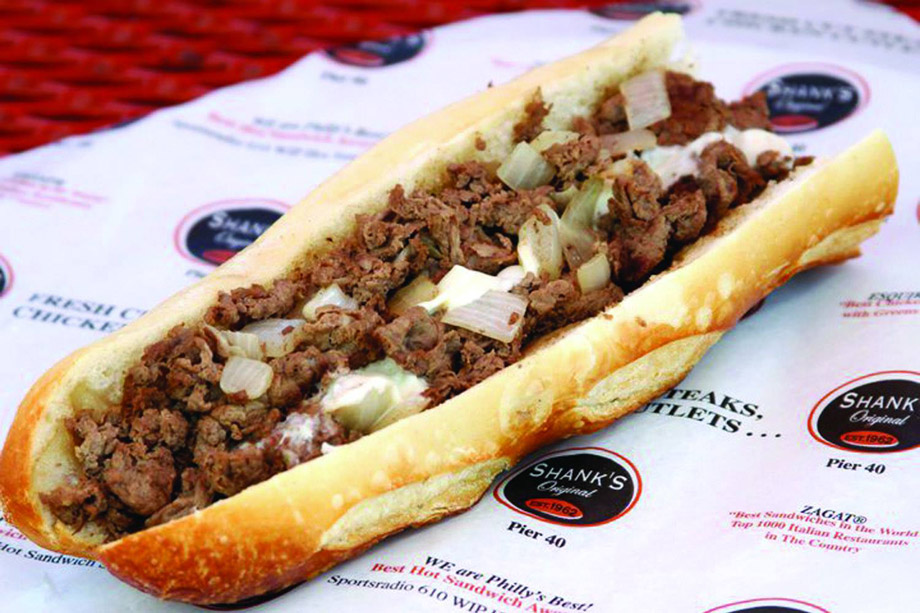 The cheesesteak at Shank's on the South Philadelphia waterfront. (Photo courtesy Shank's Original)
Visit Shank's Original for a highly reputed cheesesteak and an old-school experience on the Delaware River Waterfront. The tradition of Shank's dates back to 1962 when Shank's and Evelyn's ("Shank's") opened its doors to the Italian Market near 10th and Catherine streets. In 2009, Shank's closed it's original location and is now found on Pier 40 on the Delaware River. 901 S. Christopher Columbus Blvd., (215) 218-4000.
---
- * New
Woodrow's is a new specialty sandwich shop on Philly's famous South Street and they make one heck of a good cheesesteak. The "Woodrow's Whiz Wit" – as it's called – comes with shaved ribeye, caramelized onions, cherry pepper mayo and truffle-infused cheese whiz. Go eat this cheesesteak – you won't regret it.
- * New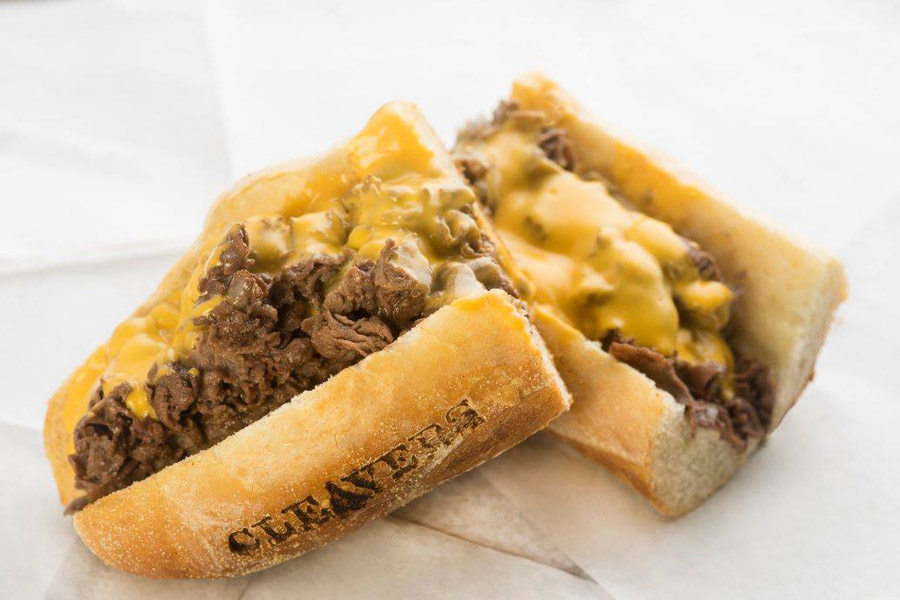 Cleavers offers both classic and innovative takes on cheesteaks. (Photo courtesy of Cleavers)
New to the scene, Cleavers offers an entire "How Do You Want It" menu of cheesesteak options made from ribeye steak. You choose whether you want your roll seeded or unseeded, or even dare to track beyond traditional cheesesteak territory and order your meat in a wrap or bowl (just the fillings) style. The topping combinations allow you to go beyond the classics, too, with versions that include portobello mushrooms, Srirachi aioli and more along with the steak. There's also a lengthy selection of chicken cheesesteaks and few vegetarian recommendations as well.
-
Founded in 2000, Sonny's Famous Steaks in Old City offers a fresh, healthier take on the recipe, frying the meat in its own juices rather than in oil. 228 Market Street. (215) 629-5760.
-
Cosmi's is awesome. It's a tiny corner deli in South Philly that's been around since the 1930s. There's barely enough seating for half a dozen people, but that doesn't prevent them from making some of the best cheesesteaks, hoagies and roast pork sandwiches in Philadelphia.
All three sandwiches are served on long hoagie rolls, which Cosmi's gets baked fresh each day from the famous Sarcone's Bakery. A Cosmi's cheesesteak features coarsely chopped beef. Order one "whiz with" on a seeded roll and get an order of long hots on the side for a little extra kick.
-
Max's Steaks had its star turn in Creed, the seventh and most recent movie in the Rocky movie franchise. In the film, Adonis "Donnie" Johnson, who is new to Philly, is taken there for a cheesesteak by Bianca, a local musician. If you want to trace Donnie's footsteps, check out our Quintessential Rocky Tour of Philadelphia and head to North Philly for an authentic cheesesteak at Max's.
Max's is located at the intersection of Germantown Avenue and Erie Avenue – Broad & Erie subway stop. 3653 Germantown Avenue, (215) 229-9048.
-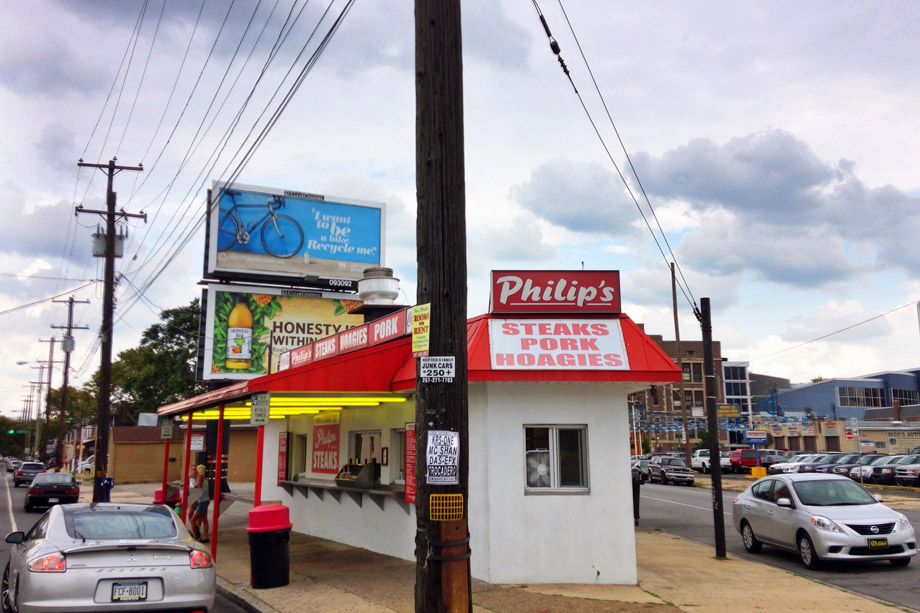 Philip's Steaks on West Passyunk Avenue is another classic, must-visit cheesesteak establishment in South Philly. Add it to your to-do list. (Photo by J. Zale)
Philip's Steaks is another 24-hour cheesesteak joint on Passyunk Avenue in South Philadelphia – like Pat's and Geno's above – though it's just a little more out of the way than those two. But that off-the-beaten-path vibe gives Philip's Steaks more cred if you're looking to find a really great cheesesteak that not everyone has tried before. Philip's has your standard cheesesteak varieties plus an off-menu option called an "Old-fashioned" – it's a cheesesteak with provolone cheese, grilled tomatoes, onions and long hots. Try one. You won't regret it. 2234 W. Passyunk Avenue. (215) 755-4820
-
The hand-butchered cheesesteaks, among other delicious menu items like Specialty sirloin burgers, hand-cut fries, roast pork loin sandwiches and creative concoctions like meatballs stuffed with sharp provolone, have made SpOt, which recently opened a brick-and-mortar location in Brewerytown, a much-sought-after place to grab a bite to eat. 2821 W. Girard Ave.
-
Jimmy G's Steaks, a relative newcomer to the Philly cheesesteak scene, is rocking a secret weapon that is turning a lot of heads: the Philadelphia Cream Cheesesteak. 695 N. Broad Street. (215) 763-2495
-
Oregon Steaks is another newcomer to the Philly cheesesteak scene, having opened a new storefront at 10th and Oregon in deep South Philly in early 2014. Very convenient to the Sports Complex and Citizens Bank Park, Oregon Steaks is open 24/7 and has neon lights that provide the classic South Philly glow perfect for a post-game, late-night cheesesteak. 10th & Oregon. (267) 928 3340
-
A famous cheesesteak shop with locations in Fishtown and in the Wissinoming section of Northeast Philadelphia, Joe's Steaks not only has a selection of awesome cheesesteak sandwiches but it also a variety of classic fountain sodas, flavored sodas, egg creams and milkshakes. Original Location: 6030 Torresdale Ave. (215) 535-9405; New Fishtown Location: 1 W Girard Ave, (215) 423-5637.
-
Some might call it cheesesteak sacrilege, but vegans have to eat, too. To that end, Blackbird Pizzeria produces a fine seitan "cheesesteak" that has garnered much praise from vegetarians and carnivores alike.
-
A South Street legend since its hippy days, Ishkabibble's has been cooking up cheesesteaks and chicken cheesesteaks since 1979. Believed by many to be the home of the chicken cheesesteak, Ishkabibble's throws out the cheesesteak rule book and lets its patrons call the shots — and the toppings. The broccoli chicken cheesesteak and the sweet potato cheese fries make for great late-night snacks. 337 South Street, (215) 923-4337.
-
Abner's has been a part of the Philly college experience for more than 20 years. The cheesesteak specialty shop also serves gyros, pizza and more to hungry students until the wee hours of the morning. 3813 Chestnut Street, (215) 662-0100.
-
A recent addition to the Northern Liberties neighborhood, Del Rossi's has been impressing cheesesteak fans from the start. 538 N 4th Street, (267) 687-8874.
-
Dishing out monstrous single slices and pizza pies that range from 14 to 26 inches, Lazaro's is primarily known for their thin-crust pizza. But the other menu options, including 18-inch cheesesteaks, are worth seeking out too. 1743 South Street, (215) 545-2775.
-
Seriously stuffed hoagies and cheesesteaks await in an unassuming, no-frills shop within the gated Pennsport Mall. Gigantic creations with enough deli meat and cheese to cover many more normal-sized sandwiches have kept locals full and content for years. 231 McClellan Street, (215) 334-7668.
---
Philly Cheesesteaks 101 Video:
Learn about Philly Cheesesteaks from the locals in the video below.
---
Want more?
More Cheesesteaks
Looking for more cheesesteak options? Check out our guide to the Best Cheesesteaks in Philadelphia complete with a map of how to find them.
Philadelphia's Sandwich Hall of Fame
Nothing speaks to Philadelphia's love of great food more than our appreciation of an amazing sandwich. From the world-famous Philly cheesesteak to its less famous, but equally delicious brother, the hoagie, to the third juggernaut in Philly's sandwich triumvirate, the roast pork sandwich, Philadelphia loves genuinely incredible sandwiches. We know them. We love them. We eat them. It's what we do. This Sandwich Hall of Fame is our ode to Philadelphia's greatest sandwiches.
Philly's Sandwich Hall of Fame
Roast Pork Sandwiches
Looking for more places that do a killer roast pork sandwich? Check out our guide to where to find the Best Roast Pork Sandwiches in Philadelphia.
Philly's Best Roast Pork Sandwiches