Top 10 Spots for
Authentic Philly Cheesesteaks
Our picks for the best places to go for an Authentic Philly Cheesesteak experience
Here in Philly, cheesesteaks are a civic icon, a tourist draw and a cultural obsession. Often imitated around the world, the cheesesteak is rarely duplicated successfully outside of Philadelphia.
What Is A Cheesesteak?
A cheesesteak is a long, crusty roll filled with thinly sliced sautéed ribeye beef and melted cheese. Generally, the cheese of choice is Cheez Whiz, but American and provolone are also common choices. The art of cheesesteak preparation lies in the balance of flavors, textures and what is often referred to as the "drip" factor. Other toppings may include fried onions, sautéed mushrooms, ketchup and hot or sweet peppers.
Some sandwich shops also offer a cheesesteak hoagie, a hybrid version that combines the cheesesteak with cold hoagie dressings like lettuce, tomato and mayonnaise.
Cheesesteaks are fast, portable and readily available at steak shops, delis, food trucks, pizzerias and even some high-end restaurants throughout the region.
Cheesesteak History
The cheesesteak made its official debut in 1930. Pat Olivieri was a South Philadelphia hot dog vendor who one day decided to put some beef from the butcher on his grill. A taxicab driver noticed the alluring aroma and asked for his own steak sandwich.
The next day, as the story goes, rumor of the delicious lunch had spread, and cabbies around the city came to Olivieri demanding steak sandwiches. Soon after, Olivieri opened up a shop on 9th Street and Passyunk Avenue, Pat's King of Steaks, to sell his new creation. Eventually, according to legend, he added cheese to the recipe.
Today, Pat's grills are sizzling 24 hours a day, as are Geno's, the rival shop across the street. For 40 years, the two shops have waged a friendly competition to win the title of best cheesesteak in town, with Geno's founder, Joe Vento, claiming it was he, not Olivieri, who first added cheese to the cheesesteak.
How To Order A Cheesesteak
When ordering a cheesesteak at one of Philly's most famous cheesesteak shops, the idea is to let the cashier know a.) that you would like a cheesesteak, b.) what type of cheese you want, and c.) whether or not you want fried onions. And you have to be as concise as possible while doing so.
Locals have become so adept at this practice that they basically have it down to three words: saying "one whiz with" to the person behind the counter means that you would like one cheesesteak [denoted by the "one"] with Cheez Whiz as your choice of cheese [denoted by the "whiz"] and with fried onions [denoted by the "with"]. Similarly, saying "one provolone without" would secure you a single cheesesteak [one] made with provolone cheese [provolone] and without fried onions [without]. Or saying "two american with" would get you two cheesesteaks both with american cheese and fried onions.
Ok. Got it? Now go ahead and test out your ordering prowess for real. Just be forewarned: lines can be long at peak times, and if you don't have your order and money ready to go, you might be sent to the back of the queue.
And now on to the list of where to find the Best Cheesesteaks in Philadelphia.
Where To Find The Best Cheesesteaks in Philadelphia
1. John's Roast Pork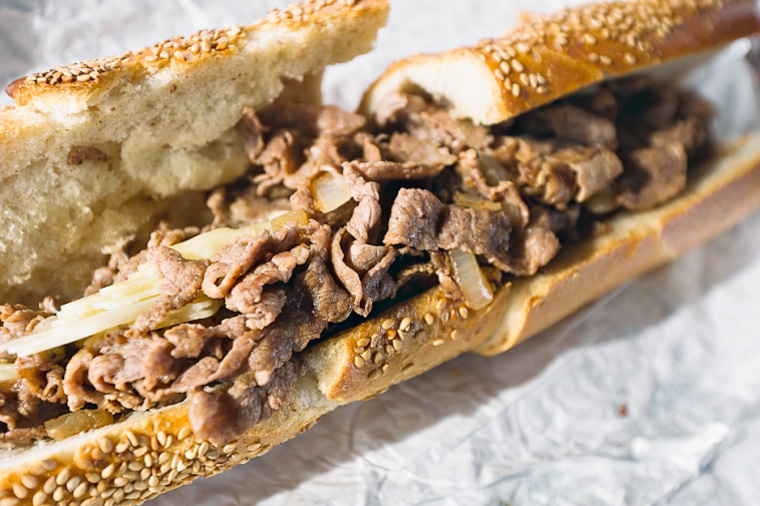 A close-up view of the cheesesteak at John's Roast Pork. (Photo courtesy of Rianvented)
A small shack amidst shopping plazas, John's Roast Pork is perennially cited as one of the city's top steak spots and it gets our nod for #1. Its secret weapon? A crusty seeded roll. John's has long been a favorite of South Philadelphia dock workers and contractors, having opened in 1930, but in the last decade or so it has really gained mainstream recognition as one of the best purveyors of cheesesteaks in the City of Philadelphia, including a James Beard Award for America's Classics. Also, don't miss the namesake roast pork sandwich. 14 Snyder Avenue, (215) 463-1951.
2. Tony Luke's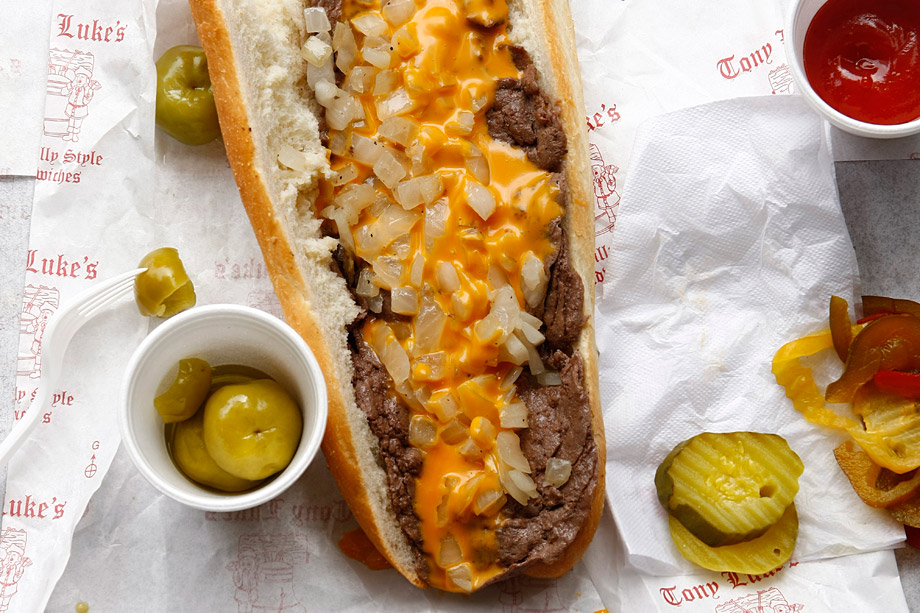 The "Whiz With" Cheesesteak from Tony Luke's. (Photo by J. Varney for Visit Philadelphia)
Located next to an I-95 underpass on an otherwise dull stretch of Oregon Avenue in South Philadelphia, Tony Luke's is another South Philadelphia institution. There's no need for an inside here — you order and pick up your sandwich from the street side windows and feast upon your reward at the outdoor picnic-style tables. When ordering, don't be offended if the staff seems a bit a less than friendly; they take pride in giving a hard time to both regulars and first-timers. It's part of Tony Luke's lure. And note: Every sandwich at the award-winning Tony Luke's is worth ordering, and they taste even better during a game at the nearby sports complex. Want a sneak peek of their cheesesteak? Take a mouth-watering look… 39 E. Oregon Avenue. (215) 551-5725.
3. Pat's King of Steaks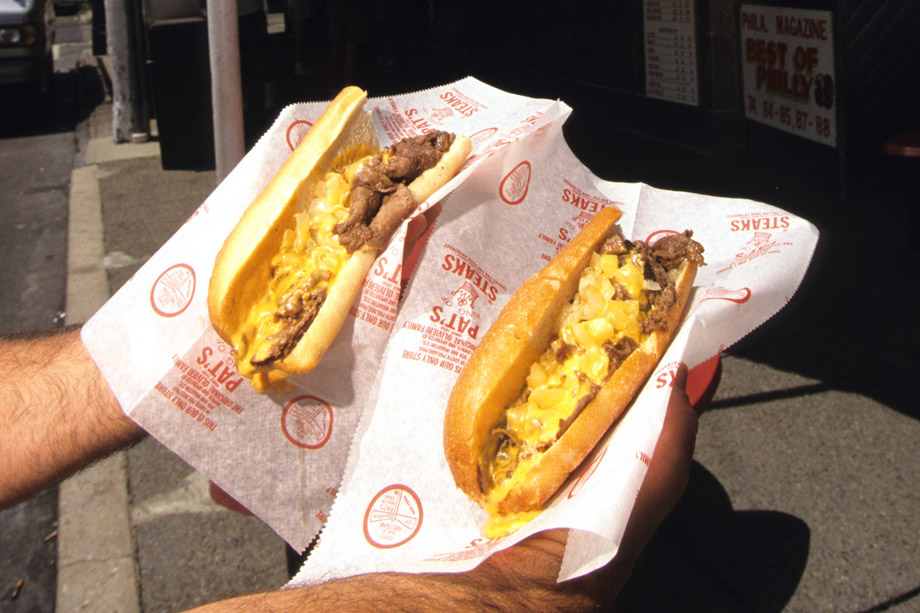 Two of the famous cheesesteaks from Pat's. (Photo by B. Krist for Visit Philadelphia)
The original home of the cheesesteak, Pat's King of Steaks is still owned and operated by the Olivieri family. Pat's claim to fame is that its founder, Pat Olivieri, invented the steak sandwich in 1930. Since then, Pat's has grown from a little stand at the southern end of South Philly's Italian Market to one of the most famous cheesesteak shops in the world, albeit still in the same location (and still the only location). 9th Street & Passyunk Avenue, (215) 468-1546.
4. Geno's Steaks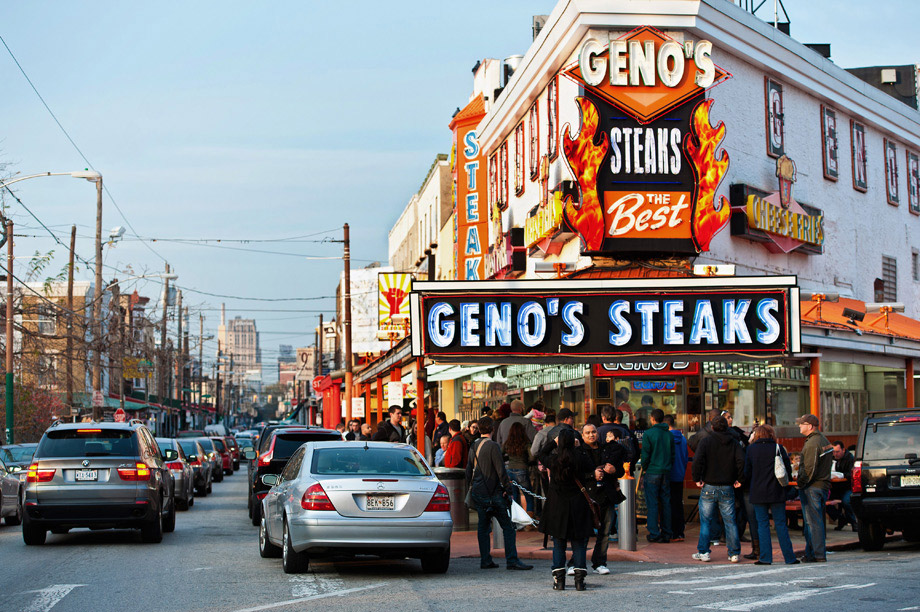 The line at Geno's sometimes extends into the street. (Photo by J. Fusco for Visit Philadelphia)
It may be across the street from the oldest cheesesteak joint in town, but Geno's Steaks is a formidable competitor going roll-for-roll with Pat's for more than four decades. Geno's has been slinging its famous cheesesteaks from the same location here for more than 40 years now. Like Pat's, Geno's is open 24 hours a day, seven days a week so you can visit whenever you get the urge. 1219 S. 9th Street, (215) 389-0659.
5. Jim's Steaks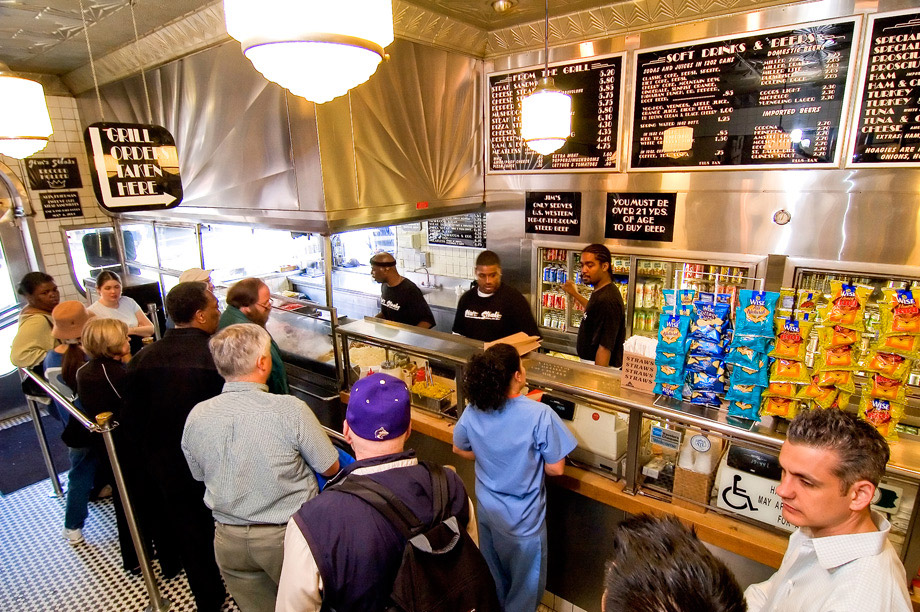 When ordering a cheesesteak at Jim's, hungry patrons get a front-row seat for the action. (Photo by B. Krist for Visit Philadelphia)
Jim's Steaks has multiple locations, but the classic smell of fried onions wafting down South Street makes that location the most memorable. Jim's Steaks is South Street's premier cheesesteak shop. The crowds can often mean an extra long wait before you actually get to taste one of Jim's fine cheesesteak sandwiches, as the line at Jim's often stretches out the front door and around the corner onto Fourth Street. 400 South Street, (267) 519-9253.
6. Campo's Deli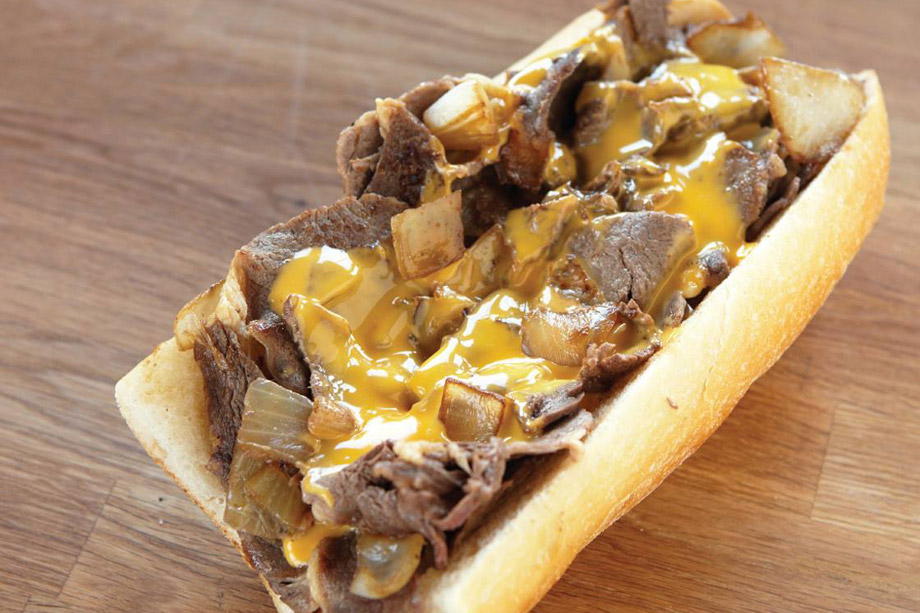 A close-up shot of the Whiz Wit at Campo's Deli in Old City Philadelphia. (Photo courtesy of Campo's)
Campo's Deli is a great spot for anyone looking to sample some authentic Philadelphia flavor without traveling too far to get it. Conveniently located on Market Street in Old City, Campo's is only three blocks from the Liberty Bell and the Independence Visitor Center. More famous for its creative menu of hoagies, Campo's Deli cooks up a respectable traditional cheesesteak, and they ship to other cities as well. 214 Market Street, (215) 923-1000.
7. McNally's Tavern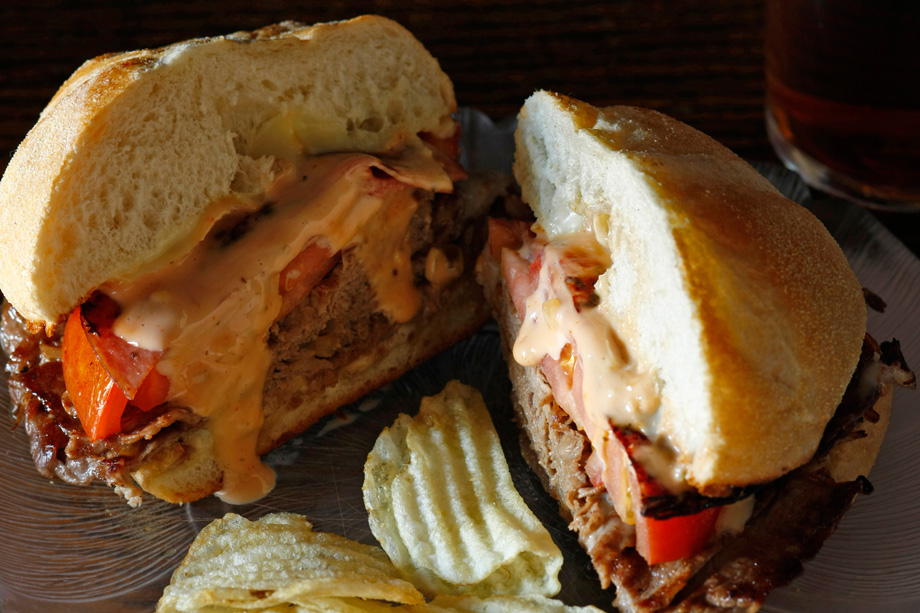 Unlike other cheesesteaks on this list, The Schmitter comes on a round roll. (Photo by J. Varney for Visit Philadelphia)
McNally's is a Chestnut Hill landmark and it's famous for its signature sandwich, the Schmitter®, which is a variation of Philadelphia's famous cheesesteak sandwich. The Schmitter includes the traditional grilled steak, fried onions and melted cheese but adds grilled salami, grilled tomatoes and a special sauce and comes on a toasted Kaiser roll instead of a long hoagie roll. While the combination might sound strange, it's famous for a reason — it's frighteningly delicious. Go ahead and put it on your Philadelphia bucket list. 8634 Germantown Avenue.
8. Dalessandro's Steaks
Even The Tonight Show's Jimmy Fallon loves Dalessandro's Steaks.
If you're a saavy enough cheesesteak aficionado, you will no doubt want to make the trek out to Roxborough, near Manayunk in Philadelphia's northwestern ridge. There, along Henry Avenue, you'll find Dalessandro's Steaks. Dalessandro's has been serving delicious — if sinfully greasy — cheesesteaks from their corner locale for as long as anybody can remember. Legend has it that the grillmasters at Delassandro's season their sizable flattoped grill with fat before adding the meat. 600 Wendover Street, (215) 482-5407.
9. Steve's Prince of Steaks