Where to Find the Best Grilled Cheese in Philadelphia
Our favorite variations of the classic comfort food at city eateries
Nostalgic and consistently comforting, the grilled cheese is an understated iconic sandwich.
Many diners have fond childhood memories of a crisp, gooey grilled cheese paired with steaming bowl of tomato soup, a food tradition still found at many restaurants. The basic preparation of the perfect grilled cheese remains largely unchanged: sliced bread and cheese toasted to a perfect golden brown on a greased surface.
As tastes evolve and ingredients improve, variations of the griddled delight have grown in number. Today, many Philadelphia eateries put their own spin on the classic, using artisanal cheeses, house-made breads and a wild array of accouterments.
Regardless of how it's prepared, the grilled cheese remains a timeless classic.
To help you discover the ultimate grilled cheese, we've put together a few of our favorite variations found at Philadelphia eateries, below.
Meltkraft
Throngs of cheese aficionados line up for the gourmet grilled cheese of Meltkraft, located toward the rear of Reading Terminal Market. Using a selection of delectable handmade cheeses from Valley Shepherd Creamery in New Jersey, Meltkraft makes some of the most gloriously gooey grilled sandwiches around. Try one of their signature combinations like the Valley Thunder, topped with aged cheddar, brisket and baked mac and cheese.
Milkhouse
Commuters can grab comfort on-the-go at Milkhouse located in Philadelphia's Suburban Station, 30th Street Station or at its location in Rittenhouse Square. The small stop features a wide range of grilled cheese from the classic to their namesake pressed sandwich topped with grilled chicken and jalapeños. Complete the indulgent meal with a cup of homemade soup and a milkshake made with hand-spun ice cream.
Di Bruno Bros.
Di Bruno Bros. are among the city's foremost experts when it comes to cheese. Since 1939, the expert cheesemongers at Di Bruno have been providing Philadelphia with more than 150 varieties of high-quality cheese. With so much cheese experience under their belt, it's no surprise Di Bruno has a life-altering grilled cheese. Get the savory sandwich at their location inside the Comcast Center or Franklin Market.
High Street on Market
Consistently garnering high praise for their housemade breads and fresh ingredients, High Street on Market has raised the bar when it comes to grilled cheese. Dubbed the "Best Grilled Cheese Ever," High Street's variation of the classic comfort food is deceptively simple: Pennsylvania noble cheese and cultured butter used to toast their roasted potato bread.
more about high street on market
Say Cheese
A food truck dedicated to the art of the grilled cheese, Say Cheese has its own house blend of cheeses for their savory griddled sandwich. The menu and location change daily, but expect variations topped with bacon, pork belly and more.
Tired Hands Brewing Company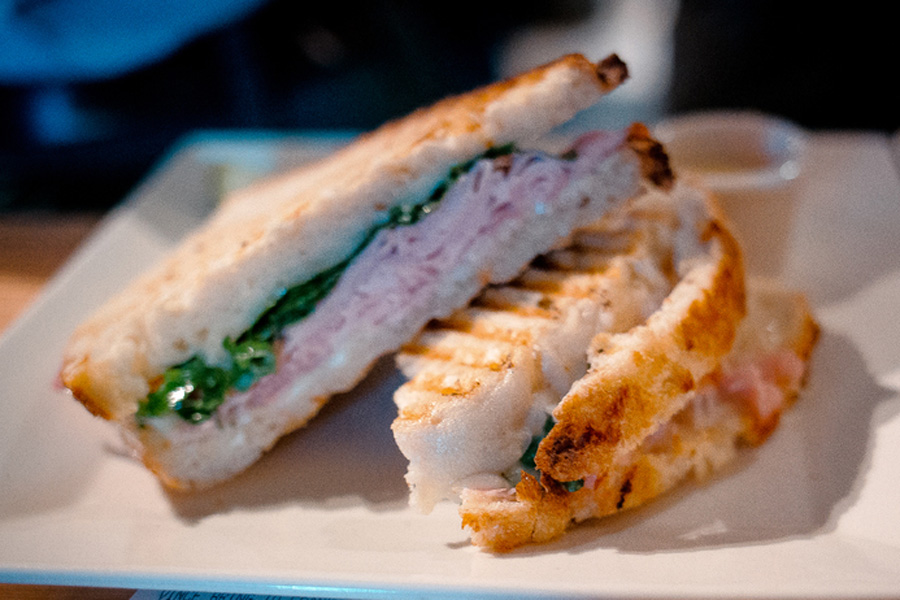 Tired Hands Brewing Company's Fermenteria has a variety of grilled sandwiches topped with melty cheese and bread made in-house, not to mention a great selection of brews. (Photo courtesy Tired Hands Brewery)
Tired Hands Brewing Company has a fantastic selection of craft beers on tap and the brewery's Brew Cafe location serves a variety of grilled cheese sandwiches featuring a rotating selection of toppings on fresh bread made in-house.
more about tired hands brewing company
South Philly Tap Room
South Philly Tap Room knows a thing or two about comfort food. The spot's grilled cheese is as simple and classic as its gets: three different types of cheese and a cup of tomato lager soup. Add a side of pickles and fries to make a meal worth repeating.
more about south philly tap room
Rex 1516
The influence of southern cuisine can be found in a majority of the soul-warming dishes at Rex 1516, but it is the housemade Pimento Grilled Cheese that sets this South Street West restaurant apart from the others. Typically found on the burgers, the smooth pimento cheese is spread onto bread for a bar-only grilled cheese during happy hour.
Little Spoon Cafe
Little Spoon Cafe brings fresh fare and in-house pastries to the South Street West neighborhood. Brunch- and lunch-goers can get their grilled cheese fix with a sandwich of house-cured bacon, cheddar, tomato, caramelized shallots and tomato-bacon jam.
Jones
Classic comfort food is the star at Jones in Old City. Cozy up to a big bowl of tomato soup with a grilled cheese made with fontina and cheddar or try the "hold the beef" burger made with grilled halloumi cheese and avocado on a brioche bun.
Silk City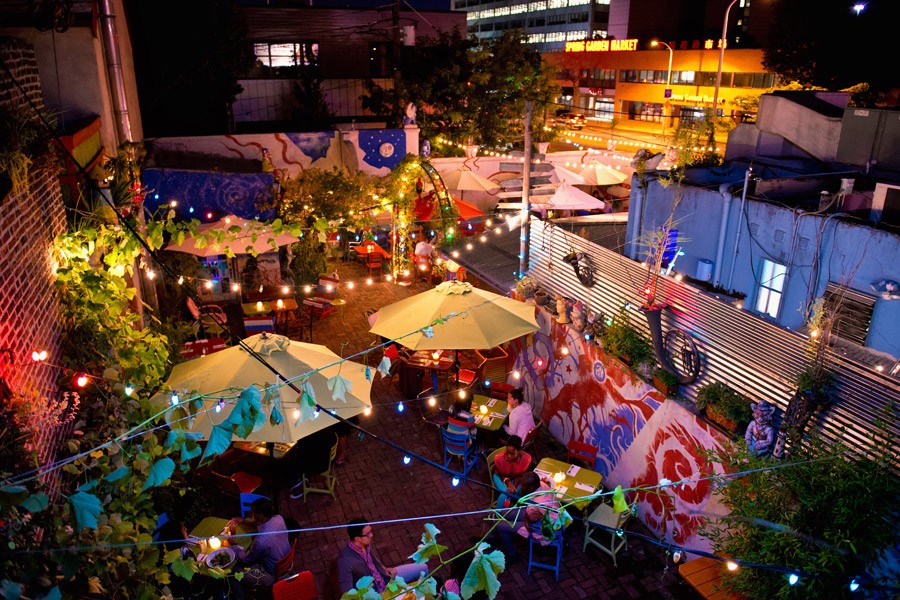 Part diner, part nightclub, part beer garden, Silk City in Northern Liberties is a perfect spot for grabbing a bite to eat and dance the night away. (Photo by J. Fusco for Visit Philadelphia)
Expanding from a diner to a nightclub to a beer garden, Silk City in Northern Liberties has maintained its satisfying menu featuring fresh spins on diner classics. The spot's grilled cheese is no exception, as it comes with swiss, provolone and American cheese on country white bread. Diners can add bacon, turkey bacon or country ham if they're feeling adventurous.
Le Bus
Le Bus knows a thing or two about bread, which is essential when it comes to building the perfect cheese. Head to the spot's Rittenhouse Square location for a delectable grilled cheese or pick up a loaf of one of their specialty breads at various locations throughout the city and create a signature grilled cheese at home. Pro tip: Le Bus bread and Di Bruno Bros. cheese were made for each other.
Talula's Daily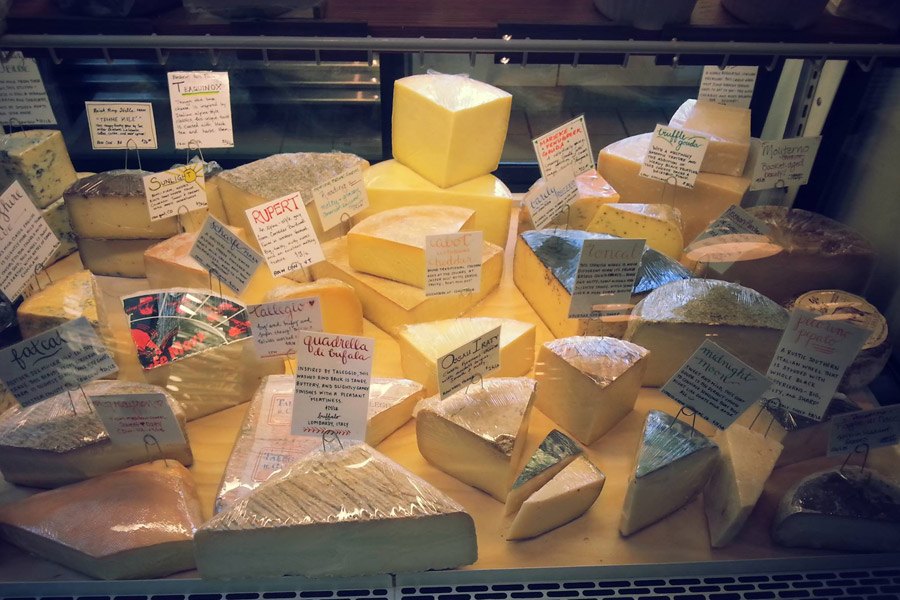 The rotating selection of grilled cheeses at Talula's Daily are made with only the freshest ingredients. (Photo courtesy Talula's Daily)
Talula's Table founder Aimee Oxely is famously obsessed with cheese, a passion she shows at her Washington Square West restaurant Talula's Garden and it's neighboring casual eatery and shop, Talula's Daily. Grilled cheese selections at Talula's Daily rotate daily based on the freshest ingredients available and creative whims to guarantee tasty grilled cheese.
Wedge + Fig
As a cheese-bistro, Wedge + Fig has an extensive selection for you to choose from when it comes to grilled cheese. Let your imagination run wild at the Grilled Cheese Bar featuring a wide-range of cheeses, breads and optional toppings including tomatoes, fried jalapeños, truffled honey, bacon and much more.
Royal Tavern
The beer is cold and the food is simply delicious at Royal Tavern, which is why it has been a mainstay in the city's Bella Vista neighborhood for many years. The elevated pub fare includes a gourmet grilled cheese featuring a mixture of provolone, smoked gouda and goat cheese. Balance all that cheese with a fresh cup of the soup of the day.
Good Dog Bar
The extensive beer selection, delicious bar food, pool table, darts and more make Good Dog Bar and Restaurant a perfect spot for happy hours, dinner and late-night fun. The smoky brisket grilled cheese with sharp cheddar makes the Center City spot a perfect stop for a great sandwich, too.
more about good dog bar and restaurant
Farmicia
With a focus on local and seasonal ingredients, Farmicia in Old City has a number of fresh dishes to choose from, including two different grilled cheese sandwiches during lunchtime. Diners can choose from Amish cheddar on multi-grain or goat cheese on sourdough to satisfy their need for cheese.
Luke's Lobster
How do you make a grilled cheese better? Add lobster, of course. Luke's Lobster in Rittenhouse has made waves with its fresh Maine-style lobster rolls — and they've elevated the traditional grilled cheese using meat from the New England crustacean. Using Maine-made white bread, Luke's variation is made with Gruyère and topped with giant pieces of fresh lobster before being grilled to perfection.
---