Bastille Day Festival at Eastern State Penitentiary
Eastern State Penitentiary celebrates with a day-long party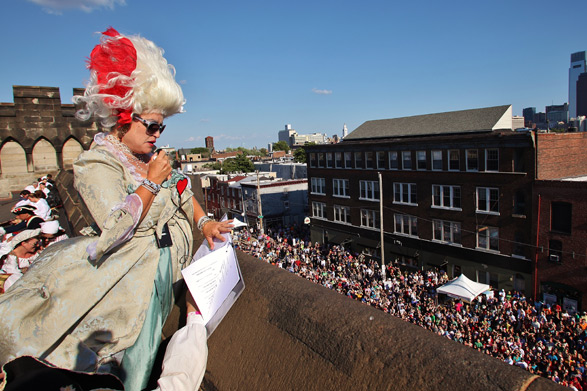 Description
Dates:
July 13, 2013
The Experience
Grab a pitchfork and storm the walls! Whether you're a revolutionary or a royalist, there's something for you during the weekend celebration of all things French leading up to the bombastic Bastille Day Festival at the Eastern State Penitentiary.
The annual celebration has become one of Philadelphia's most popular summertime events, attracting thousands of visitors each year into the massive shadow of the penitentiary's main wall to commemorate the storming of the Bastille by French revolutionaries.
The main event of year's festival takes place on Saturday, July 13 when dozens of French revolutionaries, armed with muskets and cannon, and singing "La Marseillaise," storm the grim walls of "the Bastille" (Eastern State Penitentiary) and drag Marie Antoinette to a real, functioning guillotine, built for the occasion. As Antoinette yells, "Let them eat Tastykake!", a flurry of 2,000 Tastykakes will be flung from the prison's towers.
The block party in front of the prison commences at 4:30 p.m. to 6:30 p.m.
After the storming, the party spills into the charming neighborhood of Fairmount, as restaurants and bars host wonderful French dinner specials and alfresco celebrations throughout the evening.
Insider Tip
The 11-acre Eastern State Penitentiary is also the site of art exhibits, theater performances and other special events. Come early and take a tour — or stay late and take a 25-minute evening tour following the reenactment.
PATH: http://www.uwishunu.com/tag/bastille-day/feed/image/
July 12, 2012Vive La Révolution: Our Guide To Taking Bastille Day By Storm In Philadelphia This Saturday, July 14

July 11, 2012The Philadelphia Museum Of Art To Host A Special Bastille Day Edition Of "Art After 5″ On Friday, July 13 Complete With Can-Can Dancers, Confetti Cannons And More

July 11, 2012Our Guide To The 2012 Bastille Day Festival, Returning To Eastern State Penitentiary This Saturday, July 14: Storming Of The Bastille, Street Cabaret And Plenty Of After Parties

June 27, 2012The 2012 Bastille Day Festival Returns To Eastern State Penitentiary Saturday, July 14 With A Street Fair, Real Guillotine, 3,000 Tastykakes Flung From The Tower Walls And Brand New Theatrical Cabaret

July 18, 2011Photo Of The Day: Darth Vader Joins Marie Antoinette To Celebrate Bastille Day At Eastern State Penitentiary

Uwishunu covers everything fun and exciting happening in Philadelphia — read it daily for the latest on restaurants, bars, events, festivals, arts, music, hotels and more.
Details
Get Directions
2124 Fairmount Avenue
Eastern State Penitentiary
Philadelphia, PA 19103
(215) 236-5111
Website
Neighborhood:
Related Tags
In the neighborhood
Accommodations

501 N. 22nd Street
Philadelphia, PA 19130
(215) 568-8300
Website

View more hotels

Museums & Attractions

2600 Benjamin Franklin Parkway
Philadelphia, PA 19130
(215) 763-8100
Website

View more attractions

Restaurants & Dining
Find us on Facebook