Philadelphia Science Festival
Prove the theory science is fun!
Description
Dates:
April 22-30, 2016
Note: The information below is from 2015. Stay tuned for more information about this year's event as it becomes available.
Overview
The Philadelphia Science Festival (PSF) returns for its fifth year of scientific celebrations with nine days of events at restaurants, museums, libraries, galleries and outdoor spaces.
In past years, the festival has seen engagement from more than 120,000 people (including around 30,000 students), and with the awesome assembly of happenings on tap for 2015, this year's festival is poised to be bigger, better and brainier.
Popular events have included star-gazing sessions, exploring the science of food and the massive Science Carnival on the Parkway.
For a complete schedule of events and to purchase tickets to select events, click the button below.
Save 30% on Tickets
Many events during the Philadelphia Science Festival events are presented free of charge, but for events that are ticketed you can save 30-percent of addmision when you purchase tickets online using the discount code VISITPHILLY15. (Some restrictions apply)
Browse the full event calendar and purchase tickets online using the button below.
view all events and buy tickets
Top 12 Reasons to be Psyched for the 2015 Philadelphia Science Festival
The fifth annual Philadelphia Science Festival will be the biggest fest yet, with more than 100 events and more than 70 family-friendly events.
Plot your science fest plans with our reasons to be excited for this year's goings-on, including a murder mystery at the Mutter Museum, hands-on activities at Citizens Bank Park, a tribute to classic video games and more.
Top 12 reasons to be psyched for the 2015 philadelphia science festival
Science Carnival on the Parkway
May 2, 2015
10 a.m. – 4 p.m.
The Philadelphia Science Festival comes to a close with the popular Science Carnival on the Parkway. The FREE, family-friendly celebration on the Benjamin Franklin Parkway features more than 175 exhibitors and features interactive experiments and activities, live entertainment, food, games and much more.
Click the image below to view the full Science Festival Carnival map.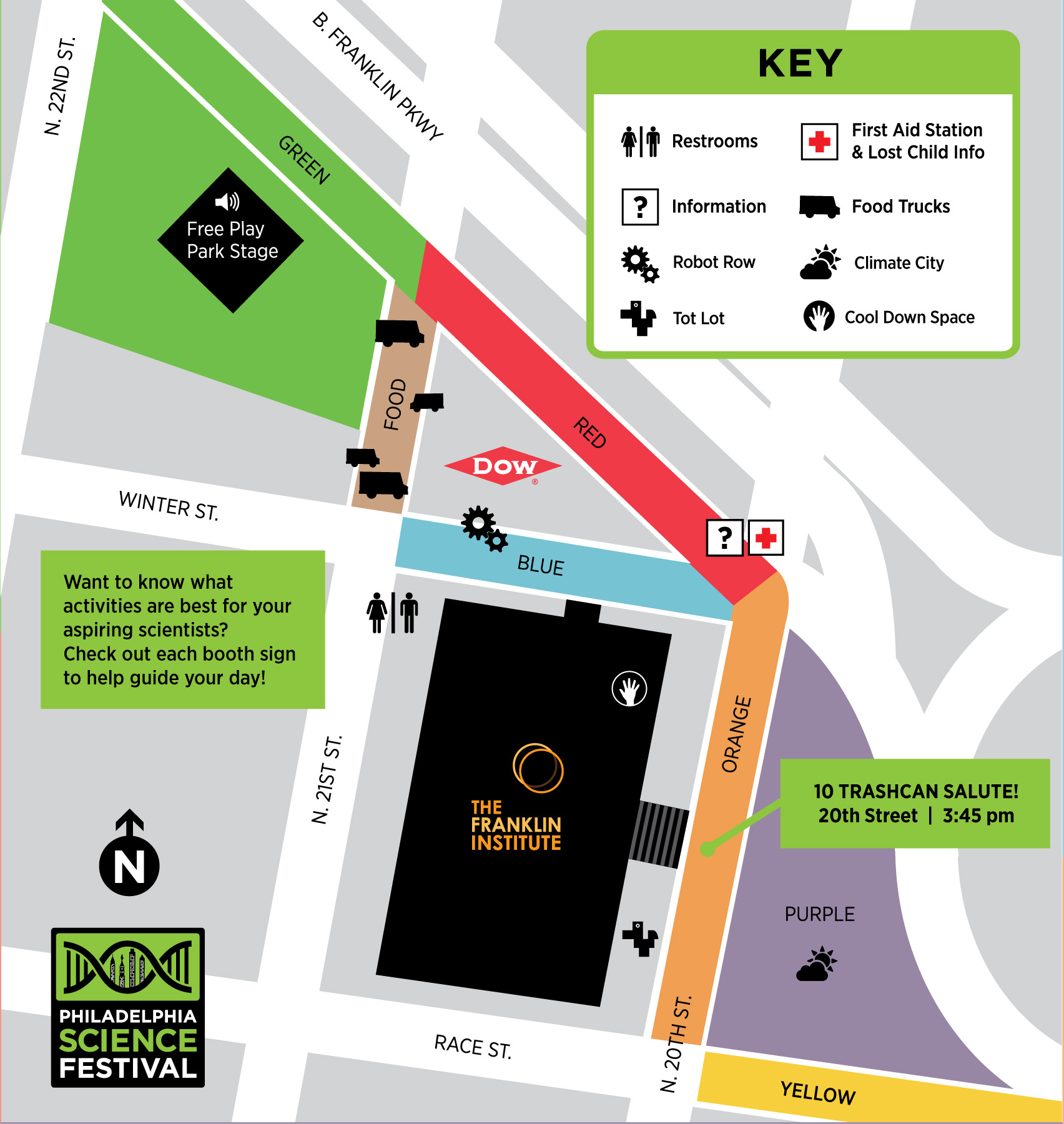 For more info on the Science Carnival on the Parkway, click the button below.
Details
Get Directions
222 N. 20th Street
Philadelphia, PA 19103
Website
Visit Official Website
Find us on Facebook