Where To Find The Best Cheesesteaks In Philadelphia
A punch-list for tracking down the very best cheesesteaks in neighborhoods across Philadelphia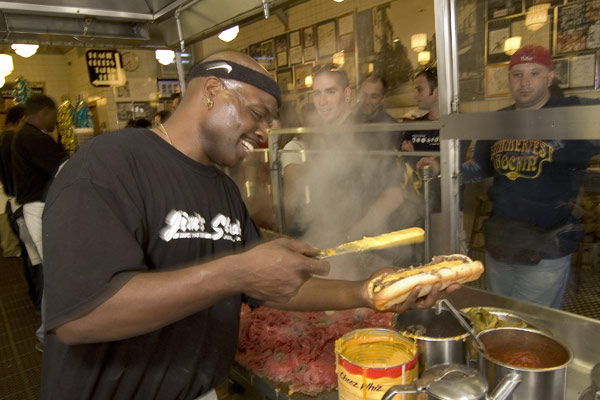 Description
Here in Philly, cheesesteaks are a civic icon, a tourist draw and a cultural obsession. Often imitated around the world, the cheesesteak is rarely duplicated successfully outside of Philadelphia.
The Cheesesteak Shuffle
Did the Cheesesteak Shuffle Super Bowl commercial get you thinking about finding and enjoying an actual Philly cheesesteak? Well, we're here to help: this is our guide (complete with map) of where to find the best cheesesteaks in Philadelphia.
Where to Find The Best Philly Cheesesteaks
Now there's a question. Everyone agrees that the cheesesteak, the celebrated Philadelphia sandwich invented by Pat Olivieri in 1930, should be made with chopped beef and melted cheese. Everyone does not agree on who makes the very best because people have personal preferences about the degree to which said beef is chopped, the type of cheese to be melted, the bread used to make the sandwich, etc.
Those who prefer thinly sliced and finely chopped beef on a light roll often cite Roxborough's Dalessandro's as cheesesteak perfection. Others who prefer more coarsely chopped beef topped with gooey Cheez Whiz swear by Pat's on Passyunk Avenue.
And still others refuse to even consider that a finer sandwich could exist than the thick, extra-cheesy steak sandwich from John's Roast Pork in South Philadelphia.
Oh, the choices. The good news is that wherever you decide to go while you're in town, you'll definitely be experiencing an authentic Philly Cheesesteak. And no matter if it's your first or your 101st, each bite is always worth savoring.
But to help you on your quest for cheesesteak nirvana, this is our guide (complete with map) to where to find the best cheesesteaks in Philadelphia.
How to order a Philly Cheesesteak
When ordering a cheesesteak, the idea is to let the cashier know a.) that you would like a cheesesteak, b.) what type of cheese you want (American, Provolone or Cheez Whiz), and c.) whether or not you want fried onions. And you have to be as concise as possible while doing so.
Locals have become so adept at this practice that they basically have it down to three words: saying "one whiz with" to the person behind the counter means that you would like one cheesesteak [denoted by the "one"] with Cheez Whiz as your choice of cheese [denoted by the "whiz"] and with fried onions [denoted by the "with"].
Similarly, saying "one provolone without" would secure you a single cheesesteak [one] made with provolone cheese [provolone] and without fried onions [without]. And saying "three American with" will get you three cheesesteaks, each with American cheese and fried onions. Ok. Got it? Now go ahead and test out your ordering prowess for real.
This is our guide (complete with map) to where to find the best cheesesteaks in Philadelphia.
Details
View On Map
Transportation
On foot, taxi, public transit, Uber, etc.
Duration
Varies